back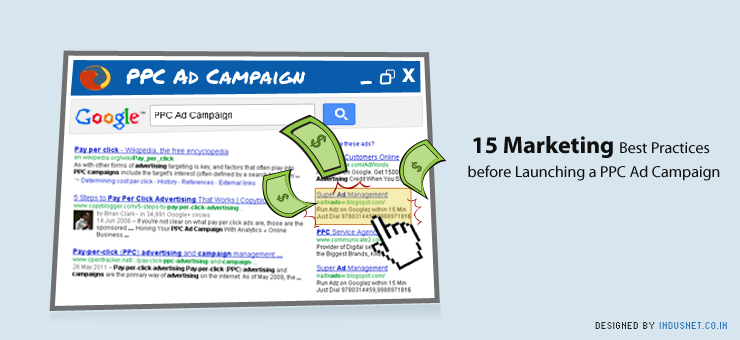 Internet Marketing
Marketing
15 Marketing Best Practices Before Launching a PPC Ad Campaign
Online marketing teams usually need to encounter PPC campaigns once in a while. PPC or Pay-Per-Click campaigns are very different from other ad campaigns that are run on the Internet. The idea behind PPC is to find resources that help you determine exactly who visits your website. In a PPC campaign, one only pays for clicks to the website and not for impressions. If someone clicks on a search engine result, banner or link somewhere else and ends up visiting your website, you pay for that click.
However, if someone just sees your link when they browse the website and do not click on it, you do not pay for it. If a person sees your paid link but does not click on it, it is known as an impression. There are ad campaigns that revolve around impressions as well, but in this article, we only discuss PPC campaigns. A well planned and well managed PPC ad campaign helps to drive traffic that results in some sort of action. The key to successful PPC campaigning is to target the right demographics, as is the case with most ad campaigns.
When a user types a query on a search engine, a search engine results page (SERP) appears on the screen. This page consists of both organic (natural) search results and paid advertisements. Organic listings appear because of certain algorithms that search engines employ to decide which link is the most relevant to a search query. These algorithms cannot be tampered with and companies cannot buy inclusion into an algorithm.
How Does PPC Really Work?
Paid search ads that are placed next to relevant keyword queries can be bought in a manner that is similar to auctions. Higher bids get placed at the top level, while those who pay lesser get placed at the bottom of the list of paid search ads. Even here, a search engine's perceived relevance of a website can make the ad appear at the top of the list. When a user clicks on any of these ads, you will have to pay. Thus, Pay-Per-Click ad campaigns require you to pay for each click that brings a visitor to your website. If a web user simply 'saw' (impression) your link, you do not have to pay.
What Homework Must Be Completed before Plunging into a PPC Campaign?
First and foremost, it is important to know your sector. You will need to understand what your partners, competitors, suppliers and customers are talking about, what they like and dislike, and what their business opinions are. It also becomes imperative to choose keywords that matter to your sector the most.
Should the Landing Page Be Altered?
While 'alter' is not the word that must be used, it is PPC best practice to make sure that the landing page synchronizes with your ad campaign. In fact, you could ask in-house designers to create custom pages that are in libne with the campaign and then take them offline when no longer required. Irrelevant landing pages disrupt sales and drive visitors away from your website. It also means that you will end up paying unnecessarily for clicks that do not materialize in sales.
Should a PPC Campaign Start Big at the Outset, or Build Up Gradually?
There is always the attraction of hitting the nail with an enormous PPC campaign right at the outset. However, such campaigns can't be measured overnight and most of the clicks may not produce any ROI. It is always prudent to start nominally, understand who is clicking on the ads and then build up gradually, while measuring the PPC campaign all along.
How to Target PPC Campaigns Efficiently
It is always a good idea to set up ad groups for each country that you plan to advertise in. If you do not plan to advertise in multiple countries, it is better to stick to just the U.S. If your business is concerned with micro-geographical focus, specific zip codes can be associated with your ad campaign, so that your ad appears in your business's delivery area. Apart from these factors, you might also want to do some homework regarding the best time of the day to run your ads, especially when the target audience is most active online.
How Many Keywords to Use?
There really isn't a consensus on this one, except to say that less number of keywords is easier to manage. However, that will limit your PPC campaign. Having more number of keywords open up more opportunities but also come with their baggage to deal with. Your PPC reports would be inundated with keywords and it becomes difficult to monitor the campaign. This is a question that can't be answered easily, but would certainly depend upon the size of the company, subject matter, business that the company is involved in and also how much the company is willing to spend in terms of money and time.
How Much Does It Cost to Run a PPC Campaign?
It is difficult to assess how much it would cost to run an entire PPC campaign. Instead, one could expect to pay between 50 cents to $4 per click, depending on how premium the material is. Though it may sound like a lot of money to pay almost $4 per click, one must remember that clicks that lead to sales will usually compensate for the expenditure.
What Sort of Editorial Guidelines Can One Expect?
Search engines are very strict about terms that are related to violence, sex, gambling and drugs. Thus, weapons, pharmaceuticals and casinos will have to bear with restrictions as they fall under regulations. If your business is not associated with any of these areas, you may choose your language carefully not to offend anyone, and run a successful PPC campaign.
Which Search Engine Is the Best to Advertise On?
The answer is very simple, and it is certainly Google. However, we must also remember that Yahoo! and Microsoft's Bing are major players too, and the 3 search engines combined make up for almost 95% of searches in the U.S. There are other websites that offer PPC campaigns too, like Ask, AOL Search, and internet classifieds. However, their reach is lesser.
How Does One Manage Keywords?
Running a successful PPC campaign depends on grouping ones existing keywords. Those that seem questionable can be clubbed under a different group so that they are tackled only when you are ready to do so. It is always easy to delete keywords but difficult to discover keywords that perform well. At the same time, similar keywords should be grouped together. This may include terms related to products, brands, competitors and trends.
Are There Any Account Limitations?
Google, Yahoo and Bing place account limitations regarding campaigns, ad groups and keywords. Google allows 25 campaigns per account and lets you have 2,000 ad groups in every campaign. It also lets you have 2,000 keywords and 50 ads in every ad group. Totally, you may have 1 million keywords per account and that is a lot! Yahoo allows 20 campaigns, 1,000 ad groups per campaign and 1,000 keywords & 20 ads per ad group. Bing allows 10,000 campaigns, 10,000 ad groups per campaign, 10,000 keywords and 20 ads per ad group. However, it allows only 100,000 keywords per account.
Can Branded Terms Be Used in Ad Text?
Google is the only search engine that allows companies to bid on a competitor's branded terms. Yahoo and Bing do not allow trademarked terms be used in ad text or to be bid upon.
Can Competitors Hurt My Business By Over-clicking?
This is known as click fraud. People may try to hurt a business by clicking on ads just to get their competitors pay a lot of money to search engines. However, there are tools that detect suspicious activities like too many clicks originating from the same IP, etc. In such cases, your bill would be reduced.
Should One Seek Professional Help to Manage PPC Campaigns?
This is a question that depends on the level of the expertise of a company or individual with regard to Internet marketing. There are of course tools and manuals available which provide a lot of information about how best to run a PPC campaign. However, companies and individuals who have little experience in Internet marketing may need the help of Internet marketing professionals at some point during the campaign. Though it may cost a little, the returns are always impressive.
What's the Most Important Factor to Consider Before Launching a PPC Campaign?
The most important factor to consider is the amount of time that you can invest in running a campaign. One needs to remember that a lot of time and effort will need to be invested initially to hit the right demographics and target audience. By seeking the support of professional Internet marketing campaigns, you can lessen the burden for yourself.
Subscribe to our Newsletter