back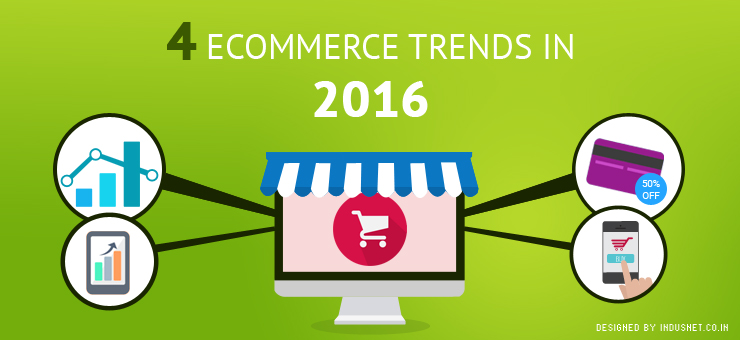 E-commerce
4 Ecommerce Trends in 2016
There are a number of trends that are being reported by industry pundits as being symbols of what is to come in 2016, in the area of ecommerce. These ecommerce trends generally involve some amount of mobile integration, multi-channel models, and responsive websites. We have put together certain trends that we feel will rule the roost in 2016 when it comes to ecommerce websites.
These trends should help you to get an idea where the industry is heading and how best you can prepare yourself for changes that are ought to occur. Moreover, you might also find inspiration to make changes to your existing ecommerce store, so that you are better able to handle all the changes that may happen this year.
1. Real time analytics
Traditional ecommerce analytics has so far been limited to judge what is happening over weeks or at best weeks. Real time and actionable analytics will help you to spot trends instantly so that you know what your customers are doing and what you need to make them buy what you are selling. Customer engagement and actionable management of visitors will help you to increase sales.
2. Online loyalty programs
Online loyalty programs will continue to grow in size and stature. It is now common to see that special discounts are given to certain credit or debit card holders. The banks and certain applications may provide further discounts in order to reward a customer's loyalty. This trend will likely grow in importance and more ecommerce stores will offer loyalty rewards in 2016 and beyond. This may or may not involve debit or credit cards.
3. Deeper into mobile territory
There will be a deeper thrust to go mobile among companies. There will be more focus on mobile marketing, app-based targeting, custom app solutions and responsive website designing. More people are using mobile phones and tablets and this means, 2016 will continue to grow as a mobile market, just like 2015 did. We still have not reached a level of plateauing.
4. Omni-channel business model
The omnichannel business model understands that people no longer buy just in brick and mortar stores nor do they use their desktops to access ecommerce websites. Instead, they may use mobile websites, applications and even visit brick and mortar stores when they like something on their cellphones. Thus, omnichannel business model brings a seamless and integrated shopping experience to shoppers so that there are no abandoned carts. Going omnichannel will likely be a big priority for most businesses in 2016.
Points to remember
As seen above, it is quite clear that there will be a focus on real-time analytics in 2016. Companies will begin to observe how their customers behave while purchasing. Online loyalty programs will also continue to grow in popularity. They may even grow to become more complex and embedded in ecommerce marketing strategies. Companies will also trudge ahead towards a mobile-first approach while omnichannel business model will likely be the new buzzword all year long. If you are looking for success in 2016, be sure to follow these trends.
Subscribe to our Newsletter