back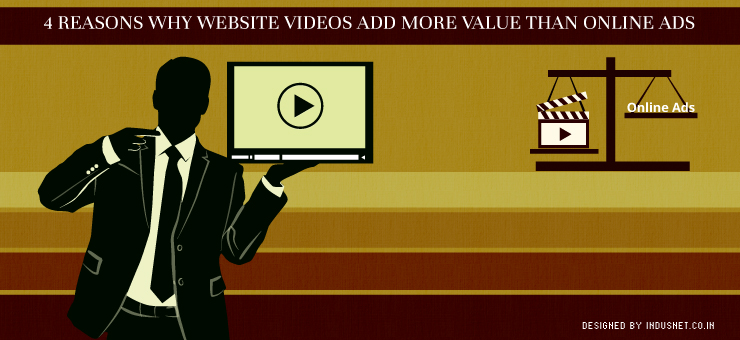 Digital Marketing
Marketing
4 Reasons Why Website Videos Add More Value than Online Ads
There is a growing tendency among business owners to invest a lot of money in online ads. That is partly because digital marketers have been hollering since years that we must all start to invest in online ads. The shibboleth is, if you do not have your advertisements on Google or Facebook, you are on your way down a downward spiral. That is not really the case.
In this article, let us take a look at why website videos add more value than online ads when it comes to marketing. Of course, we are not saying one is better than the other. What we are really trying to say is that you might probably want to give more prominence and interest to website videos.
1.      Plethora of website videos in which you can invest
There are a number of ways in which you can invest in website videos. One of them is explainer videos. Explainer videos are basically short animated movies that describe your products or services. They may last anywhere between 30 seconds to a minute or two. Shorter, the better.
These explainer videos are cost-effective, take less time to produce and get the message delivered easily. On the other hand, online ads are like shooting in a barrel. You can't really say what is going to work and when. Explainer videos are not effervescent. They last for a long time, lying on your homepage.
2.      Website videos are more attractive than online ads
While online ads are great for people who do not know who you are, website videos on the other hand, are tailor made for your leads. Online ads can in fact direct your target audience to a landing page that contains your explainer videos. Explainer videos are a step ahead of online videos in terms of importance.
To give a better explanation, one can say that online ads are like the boy who holds a banner on the street, hoping that customers see him and walk in side for a cup of coffee at the cafe that he works at. Website videos are more like the coffee, a steaming cup of coffee, which is kept right under the customer's nose, hoping that he buys it. Chances are, he will most certainly buy it.
3.      ROI of website videos is higher
It is often found in research that website videos have a higher ROI than online ads. Online ads are expensive. Whereas, explainer videos and other forms of website videos are not all that expensive. They are quick to shoot and easy to create. When you start to allocate more money for explainer videos and less for online ads, you will see a huge change in your ROI, for the better. At the end of the day, we all want more money from the money that we invest in something. Website videos seem to be the answer.
4.      Fringe benefits of website videos
There are a number of fringe benefits of having website videos. Website videos are a great way to make sure that your voice is being heard. Website videos can be made part of content marketing and can be shared along with blogs and web copy. They can be used alongside content marketing and shared across social media. This helps you to build social signals. Online ads do not build social signals and people may even find them annoying. Website videos and explainer videos will ensue that you will create viral videos once in a while, which will help you to bring in a lot of traffic to your website.
Going forward
While online ads are important, there are a number of reasons why you must start paying attention to website videos as well. What we mean by website videos is, having a few explainer videos and a couple of other videos on your website on a regular website. These videos add to the overall branding strategy and help to build your brand name far and wide. Online ads do the same but the effect of such ads is limited. Website videos on the other hand are more sophisticated, look professional and help you to create a message that is best suited for your audience.
To add more value to your website, consult Oomphbox.
Subscribe to our Newsletter