back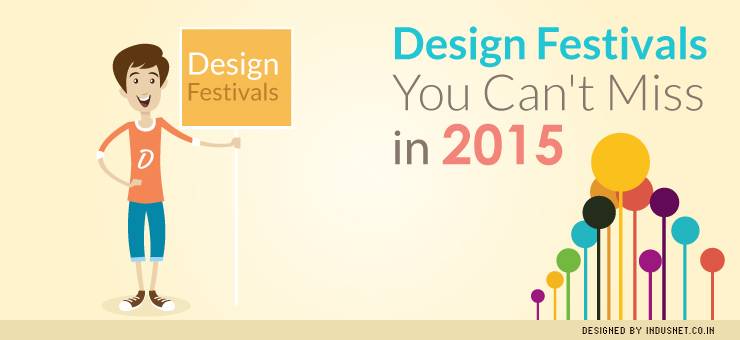 General
5 Design Festivals You Can't Miss in 2015
There are a number of reasons why people attend design festivals. One is to meet and network with people and another is to find inspiration. Another reason why designers go to design festivals even if it is not related to their area of design is to learn from other forms of design. For example, if you are a web designer, you might wonder why you should go and visit a conference or festival dedicated to product design. However, there lies the paradox.
Seemingly unrelated areas of design are quite inter-related. Every design area focuses on usability, color combinations, aesthetic appeal, innovation and inspiration. If you are a web designer, you will know that these are the most important elements of a good website. Similarly, if you are an animation professional, you will find it important to visit a web design festival because you will know what it is like to build websites and how design is important in that area.
There is a lot to learn and find inspiration from not to forget making important contacts. These lead us to believe that every design professional, whether a website designer or a conceptual artist, should visit design festivals to learn, find inspiration and meet people. Of course, along the way, one also gets to visit new cities and countries, which can enrich our experiences. In this article, let us take a look at five design festivals which will take place after a few months, so that you have enough time to plan and go.
Galway International Arts Festival, Dublin, Ireland – 13-26 July, 2015
Galway International Arts Festival is a centre for visual art, discussion, music and performance. It was one of Ireland's premier festivals and people from all over Europe visited it to meet artists, musicians, designers from around the world. All of them gathered and walked through the winding cobbled streets of Galway. Galway itself is a vibrant and cosmopolitan city and you could have probably met your next business partner, if you looked around.
Dublin Animation Film Festival (DAFF), Dublin, Ireland, October 16th and 17th, 2015
This is another Irish design festival but dedicated to showcasing animated films. All kinds of animation movies are showcased and this helps other designers to understand the art and technology behind it. In a way, this will help you to get away from the crowd and enjoy what it truly stands for: creative animation, art and fun. Dublin is an interesting city and is the capital of Ireland. You will surely be able to make some important contacts and exchange business cards, if you are looking at it from a networking perspective.
London Design Festival 2015, 19-27 September, United Kingdom
If we are talking about design festivals, there is nothing more important than the London Design Festival. It is an annual event and has been construed to promote London as the design capital of the world. Naturally, some of the biggest names in all areas of design would be present. This will be a great place to meet the international creative community and get yourself acquainted with them.
Seattle Design Festival, September 2015, Seattle, the United States of America
The Seattle Design Festival takes place in the grunge capital of the U.S. It strives to bring together communities of various areas of design and exchange information and ideas during tours, at workshops, gatherings and talks. There will also be movie screenings and you will be able to interact with a number of people who will be interested in your area of work. Seattle is a charming American city that is known for its start-up culture. You are bound to meet interesting people in this interesting city.
Florence Design Week, 27-31 May 2015, Florence, Italy
The Florence Design Week  was an International design festival that aimed at focusing on creative cities, this year. This had helped people to understood the problems of urban spaces and how nature can be brought back to our cities. This was also of interest to people who were into constructing cities and buildings. It combined creativity, business and innovation with tradition and nature. Florence needs no introduction and is one of the most importance cities of culture in the world.
If you are unable to travel
If you are unable to or could not attend any of these design festivals, try to attend design festivals closer to your location. It is sometimes not required to travel too far to come across some of the rarest talents in the world. If you can afford to, these 5 design festivals listed above are great events to attend to.
Subscribe to our Newsletter