back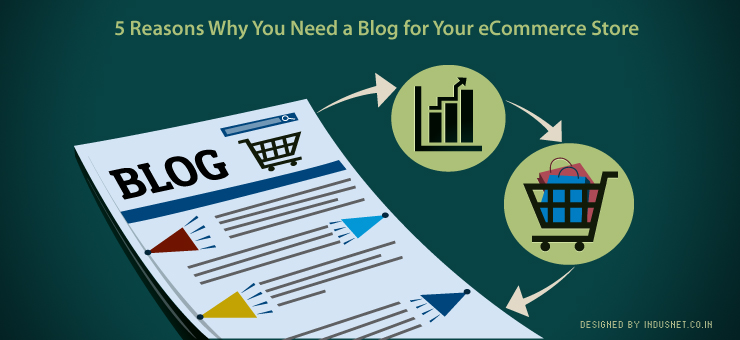 Digital Marketing
Marketing
5 Reasons Why You Need a Blog for Your eCommerce Store
What is the first thing that comes to your mind when you hear about a new company or a brand? Without doubt, it is the curiosity to know about it more. To facilitate that, we often find ourselves turning to the Internet to search for the website or a blog of that company.
Ecommerce is bursting at its seams
E-commerce, is now bursting in its seams and is already preferred over traditional; modes of selling among a number of sectors.  Starting from travel and entertainment purchases to electronics and apparels, e-commerce covers everything that you may think of. A major success in e-commerce in is the example of Amazon whose potential customers are anyone who wants to purchase anything from groceries to expensive jewelry. Other successful examples include Etsy, Net-a-Porter and other smaller eStores which often sell to niche markets.
A successful blog helps increase sales
With an increasing uniformity of product offerings and services, it becomes considerably difficult for the marketers to stand unique among their peers. To counter such difficulties, companies are adopting various techniques to differentiate themselves.  One such technique that is an integral part of marketing is the use of blogs. Blogs help eCommerce stores to catapult their way into SEO and marketing successes.
In this article, let us take a look at how using a blog for a eCommerce business can help in the long run:
Blogs build reputation and visibility
A well written blog builds sellers' brand reputation and respect by increasing product visibility. It also helps customers to make product comparison with competitors' products and gives marketers an open platform to talk about their Unique Selling Proposition (USPs). Besides this, it educates the customers about the facts and figures by using various analytic tools and statistics forming part of market research. On the other hand, customers can interact with the marketers by posting their feedbacks and reviews. Customers gain valuable information which helps them in decision-making.
A blog is different from a website
A website talks about the company goals, vision and mission and displays product catalogues. It might also include messages about Corporate Social Responsibility (CSR) initiatives taken by the company and their eco-friendly practices in manufacturing and disposal.  Blogs, on the other hand, can include market research studies, technological inventions and scope of development to gain user curiosity. Such information helps in social awareness thus leveraging the brand equity as well.
Blogs directly and indirectly lead to sales
Blogs also arouse curiosity in prospects by making interesting information available that are non-persuasive in nature. However, such informative eCommerce blogs will eventually result in regular readers clicking on the 'purchase' button.
Blogs contribute to Word Of Mouth publicity of products
Once a reader develops interest in the blog, they are likely to become loyal to the blog and visit often to access information there. A blogger becomes a medium of Word of Mouth publicity for the company apart from satisfied customers.
Information about the company's presence on social networks like Facebook and micro-blogging site like Twitter can also be posted on these blogs. Regular visitors to the blog are likely to follow the networking pages. This increases an eCommerce store's social signals through comments, likes and feedbacks. Higher interaction between marketers and customers will generate criticism helping store owners to come up with fresh ideas and replace existing products with newer products.
Blogs come with great SEO benefits as text rich content that are keyword specific are indexed by search engines like Google, Yahoo and Bing. Carefully written blogs that are rich in informative content with relevant meta tags and keywords are imperative in getting higher ranks for the website in search results. Grabbing more eyeballs will automatically generate more trust and popularity in the brand. SEO has to be optimally planned to generate more visitors by keeping it cost-effective. Setting up a blog for your eCommerce store is one of the easiest ways to build SEO.
What is the take home?
If you have an eCommerce business, and do not already have a blog, you must hire an experienced blogger immediately. A blog can give life to an otherwise dry online store and encourage more footfalls, Word Of Mouth publicity and become a go-to-source when it comes to understanding about products that you sell. Blogs can be really helpful to obtain and nurture leads by targeting prospects, increasing sales and increasing brand's digital presence.
Subscribe to our Newsletter