back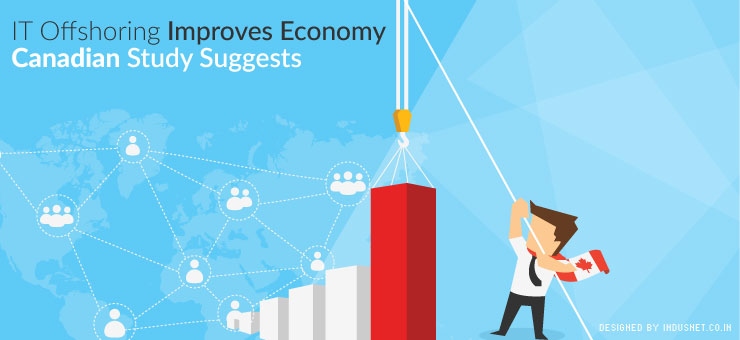 Offshore outsourcing
IT Offshoring Improves Economy, Canadian Study Suggests
A lot has been said about how offshoring is bad for the economy and that it causes a lot of problems for countries that outsource their work. One needs to remember that outsourcing is not a one way process. The country to which work is outsourced often establishes offices in client's countries and hires locally. Thus, it is more of a two-way outsourcing than a one way process.
With that in mind, IT World Canada reported that many business projects have been taken off because of IT outsourcing and that if not for outsourcing projects, they wouldn't have survived in their home countries. The study was conducted by a market research firm called IDC, which suggested that outsourcing is necessary to offset skills shortage in North America.
The study revealed that between 2001 and 2013, IT outsourcing contributed $15.1 billion to Canadian businesses. This was done through saving costs and decreasing expenditures. It is expected that by 2018, Canadian businesses will benefit from an additional productivity sum of $17.8 billion.
It is not just about  cost reduction or skills shortage
Mark Schrutt of IDC explained that companies are beginning to outsource jobs not only because of cost reduction or skill deficits but also as a capacity play. IT unemployment in Canada is about 1 or 2 percent. Thus, companies are cutting back, rather than worrying about skills shortage. Offshoring, according to him, is likely to grow in India, South Africa, the Philippines, the Caribbean and other English speaking countries.
He also revealed that two thirds of the revenue comes from Capgemini, Hewlett Packard, CGO group and others. The rest of it comes from companies in India, he explained. Companies that previously outsourced locally are now doing it on an offshore basis. Another trend that is being noticed is that outsourcing and offshoring are moving away from customer-centric activities. These activities earlier included customer service and call centers. Now, offshoring typically involves IT operations.
Offshoring is a sensitive topic but it could also be positive
Schrutt also maintained that offshoring is a sensitive topic. It is quite difficult to attach numbers when we are discussing people's jobs and livelihoods. However, what we need to understand from this study is, countries that outsource a lot, end up receiving more revenue one way or another.
This revenue can be used to strengthen social support systems and welfare. When people lose jobs they can be encouraged to develop higher skills for which they have access. This leads to a win-win situation where companies that earlier faced bankruptcy or an existential threat, can make profits by outsourcing to offshore locations and countries from where work is outsourced and earn more money in terms of revenue.
On the other side, emerging economies depend on offshoring as a source of national revenue and this is particularly true in countries like Philippines and India. Schrutt's study also reveals that offshoring has had a positive effect on Canadian economy and a number of businesses have actually thrived, even after going through economic crises that threatened their existence.
What needs to be seen is how offshoring will continue to be a sustainable model for all parties involved. At the end of the day, it needs to be a sustainable model for everyone. Otherwise, regulations will be brought in place that will affect the offshoring industry.
What could be the future?
The study clearly states that offshoring IT keeps Canadian firms competitive. If offshoring had a positive effect on Canada's economy, could we generalize the results to other countries like the U.S., U.K. and others? It is probably unwise to do so until other similar research studies are conducted in those countries.
What we do understand at this moment is, when companies outsource to offshore countries, they save billions in expenditure and also pay a lot more in terms of revenue. At least, for the government and the companies of the outsourcing countries, it is a beneficial business process.
We must also look at the way IT and cloud are developing. Cloud computing and the emergence of shared IT platforms and infrastructure have given rise to new methods of offshoring, rather making it indispensible to IT development. With this being the reality, we can only expect offshoring to develop further and consolidate its reaches within cloud computing as well.
Subscribe to our Newsletter