back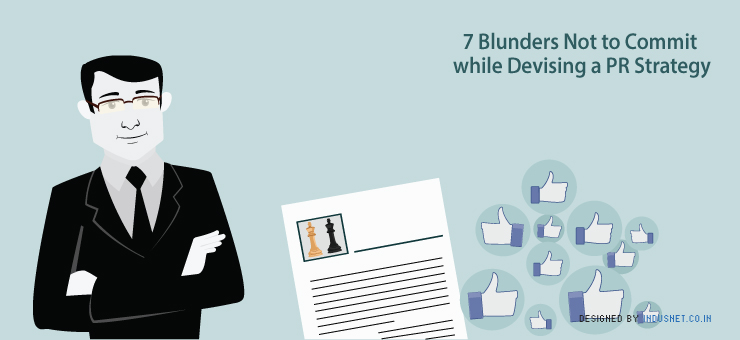 HRD
Inside Indus Net
7 Blunders Not to Commit while Devising a PR Strategy
Over the past few years organizations have realized the importance of Public Relations and have started considering it a powerful tool in achieving the desired brand reputation in the market. With correct Public relation skills a company can change its image overnight in the market. This practice started working in full swing immediately after the media sector experienced a staggering growth, which is fair considering the importance of media elements in carrying out various processes of Public Relations. People working in this domain ensure that there in a free flow of information between the organization and its audience.
Importance of public relations
As we understand, this domain is not just about outsourcing information it is also responsible for projecting the brand in the market. With PR skills you can either make or break an impression, needless to say, this potent tool should be handled with utmost precision and care, most importantly one should have a knack of using it. Not being entirely based on social science, there is a little scope for one to acquire or learn the public relation skill set. It is probably the next highly commoditized art after advertising.
There are few ground rules which can be followed to save your company's reputation from getting sabotaged unless you are a complete masochist. Do not make mistakes like these ever.
• Choose your Public Relations expert wisely
This could be quiet tricky given the abundance of PR experts present in the market. Mind you, choosing the right PR expert is almost equivalent to choosing an apt brand ambassador for your company. It is of vital importance to pick an expert who thinks the same way as you do, by doing this you can avoid conflicts and work on the same lines towards achieving a common goal. You can easily get an idea on the modus operandi of the PR agency you plan to hire by looking into its past records. Most of these agencies who work for corporate organizations have a high flying clientele, do not get mesmerized by the clientele consider their work to evaluate their performance. PR agencies that constantly employ groundbreaking concepts are usually considered the best. At times it is not even necessary to go out and about searching a PR agency separately as their are advertising agencies who also solve the purpose.
• Try to remain in the good books of Media
Most of the PR activities involve dealing with media and if you step on the wrong foot of media then your are doomed. Most of the media dealings will be taken care of by your PR expert, all you have to do is ensure that media gets what it wants. Never chide media for invading your privacy, it could blow up in your face and come off as "Black PR".
A PR expert and the media are two separate entities, if they work coherently they can change the perception of your target audience overnight, which is called PR transfer process. Being a representative of your company, your PR expert must know how to manipulate media to your advantage. As we know that the reach of today's media industry is far more than any other medium to propagate information and it is a vital part of the PR transfer process.
• Keep your customers posted about your company's developments
You do not expect to invest in a company you know nothing about, same goes for your customers. They must know that your company is on the roll and should be informed about each and every achievements of your company. This activity can create a bond of trust and faith between the organisation and its target audience which is quite essential for brand building.
Consider the case of Skoda, it's rags to riches story is not only inspiring but shows how important it is to keep your target audience informed. Until 1991 Skoda's popularity was limited to the European market and could never out to its foreign market. Volkswagen invested heavily in Skoda and enabled it to manufacture automobile at par with its competition in the foreign market. With right PR skills this development was made public and the company's earlier reputation of "just another brand in the communist market" was outshone by it's new reputation which well received globally.
• Press releases should be impeccable and should appeal to the target audience
Good literary skills form the core of PR activities, a poorly written press release will not only convey the wrong message but will also affect the reputation of the organization. While writing an official press release do not fall prey to the prevailing linguistic slangs or buzzwords, no matter how enticing they are unless you intentionally want to exude a blithe vibe. The message should be loud and clear, beating around the bush must be avoided to help your audience focus on the main points of the message. Crafty use of simple language is appreciated by everybody, jargon should be avoided as much as possible to make the press release easily comprehensible.
Remember, an editor gets inundated with press releases every single day and a poorly worded never-ending copy immediately goes to the trash bin. To avoid your press release from falling into this category, make sure that it is precise, meaningful and smart. Try to capture the attention in the first few lines by unfolding the information as soon as possible, do not stretch the write-up unnecessarily, this makes the reader lose interest.
• Do not ignore the follow up calls
If you are being vocal for a cause you should be prepared to answer questions related to it. Any kind of silence or absence can pass for lack of information and your organization's reputation may have to face dire consequences. No goal is achieved without ruffling a few feathers so be well prepared to answer follow-up questions and try not to evade any calls. No matter how intricate the story is be prepared for questions related to all its intricacies, this would state the authenticity of the story and would show how much you believe in it. Evasion of follow up calls shows lack of confidence which will easily become evident to your target customers and they might start taking your newsletters for pulp fiction.
A PR expert handles all the media and public queries, so it is imperative that he goes out of his way to understand the details of the organization he is representing.
• Be proactive
A PR expert should be proactive in gathering market intelligence and not just stick to available resources.
In a way your hired PR expert is your representative in media dealings, it is he who directs media to write or talk about your organization, decides what information needs to be published and what needs to be kept under wraps. To make such important decisions it is essential for a PR expert to gather relevant market information. You do not want to go overboard while dishing out information, only what needs to be told should be told. This can also be concluded from the PR approach followed by the arch rivals of the organization. By keeping an eye on the competition, a PR expert can not only establish a source for market intelligence but also devise its strategy about public relations without going overboard.
It is imperative that a PR expert does extensive research and has a proactive approach, a languorous person seldom succeeds in this profession.
• Do not just stick to print media or electronic media, be creative, explore social media
Of late, social media has also joined the bandwagon of the media industry and has been proven to be very effective in reaching out to the target audience. This is fairly economical and effective as compared to other mediums which explains why every organization is trying to capture some space in social media. With social media you can directly address your demographic and be sure that the message is going to be conveyed without getting lost, unlike print media and electronic media which is generally for the masses.
If you are looking to advertise on websites you must identify the ones that are frequented by your target audience and then shortlist hem. Going around advertising on every possible website will burn a hole in your pocket and may not even solve the purpose.
Subscribe to our Newsletter