back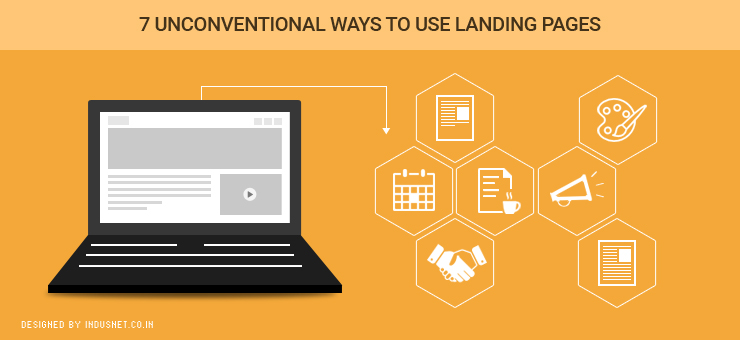 Design
Web design
7 Unconventional Ways to Use Landing Pages
More people are warming up to the idea of using landing pages these days, and that is a welcome sign. Still, we have often seen people are not using landing pages creatively. A landing page can be an effective first point of introducing yourself and getting that elusive email address of your prospects. However, it is not enough to just create a landing page, make it look attractive with graphics and call it a day. Thankfully, there are a number of creative ways with the help of that you can use landing pages to boost your business. Some of these tactics may seem unconventional but they have to be so. After all, it is only the one who wades deeper and farther into unknown waters who will be able to discover new fish. In this article, let us take a look at some of the more unconventional ways to put landing pages into use.
1. Use landing pages to attract people to events
Events are some of the most functional ways to attract prospective clients to your doorstep. You may even choose to run an online event, if you do not have an office or if you do not plan to hold an event physically. Webinars, online conferences, and Tweetups can all function as events that can be used to look for prospects. The best way to get people to attend these events is to first run them through the landing page, which will not only orient them to your company but will also help you to collect their email addresses. In fact, there is nothing better than an event to create some buzz online and offline.
2. Use landing pages to give surprising information about your company
A landing page is supposed to provide some sort of information to the visitor in exchange for an action that he might take. Usually, companies provide information about their products or services, or they may choose to provide information about themselves or their companies. This is a very common strategy used by page creators. However, if you chose to provide information that will surprise or even shock your visitor, you will have their attention. It is important to give little-known but useful information about your company, products or services if you wish to grab the visitors' attention.
3. Use landing pages to thank existing customers
There is something really impressive about a simple 'thanks'. When you thank your visitor for visiting your page or for having bought a product or service, they are likely to feel appreciated. With this appreciation, if you also give away a coupon or some kind of freebie, a landing page can double up as a lead nurturing initiative. This way, you will also know if your clients or customers are actively interested in visiting your web page. This literally means that they are interested in whatever you are offering and that you should continue doing so.
4. Use landing pages to provide multiple calls to action
While it may not be a good idea to stuff your page with a lot of links, you can certainly have a number of calls to action for your visitor. It makes things easier and you may even be able to avoid multiple landing pages and monitoring all of them at the same time. Research shows that more than one call to action can actually increase conversions. It is often believed that when there is just one action to take, people may just not take it. When there are options with respect to actions they may take, people may choose one of them. This way, you will still be a winner because the visitor will have taken some action, most probably.
5. Provide a lot of information at one go
It makes sense not to bore people with a lot of information. Which is why standard landing pages come with a short brief description and a call to action. However, is this really a good strategy? Probably not. It may be necessary to provide long-form content for certain kinds of readers and visitors. If your target audience is slightly older, it makes sense to provide more to read. This makes you look more credible, offers valuable information to the reader and also a chance to convert. Certainly, it is not a bad idea to have long-form content if your target audience demands it.
6. Provide very little information
While providing a lot of information can be a good idea sometimes, it may also be a very good idea to provide very less. You could have just a one-liner that effectively communicates the message and provides a box to take action. This is a better strategy than providing information in the same length as your competitors do. What is really important is to remember who your target audience and design a landing page according to their needs. Most importantly, try not to be like your competitors who may be using more conventional landing page tactics.
7. Provide art
If you do not wish to be like everyone else and have the same content, you can choose to offer art on your landing page. Art in the form of mixed media or just various types of media can be a welcome break from regular landing pages. This helps you to stand out from the rest of them and possibly earn a conversion or two. However, you need to bear in mind that art is not cheap and can cost quite a lot, especially if you commission well-known artists. Nevertheless, it is a good idea to showcase art on landing pages.
Make sure you use landing pages
Last but not the least, you should follow all the above unconventional ways to optimize landing pages and also ensure that you keep them updated and active. There is nothing worse than arriving at an excellent and unconventional landing page which is thoroughly out of date with respect to information. Ensure relevancy and you will be able to convert more visitors.
Subscribe to our Newsletter