back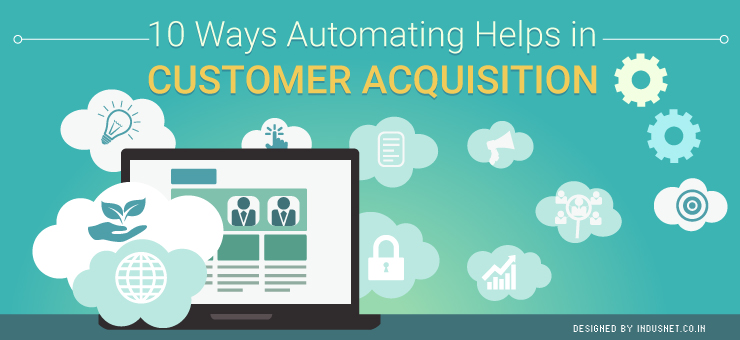 Cloud
Technology
10 Ways Automating Helps in Customer Acquisition
Automating one's business process helps us in a number of ways. It helps us to become leaner and better organizations that can focus on what is actually important. In other words, companies can eliminate unnecessary tasks and automate them while they can concentrate their focus on core business activities.
Automating usually involves CRM, HRMS, ERP, Field Force Management and even mobility. Of course, there are other ways in which a company can automate its processes. With the advent of new technologies, it is becoming much easier to automate tasks and business processes. Curiously, all this automation has another advantage. It helps companies to acquire new customers.
In this article, let us take a look at how companies can use automation to acquire customers.
1. Improve marketing strategy
Automation helps you to improve your marketing strategy by leaps and bounds. This is because of all the added features and analytics that you can squeeze out of your automation tools. It is simply not possible to do so when you are doing things manually. Marketing requires a lot of number crunching and though we may not realize it, automating certainly helps to give a boost to existing marketing strategies. This only means you will get more customers.
2. Social media management
Closely behind marketing strategy is social media management, If you have a business you will know how important it is to manage your social media and engage your followers if you want to build a good brand identity. It all boils down to communication and conversations with your potential customers. This is not humanly possible if you want to do all the social media management yourself. It also does not make sense to hire a number of employees to do your social media management. A better idea is to actually automate this process so that you can focus on more important things.
3. Content management
Social media management cannot happen without content management. While your content writers and editors may write excellent content, what has been published needs to be shared across offline and online platforms. Moreover, you will need to have a deep understanding about buyer personas in order to make your content strategy work. By automating content management process, you will be able to write the kind of content that will most likely help you to gain customers.
4. Market research
Whether you want to engage in social media management or content marketing, equally important is market research. A good market research helps you to understand your market, competitors, target audience and potential customers. Demographics, psychographics and other related data can be automated and analyzed with the help of analytical tools. These reports can be used to create marketing strategies which too can be automated. All this will help you to find the right kind of target audience who are more likely to purchase your goods or services.
5. Help in lead generation
Automating also helps you to generate leads. Whether it is by asking web visitors to take action or respond to your call to actions, you will invariably need to automate this process. For instance, all the emails can be automatically collected by a tool which you can use to send out marketing communication. This automation helps you to generate potential leads. If people respond to your marketing communication or show interest, they could probably consider leads.
6. Lead nurturing
Once you find your potential leads, you need to nurture them. This is done only through the help of social media communication, email newsletters and also certain events. How often and when you should be contacting them depends on how free you are to engage in lead nurturing. Lead nurturing tools, on the other hand, help you to automate this process and thereby help you to focus on what is really important: focusing on your core business activities.
7. Offer better customer service
One of the most important uses of automation is CRM. Customer relationship management helps you to resolve issues, attend to customers' needs and focus on building valuable relationships with them. All this helps you to create a more customer-friendly image and that is very important to acquire new customers. After all, older customers bring in new customers and if you want to acquire new customers, you will need to treat your existing customers well. This means you will have to automate your customer service as well in order to increase efficiency.
8. Speedy resolution of complaints
Once you automate your customer relationship management, you will also need to focus on speedy resolution of complaints that customers may have. This may require more human reasoning than other areas. Still, automating responses and confirming ticket numbers and other such tasks done manually can be avoided. This will help you to project yourself in a positive light. After all, everyone likes to be responded immediately. You may not be able to do this on your own without a certain level of automation.
9. Increased transparency
At the end of the day, automation helps you to bring in transparency and root out bureaucracy. This is simply because software programs are quicker than human beings. If customers try to reach you and are unable to do so, it is going to leave a bad impression on them. The best way to solve this problem is to automate tasks, which will ensure that everything is done transparently. This also avoids red tape and certain malpractices your employees may engage in.
10. Superior security
There is nothing more important than security and privacy today. For these two factors to be given attention, you need to ensure that all information and consumer data is stored safely. It is also better if most of this data is processed by machines than humans. This will ensure that information remains secure and private. After all, encryption helps you to keep all data safe from prying eyes. This will eventually add to your credibility and help you acquire new customers.
Automation not only helps companies to nurture existing ones and look for leads, but it also helps in actually getting new customers. This may seem a little curious but it is not so surprising, considering how automating makes a company leaner and better.
Subscribe to our Newsletter