back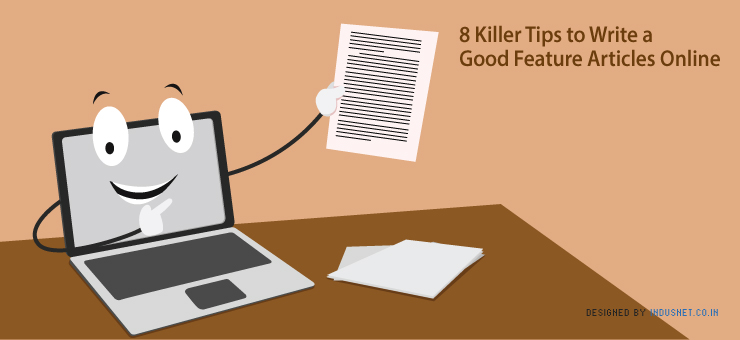 Technology
8 Killer Tips to Write a Good Feature Articles Online
A feature story is very different from any regular article that is replete with information pertaining to news in that it uses a novel concoction of style, delivery, wordplay and interaction with the user. The author uses all these to create a light, interesting and informative read. These articles give the writer more creative freedom in expressing one's writing style through tackling the topic in quite a bit of an informal manner.
A good feature article is the one which scores more on originality that the writer builds from his vast experience. For aspiring or less experienced writers here are a few basic steps that need to be incorporated to make it a best feature article and help the author gain recognition for his work:
• Brainstorming
Keep a brainstorming notebook handy with a pen so that you can carry it anywhere and pen down your thoughts. Inspiration can hit us anywhere and you should not be ill equipped to record what comes to your mind. If you are stuck in some areas that make you reaching a pen and paper impossible such as on a long journey, stuck in a traffic jam, a long stroll in the park, running errands for your family, you may be at a loss for recording your thoughts. So, better be equipped to handle such emergencies.
This tip is vital as you may fail to recollect the ideas and thoughts you came up with during your above mentioned busy session and relate them to the ideas that you remember after returning back from these activities and connect them to form a story. As writing is a creative field, it demands a lot of exertions from you in ideating and coming up with interesting thoughts and words that make the story in your article interesting to read.
• Choose topics wisely
Is there a topic that you have wanted to write for a long time – a topic that you have thought of and prepared an outline or have come up with some fancy or hard hitting words? Is there a particular publication that you want to write for? Plan a working theme for your article. It should be concise, preferably put in a sentence or two.
Let the title be catchy enough to engage the readers in it. It should give an overview of the article as to what the readers can expect from you. It should reflect your views on the topic and be something that the readers can relate to. For example, 'What are the entrepreneurial skills that are necessary to make it big as a business tycoon?'
• Research
Research for enough information that can help you to block out the article into definitive paragraphs to accommodate specific content for your article. Research is a key step that demarcates necessary stages in writing an article. This early stage of research demands that you huddle up to outline your content. This also helps you in writing a coherent and convincing query letter.
• Write a good query letter 
Write a good query letter to an editor of a magazine who you think is sportive enough to respond to your proposition. Though it is rare that an editor calls you, the query letter should be convincing enough to him to include your article in his magazine. As editors are inundated with calls and emails, any query letter should have five parts and each part of the content succinctly put in preferably, a paragraph. Here are the five parts of the query letter:
a. The first paragraph is your introduction. It lets an editor know who you are, why you want his attention and the subject of your proposed article. Use all the ingenuity that you gather in highlighting your cause. As an editor sifts through the mails in his inbox by having a look at this subject, be convincing enough. Don't exaggerate in this profile of you, be formal.
b. The second paragraph focuses on the editor's needs and you should get acquainted with the general editorial policy of the publication and specifically the target audience you are aiming to reach for. This tip is better addressed if you have researched well to probe the magazine's needs from every angle. You can use well directed flattery in this paragraph that results the editor in favoring you over a number of other contenders queuing for the feature post.
c. The third paragraph concentrates on briefly describing the content and the appropriateness of the article and why readers would want this information. Use your impeccable writing skills in describing the content. Use your sublime sense of vocabulary to come with an interesting choice of words that hit hard on the editor's conscience so much so that he should have a go at having the article written for him without hesitation.
Through the research you have done on the readers' habits and their needs, enchant the editor with the notion of satisfactorily attending the readers' needs in the article. Use all the creativity at your disposal and come up with a pair of sentences that convince the editor that your article is good and utilizable from the reader's perspective.
d. The fourth paragraph addresses the editor's concern regarding your credentials and how you are uniquely qualified much better than your peers. It also shows the editor your understanding regarding the aims of the publication. Make the editor familiar with your writing style and the articles that you have worked on. It is good if you let him know your deep understanding of the subject in question. Let him get an insight of the seriousness of your talent and if other articles you have written on the subject.
e. The final paragraph should be very short. It lets the editor of the publication know what mode of communication you will use to follow up regarding the status of your query letter – was it duly accepted or not. Keep it to the point as to what time your will call the editor or expect the necessary response from him. You should know that the latter is most unlikely to happen. Be prepared for alternatives.
• Research more 
Research more regarding the content of the article. Gather every bit of information that you can find. It is better to stick information regarding the article in the form of cut-outs and post them near your desk. Talk to as many experts or sources as possible. Leave no stone unturned to find a suitable source that can help you in gathering information. Never cease to investigate.
Back your article with accurate facts and data so that your article should stand up for the truth it portrays and would never come under fire from people with vested interests. Be equipped to handle such scenarios. This gives your article credibility and make sure you use information from reliable sources.
• Make your article interesting 
Use it to evoke an interest in the reader. Use anecdotes and descriptive passages. Write a thorough introduction regarding what the article is about. A comical anecdote or a catchy scenario can also be used to engage the reader.
• Keep it crisp
Prepare a crisp outline to your article and make sure you stick to it. Have your readers' capabilities regarding the language addressed. Don't use fancy language or industry jargon that may shoo your readers away. For example, if the article relates to the medical field, don't bore your readers with medical terminologies. Resist the temptation of using your big guns.
• Revise
Always revise your article and make necessary edits regarding the grammar or omission of words and typographical errors. Writing content for a website is similar to feature writing and they both go hand in hand, depending on what is being written on the website. However, many blogs are written in a feature-post style. It is advisable if you take a break after finishing your feature post and later edit it with a fresh pair of eyes. Take a trip to some serene or picturesque places so that you may not be emotionally biased regarding your article and overlook tiny errors. This can cause your article not to be taken seriously and the critical acclaim of this work of yours may be at stake.
Writing a feature article demands a lot of creativity and can be a herculean task. You should be committed to it and deliver a quality article that is consistent with the reader. Apart from these tips, it is advisable that you come up with innovative methods that help you write an interesting article from the reader's perspective. Every day is a new day. Be prepared.
Subscribe to our Newsletter