back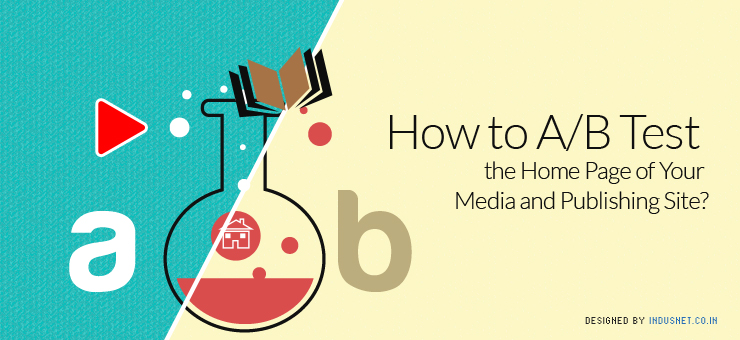 Digital Marketing
Media
Web design
Web Development
How to A/B Test the Home Page of Your Media and Publishing Site?
With the onset of digital era, the most important challenge for the Media, Publishing and Entertainment (MPE) industry is to go digital. This newly evolved age has not just brought in a number of new challenges but has even changed the way this industry used to work. Presently, you as a part of this industry have to cope up with a completely new set of user behaviour and meet highly competitive industry standard; and the first thing that you need to do to capitalize new opportunities in this consumer-driven, fast-paced industry is to have a properly functioning home page, if not a easily navigable website.
Now, how to know whether you have the perfectly running homepage for your website? It's easy! All you need to do is A/B test the home page before launching it. Here are some excellent ideas that can help you A/B test your media, publishing and entertainment site's home page:
Testing a Home Page
Being the point of entry to your website, the home page gives visitors an idea about your brand value and products & services offerings. Hence, it's highly important to have a proper home page that can encourage return visits. Here is how to test the homepage of your website:
Content that Encourages Return Visits
It is said that "Content is the King". So, the first thing that you need to ensure is that your home page has got content interactive enough to not just attract and engage visitors but even to force them to come back to your site again and again. It's always better to use short content modules in media and publishing sites as the separate headings attract more attention. Once you become sure that your home page has got interactive content, check whether it is able to increase the number of return visits and page views of your website.
Page Navigation
Make sure that your home page allows visitors to navigate around the website by category, without having to click on any particular category. This helps visitors consider content that they otherwise wouldn't have checked. Hover states are even quite effective for attracting visitors' attention to sections, which they might not explicitly look at. Hence, before testing the hover state, ensure that it includes sub-categories, top stories and imagery. However, too many categories and sub-categories might have a negative effect.
Once done with the categorization, check if it has increased your page views or decreased the bounce rate of your home page. Though the test might sound a little difficult, however, you can simplify it by deploying the following methods:
Choosing top five clicked sections
Selecting top sub-categories in each section
Hover displaying of those sub-categories
Value Propositions
Value prop is another essential aspect to be considered while A/B testing your home page. After all, it is highly important to make the visitors realize what value they would get, if they subscribe to any of your online publications. However, make sure that the content of the main value propositions are descriptive and clear. Once you have promoted the value props of your home page, test the page with and without value props & check which one has an increased subscription conversion rate.
Now that you know how to A/B test your home page to get a better customer attention, it is no longer difficult for you to take your publishing business to a new height by going digital. All you need to do is follow all the aforementioned steps carefully.`
Subscribe to our Newsletter