back

Cloud
DigitalSuccess
Outsourcing
Agile And Outsourcing Product Development. Get It? Else, Forget It!
Version One's 13th Annual State of Agile Development Survey indicated that Agile is spreading geographically. To top it all, 46% of respondents use agile to manage outsourced products and 40% of respondents plan to increase the use of agile in outsourced projects.
Wait, let's look back for a bit to when it actually started. Manufacturing outsourcing existed long ago, but the end of the 80s – the beginning of 90s which saw the starting of IT outsourcing. Companies jumped at the opportunity to save bucks by using cheap labour not only for producing goods but also software. Saving money was a notable intention, but the motivation of getting the world as talent pool was also powerful. Agile methodology, when infused later in the 90s, became the cherry on the cake.
Matter of fact, we have also studied the scaling up of adopting agile at most of the companies, including small firms that run the entire enterprise with agile methods; larger companies that, like Spotify and Netflix, were born agile and have become more so as they've grown; and companies that, like Amazon and USAA (the financial services company for the military community), are already in the transition from traditional hierarchies to more-agile enterprises.
The above survey says that 2018 saw a 71% increase in the respondents selecting "Reduce Project Cost" as a reason for adopting agile. There was also a 27% increase in "Project Cost Reduction" as a reported benefit of implementing agile. Additionally, there was a 74% increase in accelerated software delivery from which we can easily conclude that the talent pool became smarter than ever.
TCS is India's one of the largest IT companies is pulling up their socks to adapt to this methodology and wants to move to the new way of working by 2020.
"We are trying to figure out how to transition from our regular, current cubicle kind of workspace to a more collaborative workspace," Rajesh Gopinathan, CEO at TCS, tells ET Magazine.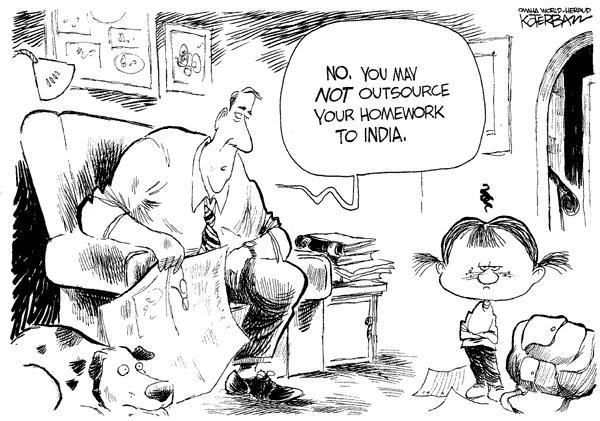 Source: Targetprocess blog
Why might this be?
What led to the rise of the agile manifesto is that people slowly started to realise that the waterfall approach they've used with their outsourcing vendors is not that great after all. Fixed price contracts stopped making sense as they do not guarantee real value. The more labour is outsourced to other countries, the higher are the costs. Hence, the main point for outsourcing which is cost-saving loses its foothold.
There're other even deeper-lying consequences. On one hand, the country which outsources – or businesses in this country, not the country itself – they save bucks but lose in the long run as they do not grow their own engineering minds, let alone all the problems that you have working with remote teams – yes, we have all this telecom and internet in place, yet face-to-face communication is irreplaceable. If you often go on business trips to the outsourced destination to talk to your team – again, it's more costs. Well, the crux is not about how good or bad outsourcing is.
The companies which outsource on the other hand – they have legacy outsourcing teams. They need to get going as well, to stand up to all the funds they've already invested in their outsourcing partner.
With all these outsourcing in our hands – what do we do?
As an agile outsourcing product development partner, you should be ready to invest a lot of time and effort in educating your new customers on the value of agile as well as building a solid relationship. This might be a very difficult task since some people just don't want to get educated and prefer to stick to good old fixed-price bids, logging and billing for a gazillion of change requests, lack of communication and other "joys" of classical outsourced development.
At Indus Net Technologies we believe and have shown, that Agile can be very successfully embraced in an outsourced software development relationship. There are enormous benefits that can result in terms of customer and product success.
Perhaps this happens because agile requires trust, flexibility, focus, open communication as well as willingness to embrace change within a project.
Client Process Adoption at Indus Net Technologies. Process adoption before working with INT:

31% had a full process in place at project start
25% had a partial process in place at project start
46% had no process in place at project start

Process adoption after working with INT:

75% had a full process in place
14% had a partial process in place
11% still do not have a process in place

Clients with a process: Of the clients who have a process in place, 68% use an agile process Of this group:

Scrum preferred by 80%
20% use Waterfall
Remainder prefer other approaches

Agile adoption at Indus Net Technologies

80% of INT's FY2018 projects are classified as Agile. The remaining 20% are the projects whose lifecycle are highly predictable. In such cases, the client was clear of the feature set and scope, which led to the outcome broken down to a known set of deliverables. These projects usually follow the traditional Waterfall model.

Scrum framework adoption at Indus Net Technologies

The major chunks of agile projects at INT use a Scrum framework. Those Agile projects that do not follow Scrum are typically small (<5 persons) teams where a Scrum framework can become a 'heavy' process-load. In such cases, lighter processes surrounding agile processes are followed.
"The Agile movement is not anti-methodology, in fact, many of us want to restore credibility to the word methodology. We want to restore a balance. We embrace modelling, but not in order to file some diagram in a dusty corporate repository. We embrace documentation, but not hundreds of pages of never maintained and rarely-used tomes. We plan but recognize the limits of planning in a turbulent environment. Those who would brand proponents of XP or SCRUM or any of the other Agile Methodologies as 'hackers' are ignorant of both the methodologies and the original definition of the term hacker"
– JIM HIGHSMITH, HISTORY: THE AGILE MANIFESTO