back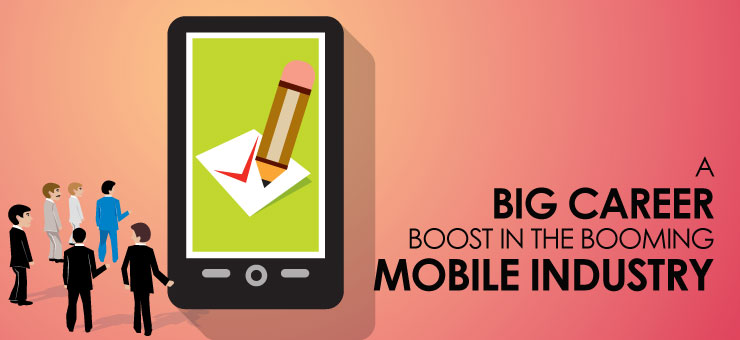 Mobile
A Big Career Boost in the Booming Mobile Industry
'Life without mobile phone' – who could think of it? People are woken up by cell phones every day. 2 hours and 36 minutes is the average time that mobile users spend each day using mobile internet. It is not just food, clothes and shelter anymore, mobile phone has become an indispensable part for most of us. Today, it has graduated to become a necessity. For instance, India ranks third for Smartphone users, with an estimate of 117 million subscribers, immediately after China and U.S. The growth of Smartphone subscribers in India, in 2014, stands to 45%, which is the fastest among the top 30 Smartphone markets in the world.
With the core value that says "WE LOVE TECHNOLOGY", Indus Net Technologies, with its dynamic environment, is continuously creating enormous opportunities to challenge yourself and work with the best mobile technologies. Be it the development of GPS system, Smart TV, ATM system, development of mobile app, mobile app testing or mobile website development, such opportunities help you to develop specialized expertise, tailor your career and grow professionally.
It is the Right Time!
If you are planning to pursue your career in the mobile industry, IT IS THE RIGHT TIME. Looking at the following statistics will certainly clarify all your doubts…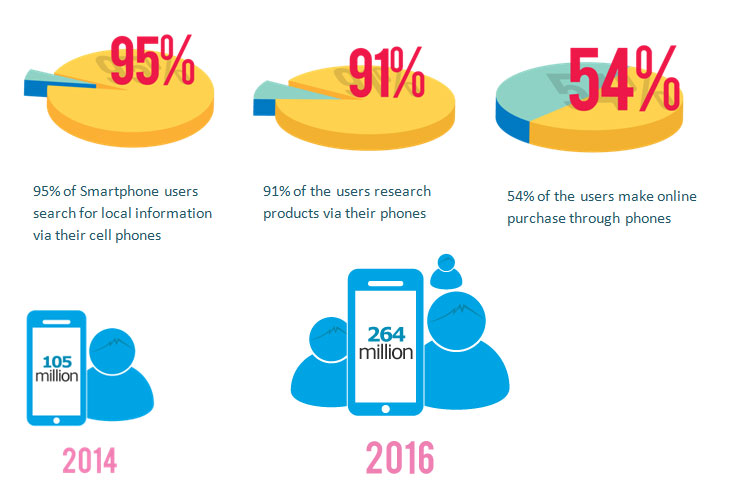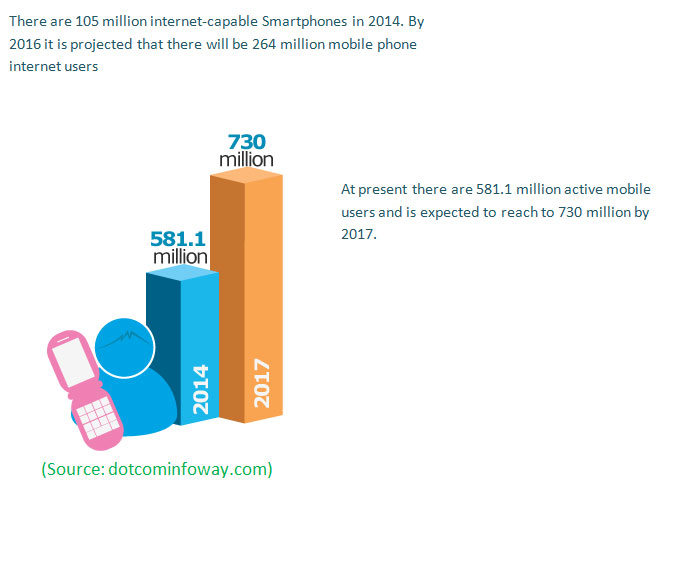 What Do They Do on Mobile Phones?
| | |
| --- | --- |
| Percentage of users | Activities in mobile phones |
| 203% | Involves in messaging and social activities |
| 149% | Involves in utilities and productivity work |
| 115% | Involves in app usage |
| 76% | Involves in media, music and entertainment |
| 77% | Involves in lifestyle and shopping |
| 66% | Involves in games |
| 49% | Involves in sports, health and fitness |
| 31% | Involves in news and magazines |
(Source: Dotcominfoway.com)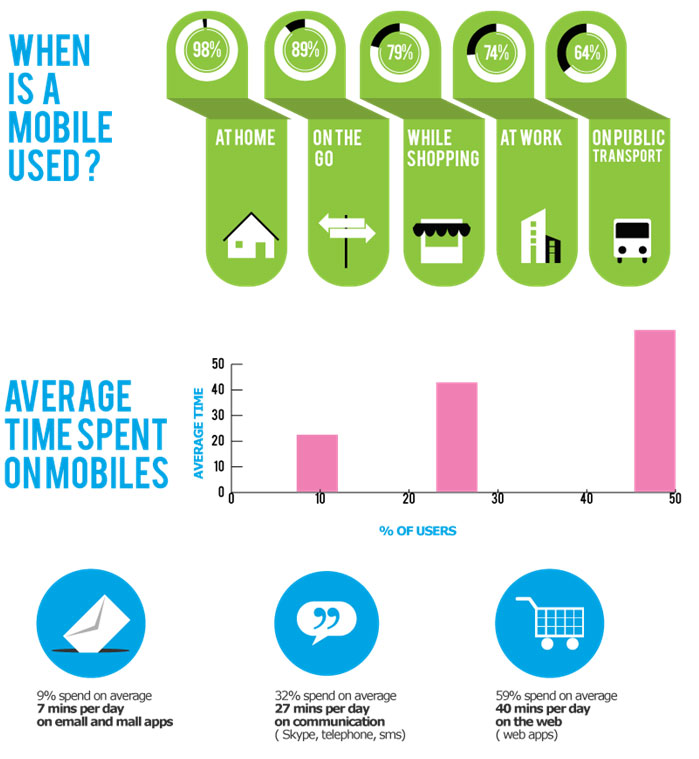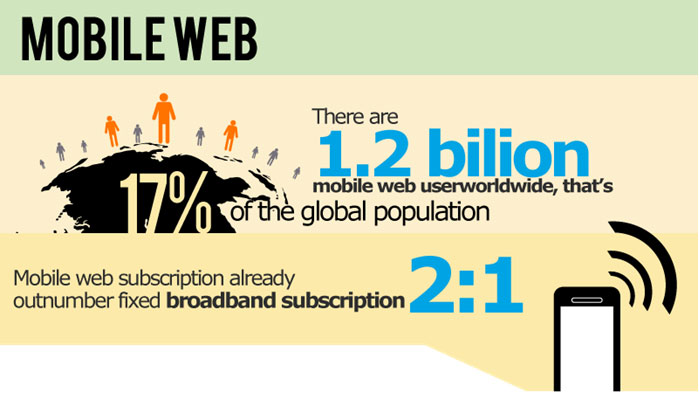 The 10 Most Interesting Facts
The total number of Smartphone subscribers is growing at over 20% with the fastest growth in China, India, Brazil and Indonesia. 30% of the world's mobile users live in China (963 million) and India (844 million)
The average Smartphone users in the country have 17 apps. The number is very close to the global average of 25
Android is the most popular operating system in the world covering 75% of the market share followed by iOS and Windows phone OS.
There are more than 1 million Android apps published in Google Play Store and more than 50 billion downloads of only Android apps
Android is an open source service with the most user-friendly interface and functions. It has the capability to boost hardware performance
Shipments of Apple iPhones into India crossed one million units between October, 2013 – September, 2014
Windows phone is the second largest operating system in India. Microsoft is even targeting $50 billion handset market globally
Windows phone is in second position with 5.4 percent of market share of shipments. There are approximately 7.5 percent users present in India
Microsoft even offered free windows phone OS to the Indian players in 2014
The total number of internet users is growing at 10 percent year-on-year. The fastest growing market is in India, Indonesia and Nigeria. The global mobile traffic accounts for one-fourth of the total internet traffic
(Source: Various)
It's no surprise! Mobile games are also becoming popular
The extreme connectivity and portability capabilities of smart devices are encouraging gamers to play anywhere and anytime, thereby, freeing them from the physical limitation of the desktop computers. Mobile games are accessible, inexpensive, innovative and an impressive source of revenue for developers, who will continue to create mobile games as long as the consumers demand it. With Android gaining on iOS, Windows getting a foothold on tablets and smart phones, mobile game market share is changing around the world. Juniper says, the mobile game market is about to hit $9 billion in 2016 and mobile will be the "primary hardware" for gaming.
Gaming industry gives you enormous opportunities to put all your imaginative ideas together and create games that are unique & always in demand.
Why should YOU be a part of the mobile industry?
The Android and iPhones are making the latest wave in the world of communication. Their innovative applications and advanced functionalities are getting popular & highly in demand
Mobile industry is continuously coming up with new apps, gadgets, games and other technologies before the users are done with the old ones
There is no end to your learning opportunities. You tend to learn and discover new mobile technologies every day
With so much to learn and implement, there is no place for saturation in this sector
Age is not a barrier when it comes to using mobile phones. There are ample scopes to make innovations for every age group
The future is becoming mobile and all services & offerings are going to run through applications.
A big career boost
Mobile is fast becoming one of the biggest platforms for:
Programmers
Mobile application developers
Mobile architects
Mobile application designers
Mobile application testers
Surprisingly, there is a huge demand for skilled app developers and designers not just in India but all over the world.
Indus Net Technologies is one such business house that encourages you to explore every new way of creating super performance in your work. From the innovation of newspaper app, kitchen app, travel and tourism app to numerous chat applications, Indus Net has successfully worked with several projects & delivered value to clients and society at large.
So, what are you waiting for? As you see, you have EVERY REASON to build your career in the mobile sector.
Subscribe to our Newsletter