back

Blockchain
Blockchain in Industry 4.0
Industry 4.0 is generating sizeable buzz these days in (no prizes for guessing) global industry circles! It is billed to be the first such major revolution, one that focuses more on digital transformation as a key component of enabling interconnections, support, knowledge, and openness.
This will eventually extend to aspects like smart manufacturing, supply chain management, data security, interoperability, and more.
This is where blockchain comes into the picture as a foundational pillar of Industry 4.0. From production on demand to automation and robotics, companies are increasingly leveraging technology to solve a variety of problems. AI and Blockchain can be a dynamically potent duo that covers transparency, sharing, safety and various other aspects.
At the same time, Industry 4.0 technologies are embedded with the concept of massive computing abilities and sufficient storage along with swift detection, linkage, and authentication through cloud-based servers. Let us take a closer look at how blockchain will drive the proliferation of Industry 4.0 paradigms worldwide.
What is the 4th generation of blockchain?
Blockchain 4.0 is a whole new generation of this pioneering technology. Here are some pointers that are worth noting in this case:
Blockchain 4.0 promises the delivery of blockchain for the operation and creation of applications in a mainstream environment. It will be more usable for businesses as a result.
Blockchain has always offered immense potential in terms of higher data security, automated record-maintenance, secure payments, and immutability.
Yet, there were several hurdles including the lack of development skill-sets for the blockchain and speeds. While everyone was anticipating something on the lines of Web 2.0 applications, it was still stuck in Web 1.0.
Blockchain 1.0 was built probably with a single-use in focus like supporting cryptocurrencies for instance. Blockchain 2.0 was about delving into other areas.
Blockchain 3.0 would be more like Ethereum that enables various applications and activities.
Blockchain 4.0 will take this prevailing sentiment of doing more to a whole new level. It will be about usable technology, easier app development, swifter speeds and unique benefits.
To put it into perspective, businesses with the ideas but lacking blockchain skill-sets can still develop and run decentralised applications.
Applications can be tailored with permission-linked hierarchies, payment facilities and more. They will offer complete immutability and security with automatic recording.
Businesses can go for self-executing contracts for almost anything within apps that run faster than before.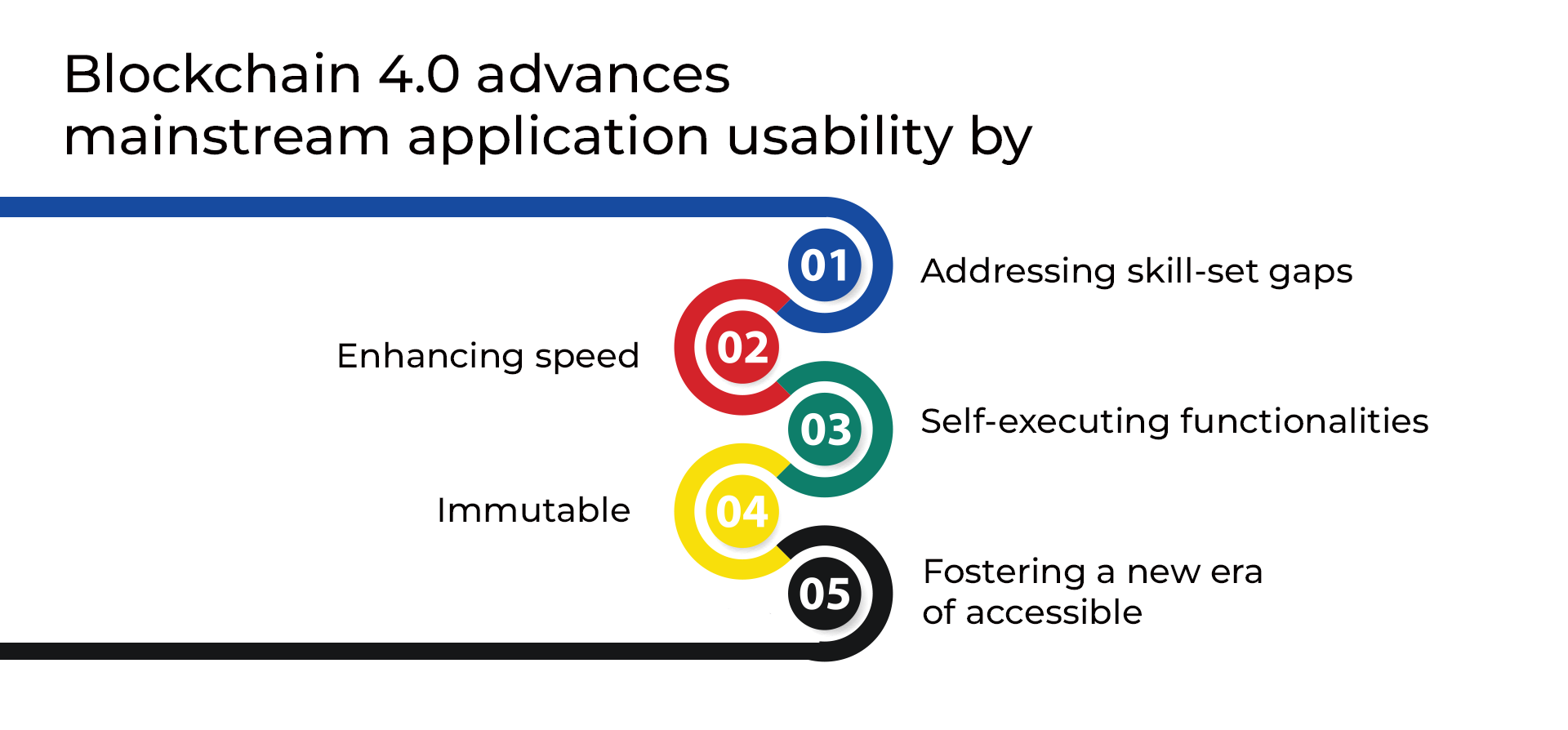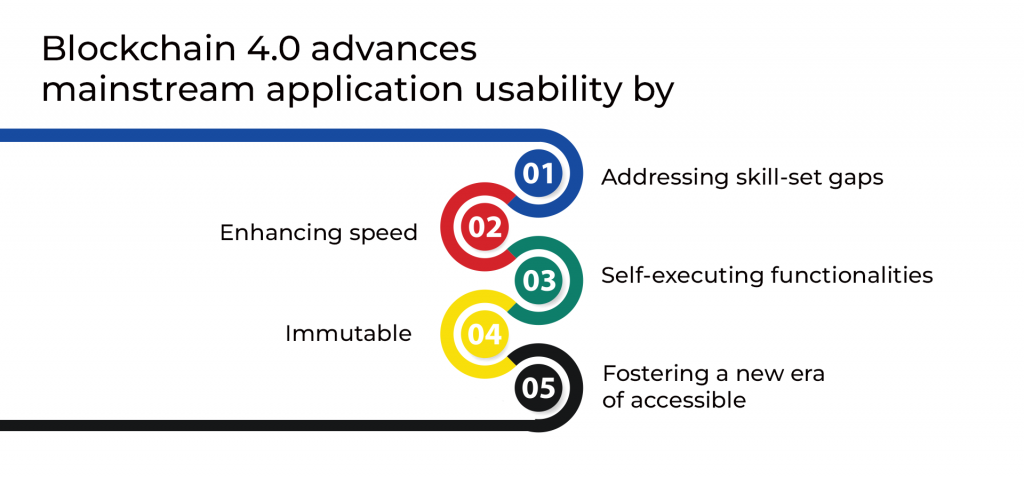 Sounds exciting doesn't it? That is precisely what Blockchain 4.0 promises and within the larger Industry 4.0 blueprint, it can have a bigger bouquet of benefits for companies.
How will Blockchain transform industries and the economy?
We've mentioned smart manufacturing, smart contracts, supply chain benefits and more applications of blockchain already. What more can it do? What are the transformative effects that it will have on the economy and industries? Read on for a glimpse of the same:
The transparent and consensus-based mechanism in blockchain will make transaction validity verification a breeze. Information creation and modification can be easily authenticated as a result.
The blockchain focus was initially on finance applications, although there is more potential in terms of agriculture, supply chains, logistics, healthcare, and manufacturing.
Blockchain will eventually spawn newer business models along with more innovative procedures for getting work done.
It will open the door to more self-reliant and self-organising economies, a far cry from the hierarchical organisations of yore (or even today).
Most importantly, there can be a direct transfer of value amongst participants in a trusted manner.
Workflow execution will be leveraged for automating regulatory workflows with smart contracts.
Tracking and reporting data, verifying compliance and approval-based procedures will become seamless for most companies.
Blockchain is already enabling trustworthy transaction and agreement records in the global finance sector.
For food supply chains, blockchain based environments can offer end-to-end solutions for combating fraud and interruptions.
Through the integration of supply chain management with IoT systems and automated communication, safe value transfers are more possible today.
Smart manufacturing will be the norm and not the exception in the coming era. Companies will reshape their value drivers due to the digital transformation afoot at every stage of the process.
There will ultimately be completely new models driven by smarter factories and supply chains. At the same time, bespoke customer solutions will come into play along with innovative service offerings.
Blockchain 4.0 will help companies shift their operations onto self-recording and secure applications based on encrypted, trustless, and decentralised ledgers.
Automating administrative tasks on the blockchain is another benefit along with negating data losses.
Manufacturers will shift their priorities towards creating more valuable outcomes rather than only building products at scale. An outcome economy will result from this digital transformation enabled by blockchain.
Micro-factories will soon support bigger company operations, while immutable ledgers will ensure product authenticity and certification.
Machinery will shift towards pay-per-use models for value-added work and completion.
The blockchain system will enable automatic audit trails helping users track transactions and even suitable equipment usage and materials along with product serial numbers.
From 3D printing to mainstream manufacturing, blockchain will herald a paradigm-shift in how business is done, especially with the focus on achieving an outcome economy.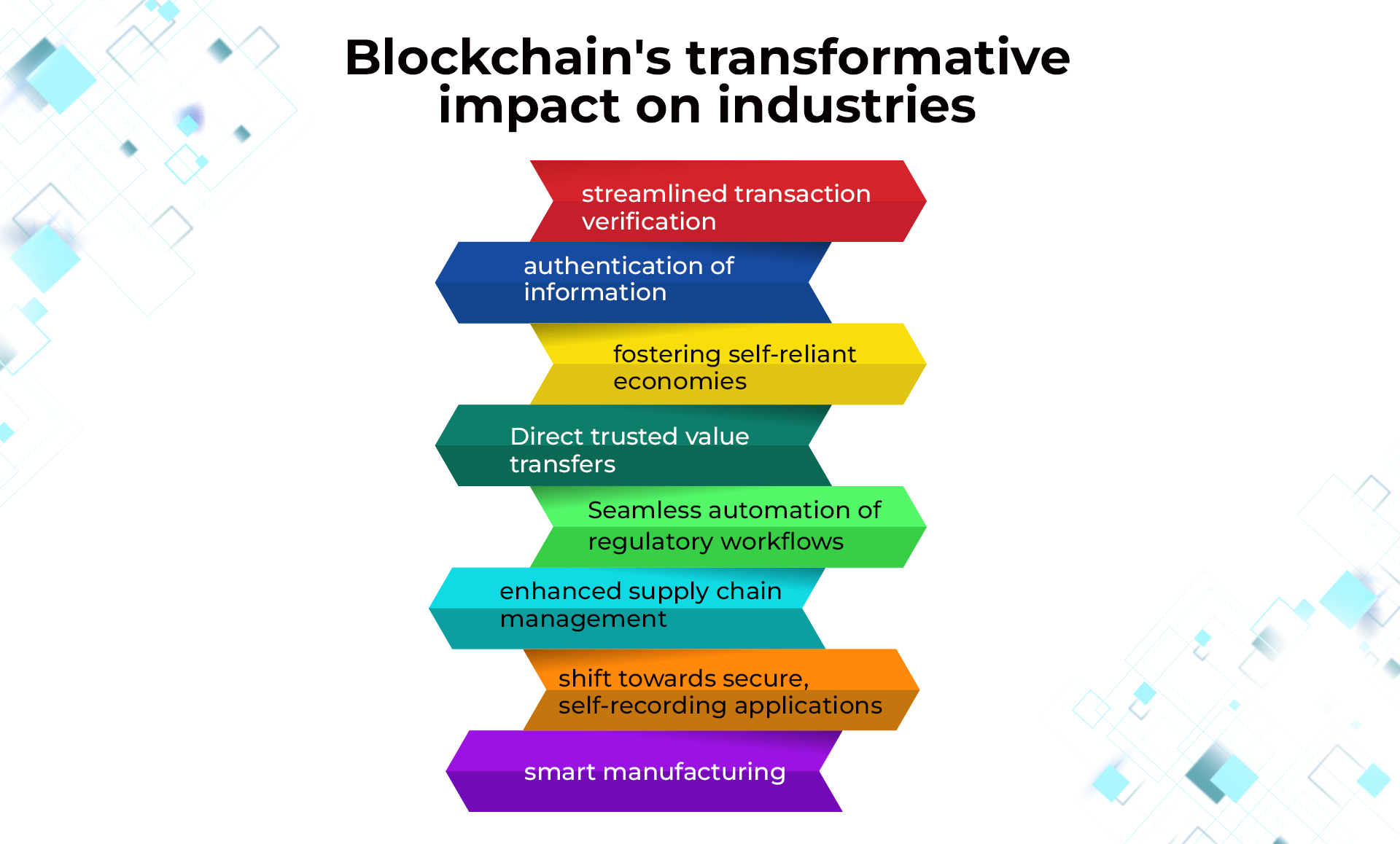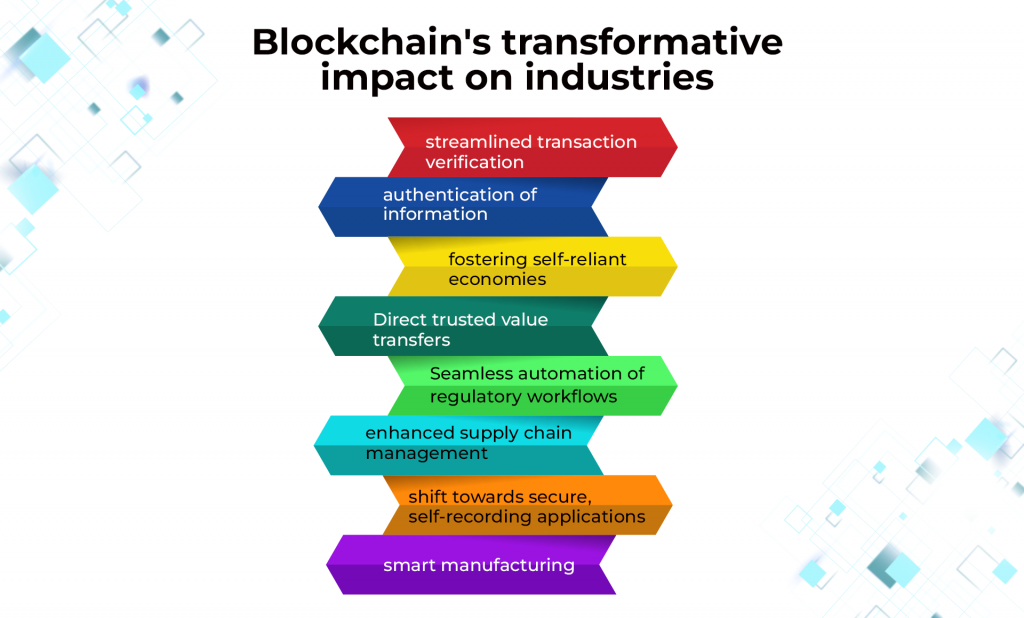 Digital Supply Chains
The digital supply chain concept has already garnered significant headspace in recent times. Here are some factors worth considering in this space:
Digitalised supply networks will be blockchain-enabled and function as core infrastructure for the overall master network.
This will be supported by the IoT for easier data-gathering, connectivity, and analytics.
Tracking devices will link physical objects and data generation, thereby enabling smarter supply chains and manufacturing procedures.
Blockchain will enable trusted transactions across the supply chain through smart contracts. Data transmission will also take place automatically throughout all assets within the system.
Supply chains that are blockchain-focused will find it easier to achieve consensus amongst stakeholders, thereby building higher trust.
Coordination and data sharing will be the biggest enablers of smart supply chains along with easy tracing content from its source.
Businesses will be able to automatically authenticate products, carry recalls forward, and speed up product movement in every sector.
Data will be encoded and modified in the blockchain while passing through the supply chain.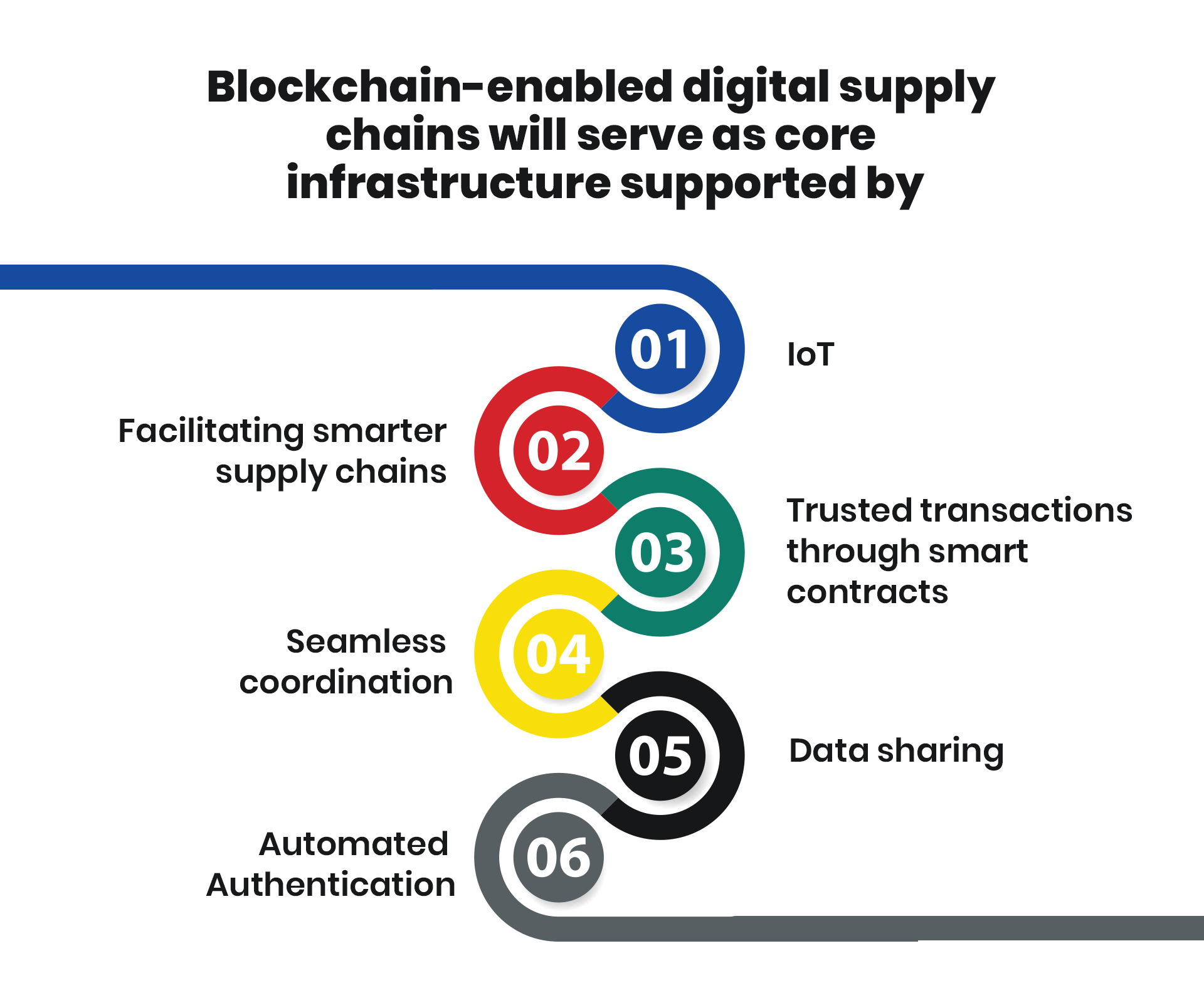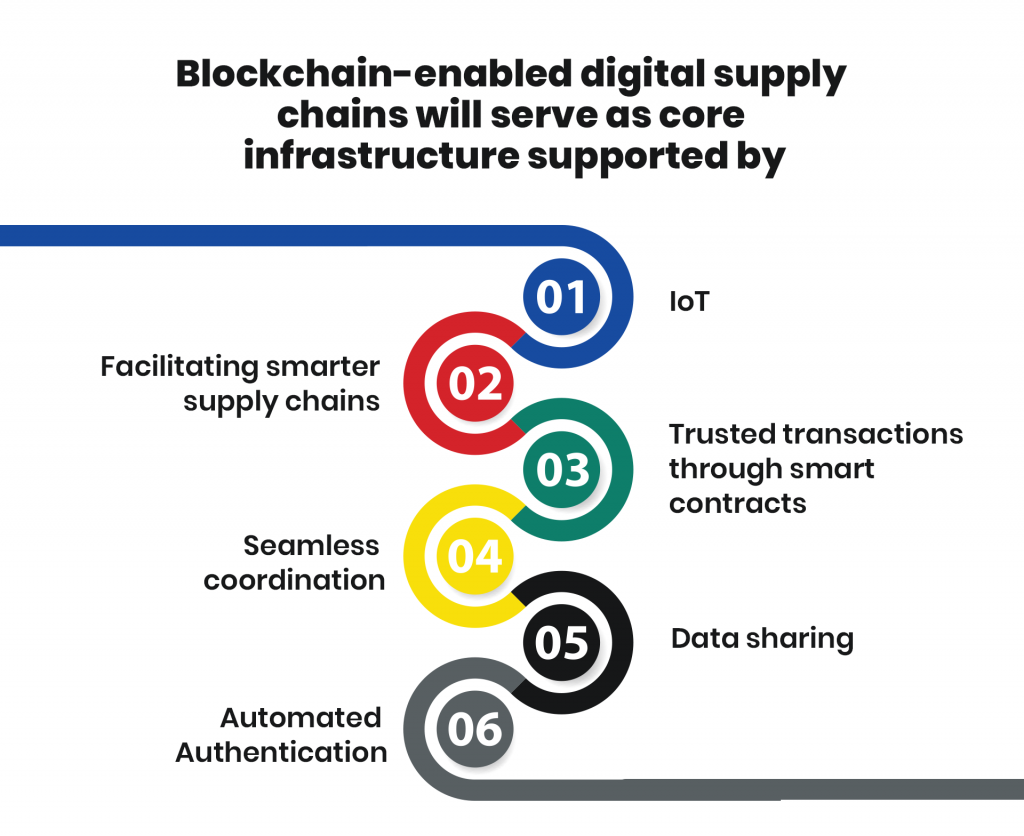 As can be seen, blockchain is an integral part of the epoch-breaking towards Industry 4.0 models as far as businesses and manufacturers are concerned. There will be more ground-breaking innovation enabled by blockchain and it will re-envision and reshape business and economies like never before.
FAQs
What role does blockchain play in securing sensitive data and transactions in the context of Industry 4.0?
Blockchain plays a key role in securing transactions and sensitive information with encryption and immutability. Distributed ledger technologies enable data structuring into blocks, with each containing a transaction bundle. All blocks connect to each other in a chain which cannot be tampered with.
How does blockchain integration enhance interoperability between IoT devices in the Industry 4.0 ecosystem?
Blockchain can help in easy tracking of information gathered by IoT sensors, without any duplication. Data transfers can be facilitated by blockchain technologies without trusted third parties required for the process. This will naturally boost interoperability between IoT devices.
What potential challenges and solutions arise when integrating blockchain technology with AI in Industry 4.0 applications?
Some of the biggest challenges include data privacy, consent mechanisms, and the quality of data. AI can gather data while analysing huge datasets for identifying patterns and generating unique scenarios. Blockchain enables fraud-free, secure, and flawless data sets. New patterns from AI can be authenticated with decentralised blockchain mechanisms.
What novel opportunities does blockchain unlock for monetising data sharing in the Industry 4.0 landscape?
Using blockchain platforms, players can get NFTs or tokens as prizes for completing tasks, for instance. They can sell assets or trade them. This is an example of what already happens. Going forward, users may be able to monetise data in a similar manner through tokenisation. Data can be converted to digital assets for sale/trade on decentralised marketplaces. Users can set prices and conditions for sharing data. They can thus take part more actively in a data economy and get direct benefits in turn.
Summary

Article Name
Blockchain in Industry 4.0
Description
Experience the synergy of Blockchain in Industry 4.0. Discover transformative solutions driving efficiency, transparency, and innovation across sectors.
Author
Publisher Name
Indus Net Technologies (INT.)
Publisher Logo
Subscribe to our Newsletter