back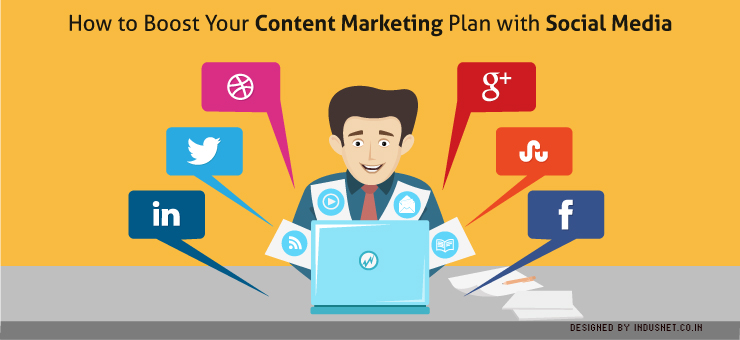 Content Marketing
How to Boost Your Content Marketing Plan with Social Media
While it is well-established that content marketing is very important for SEO, sales and for the quality of marketing itself, companies are left wondering how best they can optimize an existing content marketing plan. One of the ways is to tap into social media, which is inextricably linked to content. More people access Twitter, LinkedIn and Facebook to get their daily dose of content. This could range for news articles to blog posts from companies they like.
This new reality presents us with challenges and opportunities that we had not seen or experienced before. It is not known that social media can effectively boost an existing content marketing plan. For this to be successful, one needs to have an effective policy in place. In this article, let us take a look at how social media can be used to boost content marketing.
Understand and engage your audience
The first step to using social media for content marketing is to understand your readership and your audience. If you are writing primarily for a professional and business audience, it makes sense to use LinkedIn as the preferred platform. LinkedIn is particularly popular with professionals and is a great tool to boost content marketing.
If your audience is younger and hipper, you could probably choose Facebook. Moreover, having a Facebook page is very crucial for any sort of content marketing. It is a given in today's circles that social media invariably involves using Facebook pages. Last but not the least, Twitter is used by a large number of people. You can use Twitter to promote your posts, content and even connect with your audience. Twitter has the added benefit of being more public than the other two platforms.
In order to make sure that content is circulated over social media, you first need to ensure that you are writing socially engaging posts. Posts need to have the ability to go viral. It does not make sense to write articles that are not entertaining or socially attractive. You need to understand that people like, share and even read content that appeals to them. That which does not interest them, simply gets ignored. Understand your audience to create posts that are uniquely interesting and have the ability to go viral.
Have a plan in place to disseminate your content
In order to fully utilize the power of social media to market your content, you need to have a plan in place to disseminate your content. This means, you need to have a full-fledged social media team or outsource your content marketing to an external vendor who also has a social media team.
This ensures that your social posts are closely related to your content and that there is no clash between the two. It is important to remember that an effective social media campaign also involves content marketing and thus, it is important to keep the two in a loop.
Seek feedback, measure your social media strategies and improve your content
It is no use, if you write great content and use social media well, if you do not track your progress. Every social and content marketing campaign needs to be tracked & measured. Based on the analysis, you need to reformulate, add, modify or even continue with your existing social media and content marketing strategies.
This helps us to know where exactly we stand when it comes to content marketing on social media. With a growing focus on different demographics and psychographics, you also need to be aware of what kind of content you are sharing. Content needs to match with your social audience and only then will your content marketing be of any use.
Final thoughts
Content marketing started with the popularity of blogs and eventually began to encompass everything from e-books, white papers and brochures to even videos & podcasts. In order to ensure that created content reaches the right target audience, one needs to have an effective marketing plan. This is where content marketing meets social media. In order to make sure that content marketing campaigns are successful, it is necessary to make use of social platforms as well.
Subscribe to our Newsletter