back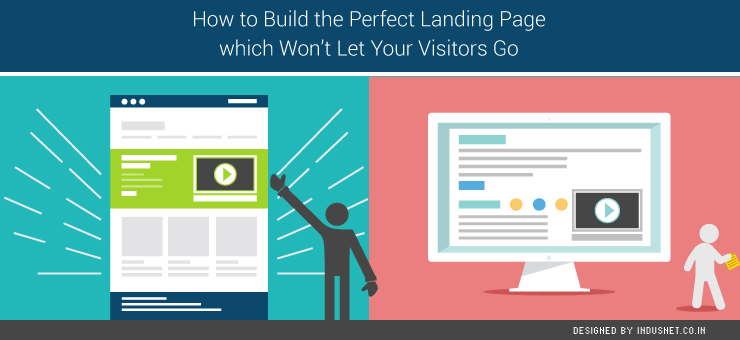 Digital Marketing
Graphic Designing
Web design
Web Development
How to Build the Perfect Landing Page which Won't Let Your Visitors Go
Landing page is the first page seen by your visitors on your website or blog. Landing page needs to be built in such a manner that it stimulates the visitors to take an action as expected by you. Suitable landing page enhances user experience and your marketing goals are very likely to get accomplished.
If your traffic goes to unsuitable landing page, visitors will abandon you and you will hardly get any conversion. Marketers need to be wary of committing such a mistake. Before we discuss how to build a perfect landing page, you need to know what goes into planning a perfect landing page.
Clarity of goals
What do you expect visitors to do when they land on your webpage? Is it subscription to newsletter? Download an e-book? Submit their basic information? Buy? Follow your social media profile? Whatever it is, it needs to be directed through your landing page. If your landing page is irrelevant, customers will get confused. Having clarity of goals is must and they will further help you to track conversion rate of your marketing campaign.
Know your competition
Which kind of landing pages are being used by your competitors? You have to build upon that. Anything less is unsatisfactory. Are they offering better experience for the visitors? If they do something new, try to imitate that. Customers are flooded with choices today, knowing your competition, their strategy and campaign is crucial to take a lead. Also, follow your industry leaders and see what they are doing. This will inspire you to think big.
Know your audience
The reason for you to be in business is your target audience. Once the segmentation part is over, how do you position your company, product and brand in front of the audience? For that, you need to understand a lot more. As a marketer, you should know that most of the decisions made by consumers are driven by emotions. Do you empathize with their expectations and aspirations?
Understand the variation required in landing page
Your target audience could be spread across the globe. Traffic could come to you through social media networks, ads, emails or blogs. Try experimenting with the message depending upon the source of the user to offer a unique experience. Businesses with different landing pages often get more results than others. In the beginning, try to find out the sources from where majority of your traffic comes. Make a variation on those sources first before moving ahead.
How to build a perfect landing page?
1. Collect contact information on landing page itself
People always think twice before giving their contact information online. You will augment their dilemma by forcing them to navigate. The result is that you lose out on customers. So, when you are directing them to a page to get their contact information, always use a strong headline stating the benefits to be offered by you. For instance, is it a subscription to newsletter, eBook download or anything else? Use a strong call-to-action. While offering a free download, it is advisable to use an image to enhance visual appeal of your digital product. The opt-in form needs to be short and simple & seek minimum personal details.
2. Content-specific landing page
If you are creating a lot of interesting content with a large shelf life, it is a great idea to create content-specific landing page. Delivering the information sought-after by customers on landing page itself will save their time in navigation. Take a call on which topics you want to be featured on landing page and then create one for each topic. Including a short introduction to each post gives it more attention. The landing page, thence, can be promoted on social media networks and emails.
3. Landing page for first-time visitors
A first-time visitor might not be sure which part to navigate first on your website or blog. It is quite possible that they land on a page where they don't find anything interesting. By creating a custom landing page driving them to information necessary for first-time visitors, a lasting impression will be created. Even if a new visitor lands on an unsuitable landing page, include an option of "start here" in the navigation. The introduction page can share about your product USP and how you've managed to keep your customers happy. Direct your visitors thereafter to a page where they can seek more information relevant to them.
4. Landing page for visitors on guest post
It is always good to write guest posts to tap the audience on popular blogs. Most marketers send that traffic to their home page, which is not a very good thing to do. To maintain the relevance of the guest post, visitors need to be directed to suitable landing page that provides them additional information. This helps in maintaining consistency of the information being shared. It intrigues the visitors to take further action depending upon your call-to-action.
5. Short, sweet and conversion-friendly
An ideal landing page is the one that contains just enough information for the visitors. Don't expose too much information on the landing page that it just shoo the visitors away. The goal of the landing page should be to convert the visitors. Your desired conversion goal could be anything. Visitors need to feel encouraged to go ahead with it through visual appeal, sound design and relevant links.
6. Videos and images
A landing page loaded with bright and easy to load images creates more attraction for the visitors. Many times simple links don't work. Images embedded with links prompt the visitors to take action. Similarly, if a nice self-explanatory video is uploaded on the landing page, it will help the visitors to understand your product and its features. Videos can also be used in place of text to state a point as they carry more weight when it comes to convincing.
7. It needs to be in line with your ad text
The keywords used on your landing page should match with PPC ad text. This ensures the visitors that they have been directed towards the right link. A wrongly directed link dissuades the visitors from going any further. Be very specific in your approach. Don't commit the mistake of sending them to a generic page as well.
8. Create mobile-friendly landing page
Having a mobile-friendly landing page is a necessity. A growing number of visitors view your ads and emails through mobile. A responsive design displaying relevant information doubles your chances of conversion. If you are seeking lead generation, don't expect customers to fill lengthy contact forms on mobile. Include clickable phone numbers and emails. Mobile web pages need to be easy to load with light images.
9. Enticing share buttons
Landing pages can be places where people find a lot of interesting content. A satisfied visitor would like to share same information with his friends. Do not lose this opportunity. Add share buttons to enhance your social presence. Good content gets a lot of shares. Make visible and attractive share buttons to make the most out of it. Adding a share button to your Thank You page enables the visitors who have completed an action share the same with their friends. Let your likes and followers be clearly visible to get more shares.
10. Track your landing page
A suitable landing page created by marketer is an attempt to get conversion. It is extremely important to set up conversion tracking to know where exactly you are heading. Else you won't know what responses you are getting from visitors. Apart from that, incorporate A/B testing on your landing page. Testing and correction allows you to learn and improve your landing page interface with experience. It is definitely an ongoing phenomenon leading you to tremendous results.
Conclusion
Designing a perfect landing page is must to bypass abandonment. Customers click on a link with the hope of finding something useful, which is equally convenient. Make sure that your landing page contains call-to-action link and smooth navigation. It needs to clearly guide the visitor about the next step to be taken.
Use every opportunity that you can to get your goal accomplished through landing page. Moreover, landing pages decide the fate of a marketing campaign. A poorly designed page will create confusion for customers and reflect your unprofessionalism. Customers do get offended, if they are cheated into a wrong landing.
Subscribe to our Newsletter