back
Business Intelligence
Data Analysis
Business Intelligence & Data Analysis – The Next Big Thing
33.3 billion dollars is what global business intelligence (BI) is targeting in the next five years. The report suggests in 2021 itself recorded a jump from 21% to 26% of the adoption rate of BI. Therefore business intelligence is going to be the next big thing in the business space. But it is not BI only that is taking over the world, and it has become imperative to extract insights from the data. Thus, refocussing on data analysis is also one of the big things we will see in the near future.
Business Intelligence is a technology-driven process to collect data from different sources, analyze them & finally deliver an 'Actionable Information' that helps the company to make important predictive business decisions. This is possible by using various BI tools such as Power BI, Tableau and many more.
Some of the important features of BI tools are :
Reporting

Analytics and Interactive Dashboard Development

Data mining and Process Mining

Complex Event Processing

Benchmarking

Predictive and Perspective Analytics
Data gaining popularity in 2022
For businesses to reach the strategic endpoint, data analysis plays a vital role. Here are a few ways by which we know why Data Analysis is so popular in 2021
No-Code Process:

BI tools are so easy to use & require no coding knowledge, thus attracting both technical & non-technical individuals. Anyone can pull data from various sources, modify & create visualizations – all without writing a single line of code. This encourages everyone to be data-driven and more interested in pursuing a career in Data Analysis.

Easy Collaboration:

One of the main reasons for data analysis using BI tools getting popular in 2021 is because of its 'Collaborative' nature. The process is called 'Collaborative BI', which merges the BI tools with other collaboration tools. This allows the data visualizations/ reports to be shared with co-workers in the same organization so that they can understand. This method allows everyone in the team (even the non-technical ones) to be on the same page & help them make wise decisions about the business.
Collaborative BI promotes :
Knowledge sharing
Faster Decision-Making
Better Teamwork
More transparency & Visibility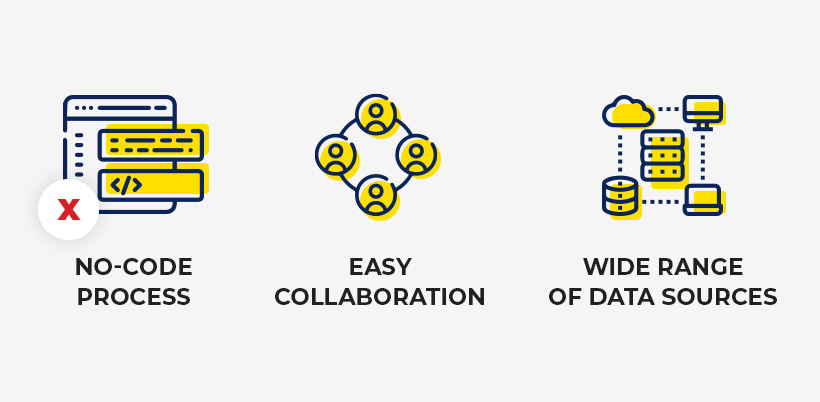 Wide range of Data Sources:

Data Source, in BI, refers to the location from where the information or raw data is originated. Our modern BI tools are designed so that they can pull data from various sources, such as Excel Workbook, SharePoint folder, Pdf, XML, JSON and even from the databases (SQL, Oracle & a lot more). Power BI, as a BI tool, has the ability to be connected with a MySQL database, and one can run SQL queries for more refined analytics. This ability to connect with more platforms makes Data Analysis more reachable for today's professionals.
Top 5 Benefits of Business Intelligence (BI) :
Today, businesses can collect data along with every point of the customer journey. This data may include different attributes, like system usage, no. of clicks, interactions with other platforms and a lot more. The organizations have the ability to pull this data from various sources & transform it into a meaningful insight that is easily understandable by everyone in the team.
Following are some of the key benefits of adopting Business Intelligence:
Fast & Accurate Reporting:

Companies can create customized reports based on the data pulled from different data sources, including financial, operational & sales data. These reports are generated in real-time in the form of graphs, tables, charts etc. and can be shared easily within the same organization so that the team can make decisions quickly. Most of the visualizations created with BI tools are so interactive that anyone can play with the data by changing the variables.
Valuable Business Insights:

The reports generated from the BI tools help the organization understand what's working and what isn't. Hence, they can take necessary actions regarding the business process.
Improved Decision Making:

In today's competitive business world, where customer satisfaction is paramount, it is required to identify the failures or business problems accurately and take necessary steps to stay on top of the industry. Hence, Business Intelligence comes into the picture, which helps to visualize the data rather than manual calculations using thousands of records. So, definitely, BI tools come in handy when it comes to better decision making.
Identifying Market Trends:

Analyzing new opportunities & building out strategies with supportive data can give organizations a competitive edge, thus impacting the long-term profitability. The companies can leverage market data with internal data & detect new opportunities by analyzing market trends & also by spotting business problems.
Increased Revenue: Undoubtedly, this is the ultimate goal for any business. Data visualizations help organizations dig deeper into business problems by asking questions about what went wrong & how to make impactful changes in the business. When organizations take care of customer satisfaction, watch their competitors, & improving their own operations, revenue is more likely to increase.
Popular BI Tools in 2021: Here are some popular BI tools which are trending in the market right now :
Business Intelligence Vs Business Analytics :
Business Analytics & Business Intelligence are very similar and somewhat connected. Pat Roche, Vice President of Engineering at Magnitude Software believes, "BI is needed to run the business while Business Analytics are needed to change the business."
Although it's a debatable topic, most people in the modern business world still believe that Business Analytics & Business Intelligence tend to work well when paired together. The main usage of BI is to present the data in front of the team in the form of various visualizations, thus helping them make the right business decision, whereas the role of business analytics is to 'analyze the business' & think of ways to improve a company's future performance. Generally, both BI & BA requires analytical skills which ultimately helps the business to succeed.
However, despite the similarities & differences between Business Intelligence & Business Analytics, we can certainly agree that both help the decision-makers to make wise business decisions, also it is expected that in the near future both roles will be merged together.
Key Takeaway
These were some basic reasons for the industry being more inclined towards Business Intelligence, parallelly, we are continuing to progress through the generation of Big Data. BI is likely to be much more automated & more frequently used by professionals in the future. But, after all, the business leaders will have to take the responsibility of promoting BI into the workplace & educating the professionals.
Subscribe to our Newsletter