back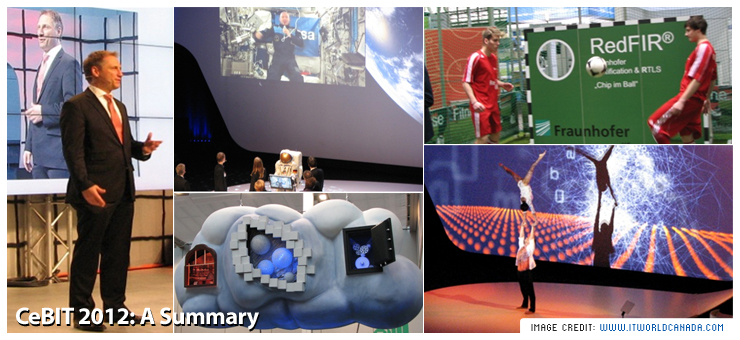 Events
Reviews
Technology
CeBIT 2012: A Summary
CeBIT is a mega technology and gadget symposium hosted annually in Hanover, Germany. With more than 300,000 visitors and thousands of vendors from all around the world CeBIT 2012 was of of interest to designers, manufacturers, developers and consumers. Below is the summary of the important highlights of the event.
Gesture and Face Recognition Technologies
Kinect 3D motion-sensing cameras, which make use of Microsoft's gesture recognition technology, are mostly used in certain video games played on the Xbox. The Kinect cameras resurfaced at the CeBit 2012, where 4 such cameras were placed alongside eight MultiTaction Cell 55in modular multi-touch displays to create the first 3D motion sensing multi-touch wall. It was put together by MultiTouch and the European Institute of Innovation and Technology (EIT) ICT Labs again stressing on the importance of gesture recognition in the months to come by. Unlimited number of participants could use the display for interactive features that make use of each of their gestures. Talking about Kinect, Microsoft announced a few video games that support Kinect-based game-play at the CeBIT 2012. One of them was the Kinect Star Wars, which certainly attracted quite a lot of attention.
On the other hand, robotic technology and hybrid devices that work on facial recognition and gestures helped to foresee a future that would make interfaces more sensory in nature. For instance, Audi's new gesture-based entertainment system helps drivers to focus on the road and helps in navigating the car at the same time.
Talking about gestures, the "Imaginary Interfaces" was revealed by Hasso-Plattner Institute at the CeBIT 2012. It allows users to make hand movements to switch on or off, wherever the switches might have been in place. It can be used to control lights, music or even the TV. It uses depth-sensing cameras to recognize movements on any surface.
British artist Giles Walker designed Tobit's pole dancing robots which dance and gyrate to music. Fraunhofer Institute's Dr Phil Lutz Stobbe revealed 'Shore', which is a software that would use algorithms to guess people/s age, sex and mood they might be in. Such a technology might change the way we perceive mobile devices.
Managing Trust, Managing Big Data and the Cloud
The major thrust this year has been towards "managing trust", which is the official theme of CEBIT 2012. Without a doubt, managing and protecting data has been at the forefront of technological advances. Vendors, keynote speakers and insiders spoke about how to protect big data, especially with each company accumulating social media and mobile device generated content. On that note, companies like Software AG have begun to upgrade their existing database products.
Software AG announced that it would combine BigMemory with its WebMethods Business Events, which is a complex event processing (CEP) engine. Microsoft on the other hand would use System Center management software and Windows Server to approach the big data. With big data grabbing the headlines, cloud technology can't be left far behind. Much of the data, both enterprise and consumer, would now be saved on the cloud. Without a doubt, cloud offerings were uniquely represented in the exhibition.
Mobile Devices Get More Advanced
Apart from managing big data and using cloud technology, mobile technologies too topped the list of keynote trends. Mobile Internet inspired devices and technologies included the first LTE smartphones from Samsung and HTC. These devices can download data more than 10 times faster than existing 3G devices. Multimedia streaming is going to get faster, and better. Samsung, Motorola and Huawei announced quad-core processors and multi-touch displays. With mobile Internet in mind, it is noteworthy to mention the proliferation of HTML5 apps. This might mean that app developers would soon become independent of Android, iOS and Windows Phone.
Social Media and Mobile Technology
Code_n competition attracted many developers and budding technocrats from 42 countries. The contestants presented their business models and how they would use contemporary tools to tackle communication in a global social media setting. This also leads us to another interesting development, which is that of ecommerce options. Social media and networks have thrown open doors to social business. Many developers spoke about a user-friendly Webshop for mobile devices and how one could add an emotional dimension to online buying experience.
Much like the Mobile World Conference 2012 in Barcelona, CeBIT featured machine to machine communication, especially on a mobile front. Mobile health was a major trend just like it was in MWC 2012. Moreover, gestures, movements and environmental conditions can now be easily understood by mobile devices, and would help in what is being termed as intelligent IT. Mobile technology would not only help in providing and accessing mobile healthcare, but would also help in increased communication between citizens and governments.
Other Products and Technologies that Grabbed Attention at CeBIT 2012
Technology seemed to become even more accessible than ever. For instance, Archos' Childpad comes with child protection, so that they remain safe while surfing the web. It even comes with a parental control function and runs on Android 4.0. Talking about hybrid devices, Motorola's Atrix allows one to take the desktop wherever they want to. The smartphone is kept in the lapdock notebook docking station, turning it into an 11-inch laptop. Other technical advances include Samsung Smart Hub, which allows seamless wireless communication between smartphones, tablets and new burners so that CDs and DVDs can be burned in a frictionless manner.
Thus, data management, using the cloud, social business, LTE high speed networks and HTML5 are themes that have been popular in most technological exhibitions and events. Even at the CeBIT, the themes seemed to be consistent with other events such as the CES 2012 and MWC 2012.
Subscribe to our Newsletter