back

A complete guide on how seniors are using technology
Flashback 2014. Like all moms, 65-year-old Nina Ray, a resident of south Delhi, was crestfallen when her only daughter June was leaving for Chelsea with her husband. June coaxed her mother to accompany her. Nina was hesitant. She didn't want to leave India, her native place. Nina's only worry: her only daughter would be miles away from her and she might not see her for a long time.
Cut to 2017. Today, Nina, 68, is addicted to her iPad. In fact, it has become the centre of the universe for her. She connects on FaceTime or Skype anytime with June. Nina has also learnt how to browse the Internet and orders most of her grocery online. What's more, she is a major aficionado of Facebook as well. This social media platform has helped her to connect with her long-lost friends and extended family. "This is the means by which I stay in contact with my family today," smiles Nina.
A survey by Pew Research Center shows that some 62% of online adults aged 65 or above now use Facebook, which is nearly a 14-point increase from the 48% who reported doing so in 2015.
Just like Nina, a growing number of aging older adults are embracing digital.
At a time when there are continuous debates on how technology is ruining relationships, it has unquestionably helped in sustaining relationships for the older generation, who are far away from their loved ones. On INTERNATIONAL DAY OF FAMILIES, let's take a look how the seniors are increasingly becoming tech savvy and embracing technology.
Today, baby boomers (age 51-69) and senior citizens (60+) form an important demographic in the smartphone ownership. As indicated by the Pew Research Center, internet use among 65 and above grew 150 % between 2009 and 2011. The research also revealed that 82% of all adult internet users went online on an average day. By the year 2050, the number of Americans in the 65 and older category are expected to double. So, we can expect an exponential rise in the number of seniors getting comfortable with their digital lives in the coming days.

The expanding utilization of internet and technology by the baby boomers and silent generation (age 70 and above) have shattered many stereotypes. However, there are still some allegations against the oldies for not going fully digital. Here are some of them:
It's difficult for older adults to adapt new technology
Seniors have restricted enthusiasm for picking up anything new
Elderly health issues such as hearing impairment, dwindling eyesight, shaky hands or other chronic disease act as a hindrance for them to go digital
Fear of online frauds
Lack of understanding the complexities of technology
Generation gap between tech-savvy youngsters and seniors
However, in reality, technology has indeed opened up a whole new world in front of the seniors. Boomers and seniors are using a variety of devices such as smartphones, tablets, laptops and wearables to manage and enhance their daily lives.
Let's take a quick look at some of the factors, which are making seniors adapt to technology, thus helping them to lead a safer and healthier life:
They can keep in touch with family near and far through social media, Skype, FaceTime or email
It helps the seniors to battle against loneliness and isolation, increases cognitive capacity, reduces panic and encourages positive thinking
Several advanced GPS tracking devices monitor the location of an old adult and send alarms to caregivers or distant families if there should be an occurrence of any crisis
The recreational benefits of using the internet for games and videos improve mental health and expand attention of the seniors
Easy access to apps help them solve day-to-day problems such as paying bills, ordering grocery, setting medical alerts, managing finances, tracking fitness and heart-rate, booking doctors' appointments and etc
Technology help them to live independently especially in case of home monitoring
Usage of technology and internet provide the elderly, especially with reduced mobility, with an emotional outlet, which helps in lessening depression
They remained well informed about the latest happenings in the world and remain entertained
A study in the Journals of Gerontology found that internet use among retired older adults reduces the probability of depression by 33%. Today, old folks enjoy watching movies on YouTube, chat over Skype and even write blogs. Here are how the seniors are using social media, mobile apps, and websites: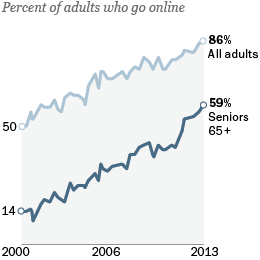 Source: http://www.pewinternet.org
Elderly people and social media
If you thought social media is only for Gen Y and businessmen, well, then you need to wake up and smell the coffee. According to Pew Research Center in 2015, 35% of all those 65 and above were using the social media, compared to just 2% in 2005 and 11% in 2010. The 2012 study revealed that of those that go on the web, 71 % do so on a regular basis and 34 % use social media.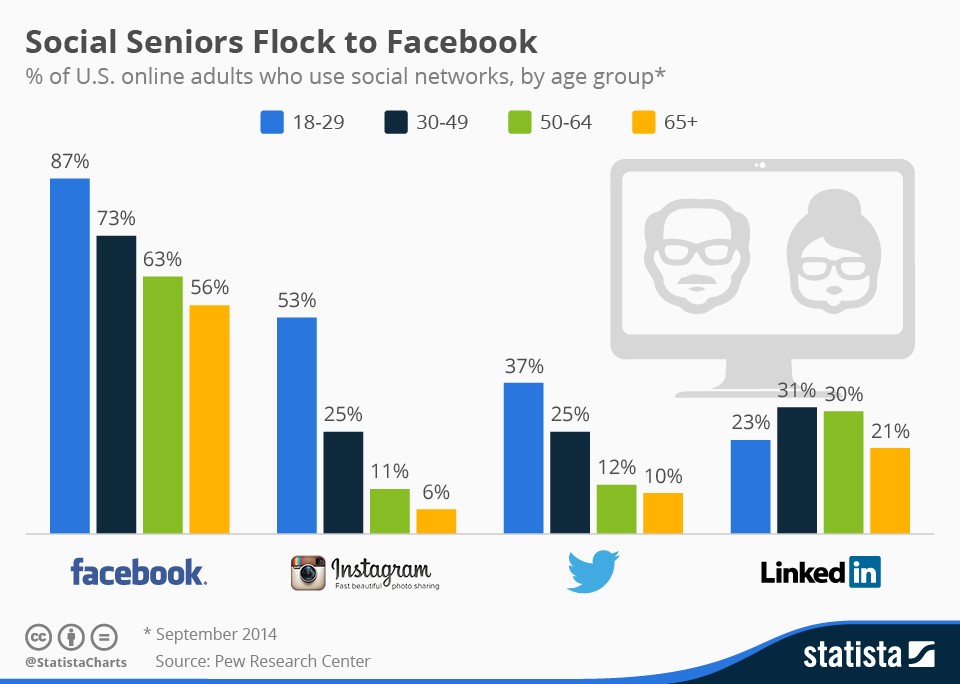 For the seniors, social media provide them a world of opportunities, where they could communicate and engage with their long-time friends, grandkids, and also get information about the world around them. Seniors have found a great tool in Skyping, which help them connect with families who live far away.
Interestingly, studies show that seniors are more comfortable with Facebook than other social media platforms be it Twitter, Instagram or Pinterest. According to a study in 2015, 63 % of US online adults aged 50-64 are active on Facebook, which is about more than five times that of Twitter (12 %). A new study in Italy and England reveals that there's an improvement in cognitive capacity and health of a senior, who uses Skype, email, and social media.
According to the Pew Research Center survey conducted during March 7-April 4, 2016, 8% of the people aged 65 and older use Instagram.
After retiring from his government job, 62-year-old Jayanth Jacob, a resident of Mumbai, spends most of his time on social media, and YouTube. "Through WhatsApp I am in the know-how of my family members and also my friends. Through Facebook, I met my friends with whom I did college in 1975," says an elated Jacob, who also posts comments on various health forums online.
Though seniors enjoy communicating with their grandkids and kids via social media, they also worry about privacy and online frauds. Nearly 25% of all seniors do not know anything about privacy settings and 25% likewise confess to requiring help with their online exercises.
Seniors and mobile apps
We are sure you loved the adorable old couple just like us in the latest series of Vodafone 4G ads. The couple, Shanta Dhananjayan and VP Dhananjayan, are seen enjoying themselves on a vacation to Goa and doing Facebook Live, group video calls, watching videos and much more. The ad series on the old couple are trending on YouTube.
So, if we are still thinking seniors are not comfortable with mobile phones, it's high time that you change your idea. According to 2013 GreatCall Media Survey, 63% of aging consumers have their cell phones for safety.
Agreed, messaging apps are more popular among the young smartphone owners with nearly 56% of smartphone owners between ages 18 to 29 use auto-delete apps. But that doesn't mean seniors are not in the race at all. A study shows 9% of people above 50 use messaging apps. They install apps catering to medical, finances, mobility, shopping, travel, reading, games and entertainment.
According to a report, Millennials come of age: ConsumerSpeak Series, 94% of the older generation aged 70 or older is into text messaging on a weekly basis.
Companies and start-ups today are increasingly designing mobile apps and devices to help oldies. According to StartUp Health, an investment firm, financing for organizations making health-care related products for people aged 50 or above has more than quadrupled over the last several years, to nearly $2 billion in 2015 from $425 million in 2010.
Also, elderly are comfortable clicking selfies and are adopting touch screen technology with nearly 42% older adults preferring the large on-screen keyboard. According to Phoenix Center Study (2009), spending time online reduces depression among older adults by at least 20 %. That's good news, isn't it?
Let's take a quick look at some of the apps which help elderly people:
– iBP Blood Pressure
– Silver Surf
– Voice Reading
– Easy Facebook for Seniors
– Pillboxie
– Urgent Care
– iTriageHealth
– Lumosity
– Skype
– MediSafe
– Fall Detector
– Kindle
– Words with Friends
– Audible
– BigNames
– Tracker Assist
– FixMyStreet
– Carely
Older adults and websites and devices
Did you know DorotUSA.org offers a program, University Without Walls, particularly designed for seniors, who are limited to their homes? As part of the program, the oldies can participate in classes through tablets and desktops. The Jewish Council for the Aging in Washington, D.C. also has an entire Senior Tech program. Seniors are no longer shy to enroll for computer classes or take help from tech-savvy youngsters to learn about the latest gadgets, browse the Internet or install an app. According to Gaming Company PopCap, out of over 150 million users, nearly 47% are above the age of 50.
Seniors enjoy surfing the Internet and look for websites, which are resourceful. There's Good50.com, a search engine with large font size, thus making it navigation-friendly for the old folks.
A large portion of the informed seniors and retirees likewise take to blogging. Most of the oldies look for sites catering to post-retirement plans, finance, health, and travel. According to 2013 GreatCall Media Survey, 84% of aging consumers admit that the Internet has changed the way they obtain information about products. According to the Bronto and Magento (2014) study, 47 % of online customers aged 65 and above were buying online at least once a month.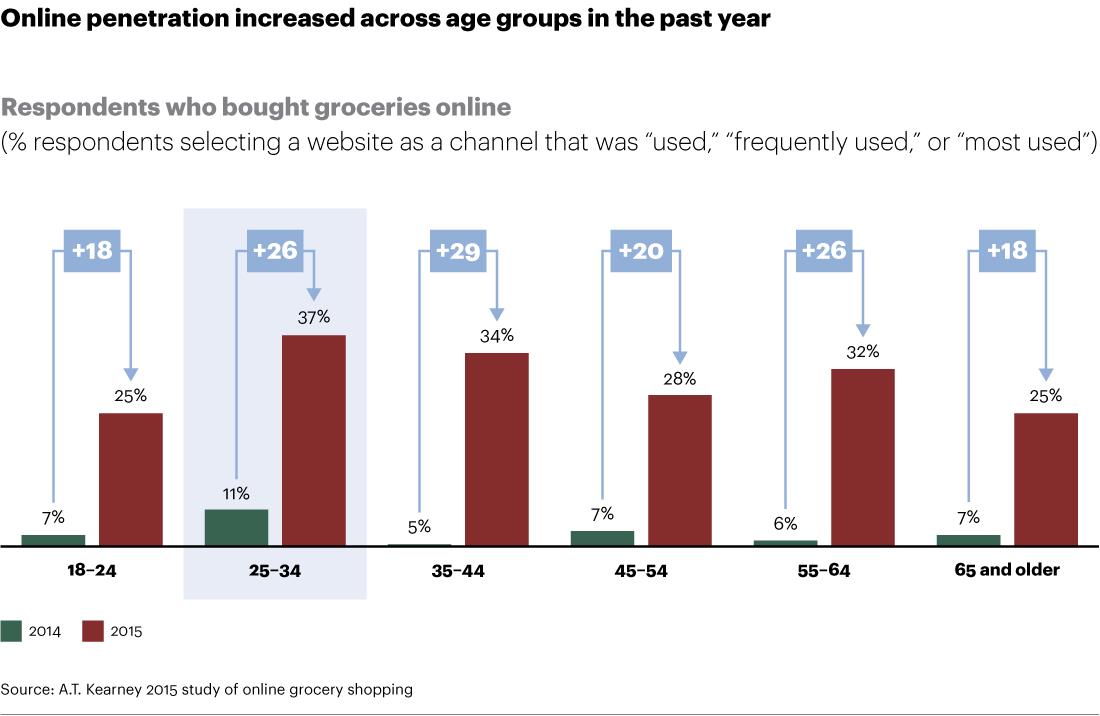 Take the example of Barun Mukherjee, a retiree from Kolkata. He has the Amazon app installed on his smartphone and orders his books and even gardening tools from the app. His granddaughter has helped him to learn how to use Paytm too. He has gifted Kindle eReader to his wife, Manshi, a retired professor.
Websites, assistive technology, and devices are helping oldies to remain confident and become safe and independent. Eddy Health Alert is a personal emergency-response device which enhances the safety of seniors. Today, ample devices exclusively designed for baby boomers and the older generation, from home monitoring systems such as GrandCare, 433-MS Wireless Motion Sensor to accelerometer and robots are helping them lead an easier life. Websites such as Myageingparent.com or WebMD are tremendously useful for the older generation too. Interestingly, tech startup Intuition Robotics revealed an artificial intelligence-based robot companion that aims to improve the quality of life of elderly people.
Here are some websites elderly people can visit:
– http://seniors.lovetoknow.com/Main_Page
– http://www.seniorsguidetocomputers.com/
– https://www.retiredbrains.com/index.html
– https://www.ageinplacetech.com/
– https://www.evergreenclub.com/
– https://www.buzz50.com/
– http://grandmabetty.com/index.php
– http://www.eldernet.com/
– http://www.seniorjournal.com/index.html
– http://www.internetseniorsuccess.com/seniorsites.htm
– http://geezerguff.com/
– https://www.consumeraffairs.com/medical-alert-systems/
Meanwhile, AARP has launched the AARP Innovation Fund, which is looking to invest in companies that can provide technological solutions designed especially to improve the lives of the older folks.
Let's check some devices, services, and systems helpful for the seniors:
– Life Alert Medical Pendant
– Eddy Health Alert
– Lively Safety Watch
– MobileHelp
– TabSafe
– TV Ears
– Alarm.com Wellness
– Personal Emergency Response System (PERS)
– Reminder Rosie
– BeClose
– Amazon Echo
Age is not stopping seniors from using technology. It's simply a question of interest. Technology is keeping the older adults stay connected, active, engaged and informed. Indeed, technological innovation is making life less difficult, better and more secure for the old era with easy-to-use gadgets and devices. Today, more than half of the older people are accessing the Internet and the good news is that usage is set to rise to over 70 % in 2020 and up to 90 % by 2030.
Yes, agreed, some seniors might need time to adjust to the latest technological advancements. But on International Day of Families, let us remember that it is the responsibility of the younger generation to make the old folks aware and guide them towards a digital life. It's time we all embrace technology, or we will be left behind.
Reference: Pew Research Center, Huffington Post, HealthWorks Collective, Daily News, Telegraph.co.uk, Caremerge, Business Insider, Statistica, eMarketer, www.blogs.forrester.com, HubPages, Direct Energy, CNET, HomeCare Magazine, My Ageing Parent, SeniorNet, Quora, Forbes, money.usnews.com
Tell us how the seniors at your home are embracing technology.