back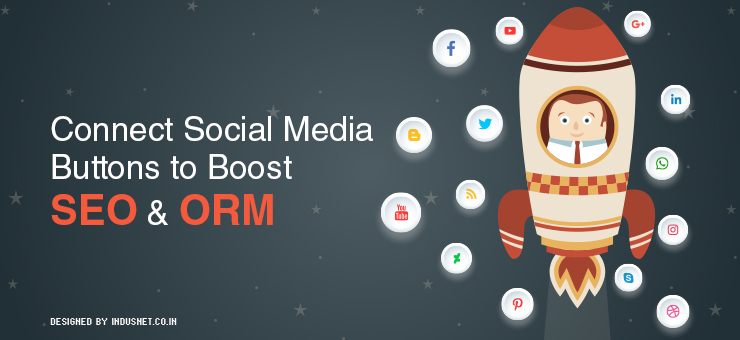 Digital Marketing
Internet Marketing
Connect Social Media Buttons to Boost SEO and ORM
In 2016 and beyond, search engine optimization will rely heavily on social signals, a metric that is derived from social activities of web users. Earlier, web administrators and search engines depended heavily on keywords and other such metadata. In recent years, the popularity of social media has resulted in more traffic generating from these tools such as Facebook, LinkedIn, and Twitter.
With this in mind, search engine optimization strategies now heavily depend on social media strategies. Moreover, managing a company's or individual's reputation online also depends on social media as people are more likely to go to social channels to vent their ire. With this being the case, it only makes sense to understand social media more thoroughly, as optimizing social strategies help to improve both SEO and ORM in the short and long terms.
One of the most important ways to do this is to connect social media buttons to every page or post on a website, so that social signals are generated with the help of social engagement, leading to better ranking and search results. By adding social buttons, companies can ensure that users land on the correct page of the company and engage with the content on the web page or company's social media accounts.
Before we discuss why you must connect your social media buttons to your website, let us take a look at the two important kinds of social media buttons.
[php snippet=1]
 Social share buttons
Social share buttons help users and visitors to share content they like (or sometimes dislike) on your website. They may use the buttons to actively promote your content on social media websites, which helps you to generate traffic and increase social conversations about your company, which ultimately lead to better search rankings. These social share buttons are usually made available as sticky social menus, that move along the screen as a reader reads through the website. In other situations, social share buttons may be displayed at the beginning or end of a post, or both. Along with social share buttons, it is common to add email and print options as well, though they help much less in SEO.
Social media buttons
Social media buttons, on the other hand, are completely different. In this case, these buttons link to your social profiles so that visitors can reach your company pages on various social networking websites. It is common for most companies to have active Facebook, Twitter and LinkedIn accounts. Social media buttons should link to these profiles of yours so that visitors can reach your social profiles to contact you, be informed by you and also engage with you at a deeper level. Social media buttons are often confused with social share buttons, though both help in SEO and ORM.
In this article, let us take a look at how social media buttons that connect your website to your social profiles help in SEO and ORM.
Social media buttons increase traffic to your social profiles
It is a well-known fact that social profiles lead to better engagement. If people first arrive at your website and you still have not connected social profiles to your website, you may lose out on a lot of traffic. With social buttons, people can easily find you in social media and arrive at your social profiles. This leads to increased online footfalls and a better traffic growth.
Increased social signals lead to better SEO
Search engine optimization now depends on social signals. If more people are talking about a topic, search engines assume that those topics must be important, and thus rank them higher. When you use social buttons on your website, people will begin to talk about you on social profiles and thus help you to increase your search rankings. This is not a clear cut pathway to social media success, though. You will need to have a great social strategy in place, which is, of course, a different story altogether.
Visitors can raise issues and seek help on social profiles
One of the best ways to boost your online image is to solve people's problems. Tools like Twitter and Facebook are increasingly being used to offer customer support. When people come to your social profiles to seek help, they most probably leave all the comments out there in open for people to see. If you have been consistently providing great customer care on social profiles, you will gain a lot more followers, which in turn will help you to improve your online reputation. If negative comments are left, the way you deal with them will help you to boost your ORM.
Your social engagement helps to boost your image
It is a well-known fact that people often peer through a company's social profiles before they make decisions related to purchasing. If you link your social buttons and people are able to find their way to your social pages, it becomes easier for them to understand the way you conduct your business. Of course, this goes with assuming that you provide great customer service which you would like to flaunt.
Social buttons are expected
These days, people expect to see links to your social profiles. If they do not find them, they may think you are outdated or worse, that you are not reliable. In this sense, your social buttons add to your reputation and also reliability. It is crucial to ensure that people do not start to wonder if your business is suspicious because it has no links to social profiles. Yield to customers' expectation and you will be seen as someone who is in sync with the changes that are happening.
A unique combination of SEO and ORM
Social buttons help you to bring your social profiles to your audience, which is a great way to not only boost your search engine ranking, but also your online reputation. Thus, adding social buttons can be a great way to boost your online reputation and search engine rankings.
Subscribe to our Newsletter