back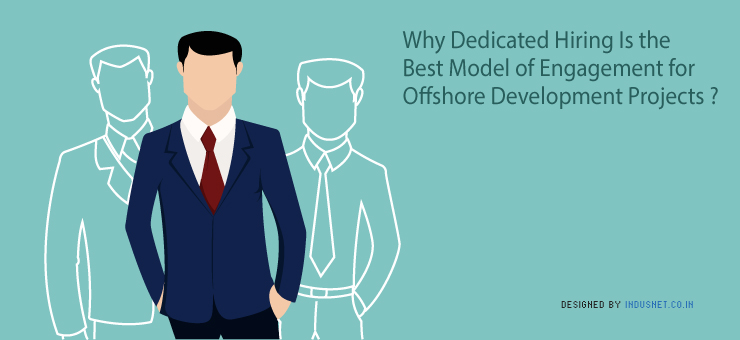 Offshore outsourcing
Strategy
Why Dedicated Hiring Is the Best Model of Engagement for Offshore Development Projects
Dedicated hiring is considered the best model of engagement in comparison to your in-house human resource. As a matter of fact, it confers flexibility in selecting your resource as and when needed. Moreover, it keeps you away from chasing offshore freelancers with lack of commitment. As an outsourcing business agency, dedicated hiring services save you a great deal of cost besides ensuring that the quality of work delivered is of superlative degree.
This engagement model is widely preferred by agencies which require full-time based dedicated teams. You can hire such teams for varying needs including but not limited to product and software development, web application development, ecommerce websites, JAVA/PHP based programs and so on. After your initial inquiry, the offshore agency engages in requirement analysis and accordingly you can hire a dedicated team of individuals committed to you.
Dedicated hiring ensures a seamless handling of your offshore projects with multitude of gains to your business:
• Hire the best talent available –
Dedicated hiring gives you the option of choosing the best talent which is in-line with your programming needs. And you get specialists in nearly all the fields including SEO, .net, magneto, JAVA, PHP, mobile application developers and many more. You can also increase or decrease the size of your team with time thereby optimizing your operational cost.
• Axe your overheads –
Your outsourcing vendors take complete care of your dedicated team. Support infrastructure like hardware and software, office space fall under the ambit of your service provider. Thus, it negates your focus required on unnecessary tasks while concentrating more on the actual task.
• Remotely manage your offshore team –
The outsourcing vendor equips your dedicated team with the necessary communication support including video conferencing, PC sharing, high speed data sharing, and mobile connectivity so that you gain a real control over your virtual employees by monitoring them remotely. Moreover, you have full control over project planning while the knowledge is kept under your purview.
• Bypass legal boundaries –
Your dedicated resource may be spread across the globe serving different needs. Irrespective of that, you save yourself from delving into legal issues including government clearances, taxes or company registration specific to the laws of the land whether it is Asia or Latin America.
• Control over data security –
Virtual employees in developing countries have access to sensitive information of your business. But with cloud-based servers owned by your company, whole information is stored within your servers. Moreover, data security is of utmost importance to the well-established outsourcing vendors.
• Accountability –
The outsourcing agency is entirely responsible for keeping a check on the workers and their functioning. And they make sure that the dedicated team working under your company is aligned to your instructions and developmental goals. Besides this, any goof ups and irregularities by your team are daily reported to you so that you can take timely action.
• Staff management –
The virtual team working beneath you is under a contractual agreement with the outsourcing vendor. Consequently, all HR related issues like employee leave and employee benefits are subjected under vendor's jurisdiction. Whether it is attrition rate or salary hike, none of it is your concern as far as your work is being delivered. Furthermore, you need not invest in annual bonuses, insurance and medical allowances.
• Nurture long-term relationship –
Your in-house team works in tandem with the offshore dedicated team. Continuous working over various projects develops a level of understanding between culturally different teams thereby nourishing strong working relationship among them.
• Save your time and money by hiring a dedicated resource team –
Due to lack of experience and expertise, it is advisable that you invest in dedicated resources as the whole arrangement is cost effective as compared to your in-house resource. And it is a well known fact that IT employees need regular training to keep up with the technological advancements. By outsourcing your services, you save the entire cost of training.
Though dedicated hiring comes with numerous advantages for your business, you will need to make sure you are working with the right agency. Make a thorough check before associating with any offshore service providers. Ask for their credentials, verify them and then proceed on a contractual basis.
Subscribe to our Newsletter