back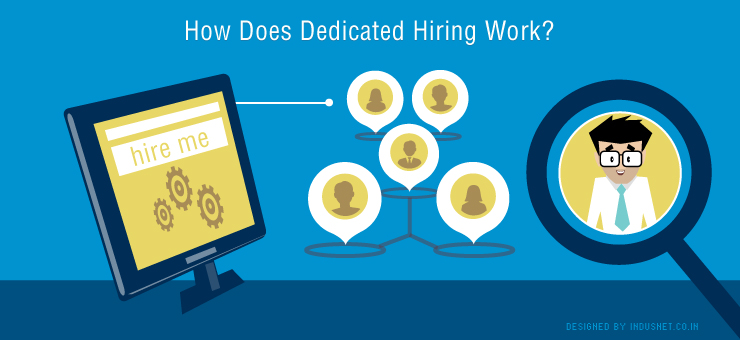 Outsourcing
How Does Dedicated Hiring Work?
If you have been watching the industry closely, you surely must have heard about the concept of dedicated hiring. Dedicated hiring is an arrangement through which you hire individual professionals or teams who dedicatedly work on your project, but are not employed by you. The contractual arrangement exists between you (or your company) and the staffing agency which employs those professionals.
In other words, it is a business deal in which you agree to pay a certain sum of money to an agency in order to use their manpower for certain projects or a certain number of hours. You could use dedicated teams and workers in a number of domains. Most commonly, dedicated teams work in IT or HR related projects. However, it is not uncommon to hire dedicated financial, accounts and research teams as well.
In fact, the sky is the limit when it comes to dedicated teams. Things are changing very quickly in the realm of hiring because most companies cannot afford to have full time employees working for them. In order to offset the financial lacunae, they hire dedicated teams who work based on what is stated in the contractual agreement. There are several advantages to hiring a dedicated team.
Some of them are:
You do not have to shell out a lot of money on your employees
No one is employed full time. You only pay for the services received or for the projects     completed.
They work for you as if you have employed them, but they are not employed by you.
You do not pay any employee benefits to them. You only pay the agreed amount to the staffing agency which hires the teams.
You can access superior talent and professionals even when you can't afford to hire them full time.
Some challenges that you may encounter while hiring dedicated teams
While everything looks good when we discuss dedicated teams, there are a few things you need to bear in mind. A dedicated team is not your employed team. Thus, you cannot give them tasks that are not mentioned in the contract. Also, you need to sign service level agreements so that there is no confusion about what is expected from your dedicated teams.
Another aspect to bear in mind is that you may have to communicate with them through teleconferencing if you are located in a different country. This may seem like a hindrance but if you hire good teams, it is never a problem. There may also be issues with respect to time zones, culture, accent and working style. Yet, the benefits of dedicated teams far outweigh their lacunae. As discussed above, dedicated teams come with more benefits than disadvantages.
Most importantly, they reduce your working costs and help you to focus on what is really important: growing your business and innovation. It may take you a little while to understand the concept of dedicated hiring but it certainly is the future of hiring industry.
Know your requirements beforehand
The success of hiring a dedicated team depends on what you are really looking for. Ensure that you have a clear idea of what you want and what you expect from your distant teams. This will help you to foresee results and also plan accordingly. Last but not the least, have a conversation with your vendor agency before making hiring decisions.
Subscribe to our Newsletter