back

Outsourcing
Think beyond Cost Optimization When Looking For Technology Partners
This morning I had a very interesting conversation with one of my clients regarding rebuilding their web platform ground up. Out of curiosity, I asked him, "Is there any problem with the existing one in terms of performance and design?" and the reply astounded me, "We are happy with the design but yet I had to reinvest on the web platform with a similar design"
After engaging further, I realized it was a classic case of "mis-selling". Their previous software development partner wanted to keep the source code and hosting contract with themselves and deployed the website in a headless CMS with a platform server free deployment.
In my experience, this is not the first time I am hearing such instances. Earlier also, I have heard a client's agony with their existing technology partner. In my opinion, every misalignment has two sides of the story. Of course, the technology partners didn't mention the hidden technical burden and inflexibility of code mobility. The responsibility of the client during the vendor selection process should not be overlooked. This situation primarily arises when the focus and weightage is primarily on cost optimization rather than solution optimization.
Being a firm believer of "Marry the problem, not the solution" ~ I believe, one should not bring solutioning bias when solving a problem as each problem is unique on its own.
It is recommended to clients to be cost-conscious but the primary focus should be on solutioning as it will yield a larger return in the long-term.
Businesses should look to use a "DO – ACT" framework to assess their technology partners and align on expectation together.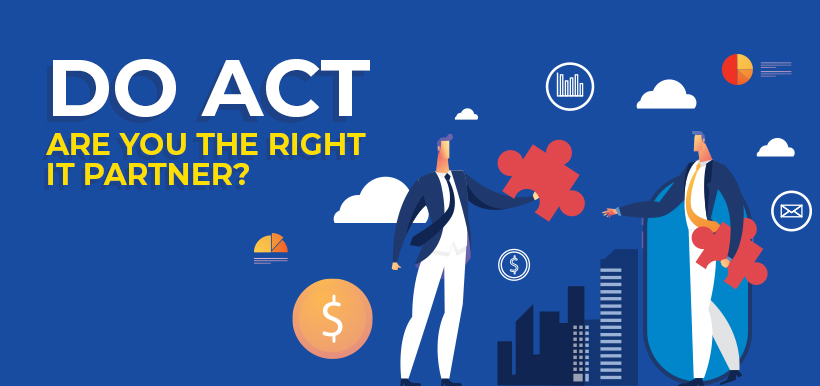 "D" Defined Deliverables for Each Stage:
Waterfall model is a native and for a lot of projects, a pure agile model is not able to keep the cost in check as they are a good fit for enterprise mobility. Having a mutually agreed scope and understanding of clear deliverable ensures the expectations are aligned from both ends.
"O" Ownership:
Do your due diligence on your offshore/onshore software development partner's ability to take delivery ownership. Understand the internal hierarchy and resource engagement in your project. If possible, have an all-hands discussion with the software development agency on the solution approach to assess the fitment. This is a good way to assess how open your technology partners in terms of exposing their technical consultants to you.
Once you are confident that your vision is well understood by your partners and they will take as much ownership on the delivery as your inhouse team would have, you need to assess the project governance model for delivery. A simple way to do that is "ACT" framework:
"A" Accountability:
Understand the roles and responsibilities of each stakeholder in the engaged project and assess the capability of your point of contact in the organization. Make sure that your Software development partners are exposing the escalation matrix to you within the internal organization and are clear about the SLAs and delivery process.
"C" Communication:
Understand the channel of communication, frequency of communication and real-time collaboration platform your technology partners use for project delivery. Assess how much flexibility they can bring in their communication process as per your comfort.
"T" Technology Approach and Timeline:
Focus on the solution approach when assessing a technical proposal. Understand your partners' solutioning approach, hosting needs and how well they are tying up with your feature requirements with technical solutions tailor-made to deliver optimized performance within a reasonable timeline.
Once you are confident that your probable technical partners have met all the conditions on the two steps "Do-ACT" framework, compare the budget and hourly rate of resources.
This approach might not be very cost-effective as you might go with a vendor whose hourly rate is moderate but think of it as an investment you made in your business to yield long-term return. You will realize your cost optimization in the form of the reduced cost of rework, constant monitoring and lower support and fixes.
Focus on your core competency and leave the technology support activity to partners who deliver success.
"Every Decision has an associated opportunity cost, choose the one that yields return in the long run."
Let's win together! Want to discuss more, drop me a direct message and will be happy to connect.
Subscribe to our Newsletter