back

Digital Buzz
General
Is Your Software Developer Charging You A Fair Price? 5 Questions To Ask
How to configure, identify and reach the right price for a software product?
Aren't we all confused about it? In fact, a number of times, when we receive a quote from various software partners with a huge pricing difference, we are super confused. We are most likely thinking that we are being overcharged by one and undercharged by the other. What is the fair price? How can you identify that effectively and quickly?
It comes instinctively the temptation of going with the one with the vendor who has quoted the lowest and saved some bucks for marketing/adoption of the product. But is it the right approach?
Over the last two decades, we have seen these situations umpteen number of times. Sometimes, we were tagged as someone affordable, and sometimes, overpriced. Understanding fair pricing for a project depends upon the following questions that must be answered for us all to derive it:
Price of Hand Vs. Price of Brain. What do you need?
There are many food delivery applications in the market, and you only use the top two. Why so? Some of the reasons are unique features, and also it has all the required features to complete the customer journey and another is brand value.
When you want uniqueness in your applications, you need consultative technical leads who will ideate with you and develop a unique featured application to compete in the market. They can help you create the most needed USP for your venture/application.
On the other hand, when it comes to paying the developers, you must ask yourself what are you paying for? Is it for their capability to ideate and innovate, or for their vanilla developing procedure?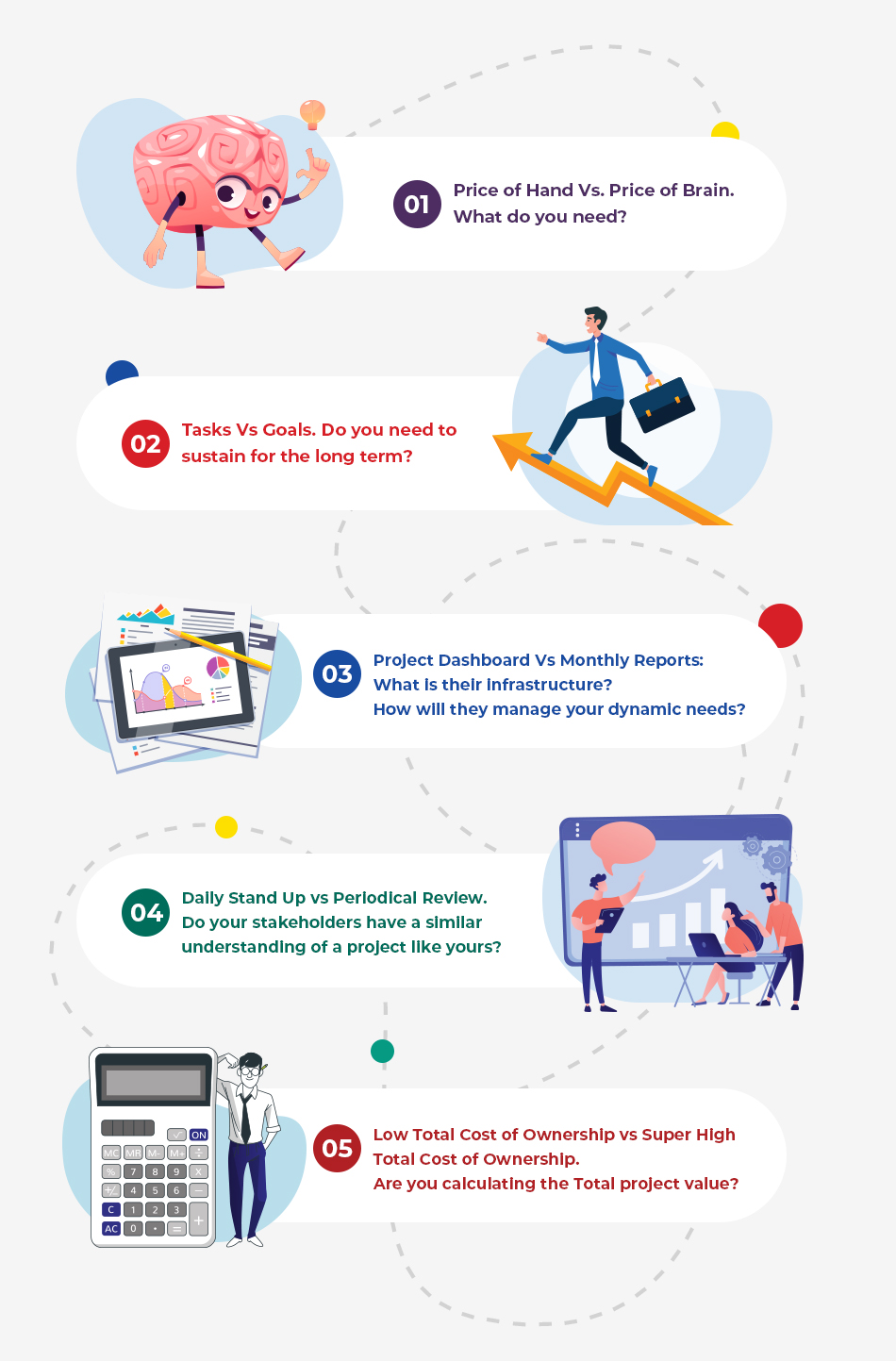 Tasks Vs Goals. Do you need to sustain for the long term?
When you are looking to onboard talent for your project, you need to look at the company's resources. A decent software development company has a profit margin of 20 to 30 percent, and the first step to cost-cutting is either firing resources or hiring semi-skilled resources.
Neither this competitive market nor your project needs semi-skilled/amateur resources. Charging less than the competitive market price automatically leads to compensating less or hiring less skilled resources, thus leading to compromised quality.
So, can these companies be able to support you in the long term? Can it keep doing the same for you during challenging periods such as what we all went through during the COVID-19 global crisis?
Therefore, you should consider what you are paying for when you estimate your development cost: Is it for sustainability along with resilience or a quick no-frills project with zero value-added support.
Project Dashboard Vs Monthly Reports: What is their infrastructure? How will they manage your dynamic needs?
For a swift delivery, a development company needs the right setup in terms of software, hardware, and networking. When you are judging pricing based on many parameters, infrastructure should be one among them and is critical too.
A company might be good at developing software at a reasonable price but may lack domain expertise in your project related area. Can it make your project successful? Consider the development of a banking application, expertise in the banking sector domain is a must-have. The team should have domain expertise such as banking architecture, governmental regulations, and advanced security practices.
Lack of infrastructure and domain expertise can pause your growth and sometimes spell doom for your project too. It is also important why some vendors can charge you a much lesser price.
The cost can be a crucial factor, but it is not a bigger issue than the failed application. The higher opportunity cost of building and deployment your failed software application can be super detrimental.
Daily Stand Up vs Periodical Review. Do your stakeholders have a similar understanding of a project like yours?
You might have been in a situation when you felt like even after trying out three to four vendors, the project has not even reached near to your expectations. Have you ever thought of the possible reasons and, more importantly, the impact on your business?
The reason that people often overlook is a debilitating communication gap between you and your software development company. Every company has a different format to quote the price based on the requirements of the project. The problem begins when your developer quotes a price for the project based on said requirements, and you have already developed a contradictory idea of the project. Hence, communication between a client and his vendor should be as agile and real-time as possible.
When contradiction arises in the thought process, the gap increases between project expectation and price quotation. Thus it becomes critical for you to define your requirements to your developer loud and clear, and the selected vendor must have the mechanism to only acknowledge this requirement but also act on it kinetically which is only possible if they have the right resources in place to do so.
Specifying the requirements clearly is crucial, and often good developers help you out with it. Developers can distinctly specify project requirements after completing rigorous testing on various business models, analyzing market and competitor's models, and acquiring insight into the project related factors such as the various edge cases of use.
Pricing your project depends upon the right detailing, which may not always be possible from your end. It is crucial, or else you will land up in a loop of experimentation, further affecting your relationship with your vendor. Hence, it is vital to select a vendor that is both proactive and reactive to your inputs and can give relevant and specific inputs of their own towards the scoping of your project for its success.
Low Total Cost of Ownership vs. Super HighTotal Cost of Ownership. Are you calculating the Total project value?
When you are in the market for a while and taking services from at most two vendors for quite a long time, you become a loyal customer to them. A key client can always ask for added benefits from their service provider beyond their contract with the vendor.
The first step to delight customers is to add value to the service, which would potentially fetch more business for any vendor practicing this. Wouldn't you want to deal with a vendor who gives more than what the vendor takes? Company reviews are a great source of this metric of various agencies.
Another disadvantage of having more than two development companies working on the same project is it creates a detailing gap. For instance, you may award the project to a different vendor for the front-end and someone else for the back-end. From inception to delivery, detailing every specification to various vendors leads to communication and collaboration issues. In a pursuit to minimize the cost, you often miss out on the benefits. Choosing a single vendor negates the need to track multiple entities from the vendor's end for communications.
Getting a comprehensive digital partner who can have a marketing team as well is advisable.
Final Takeaway
Pricing varies as per the experience of a developer and the technology used for the software build.

Pricing depends upon the end to end detailing of the requirements of the project.

Measure pricing based on the developer's domain expertise and consultative service, which also adds value to your project.

The primary reason for global project failure is when there are multiple perspectives for a project. Align the visualizations and expectations.

Even if the project cost seems higher, a key client can always have an open conversation with the service provider and break the project into smaller chunks to measure the project parts based on the resources and efforts.
Subscribe to our Newsletter