back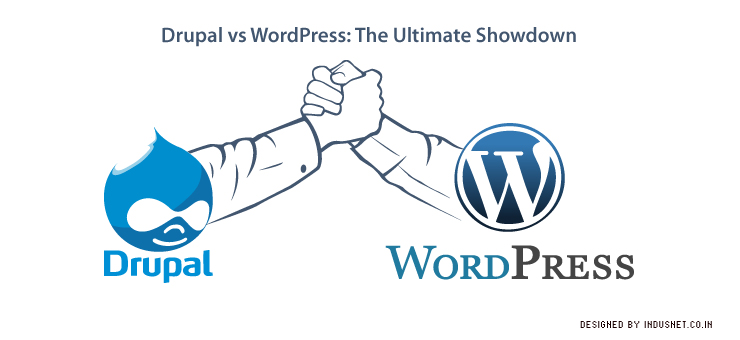 Design
Web Development
Drupal vs WordPress: The Ultimate Showdown
It is a never ending argument, trying to figure out which CMS is the best, Drupal or WordPress. However, the answer is not that simple. Some people will be perfectly happy using WordPress, while others would want to use Drupal. If you do not understand the difference between the two, it is quite simple to understand.
Drupal is more complex and has a lot more built into it than WordPress. WordPress on the other hand is easy to use, flexible, looks good and there is hardly any time required to learn it. In fact, WordPress is the CMS of choice for small websites and those who do not have time to learn something new.
However, enterprise level websites that look for powerful solutions may want to use Drupal in the end. Drupal is not only powerful, but is also SEO friendly, flexible and comes with an array of options to customize. However, you will need professional help to set up a Drupal page, whereas WordPress does not require professional help often. WordPress has a number of readymade themes available and all that one needs to do is go ahead and install WordPress on someone's site and begin to use it. Still, let us take a look at the advantages and disadvantages of both Drupal and WordPress and see for ourselves if the two CMS platforms can be compared.
Why comparing Drupal and WordPress is futile
Before you jump into the WordPress or Drupal bandwagons, consider what you are really looking for. If you are looking for a custom template that looks very different from what others have, and is also robust and powerful, you will probably require Drupal. Thus, consider how many page templates you need and what content type you are going to publish.
For instance, if you are going to publish a lot of images and videos, WordPress is better option as it offers amazing albums and thumbnails. If you plan to provide different permission levels to different users, WordPress does it the best. You can make someone a commenter, a subscriber and someone else, a contributor. If you trust the person, you can make him or her an editor which gives them editing power as well. If you want serious changes made to your website, you could go and make the person an 'administrator'.
However, if you need enterprise level security and if you wish to be as safe as possible, you probably will be better off with Drupal. Like they say, you cannot have the cake and eat it as well, when it comes to CMS. However, the gap is not way too much and the lines are blurring anyway. Also, for Drupal, you will need to have a good budget in order to develop it. It costs money to hire developers and professionals who will be able to tweak Drupal to suit your needs.
On the other hand, WordPress does not cost anything and you can begin to use it straightaway, as long as you use a free theme and not make a lot of changes. Drupal also takes a longer time to develop than a WordPress site. A WordPress site is quick, easy and efficient. However, it lacks the security features that Drupal provides. If you are a small company and are looking for a blog or a magazine, WordPress will serve all your needs. However, if you are a large company with a substantial web development budget, you might want to go ahead and use Drupal.
Conclusion
At the end of the day, we discourage people from engaging in 'ultimate showdowns'. While it is easy to list all the advantages and disadvantages of both the platforms and extrapolate the differences to our convenience, it would be a biased and prejudiced commentary. It is important to ensure that we do not engage in favoritism for any particular technology and use whichever suits our needs. If WordPress serves your needs, go ahead and use it by all means. However, if you are looking for something more complex and need a bit of security (and also have time and money to spend), go ahead and use Drupal. Neither is better than the other and such comparisons are futile.
Subscribe to our Newsletter