back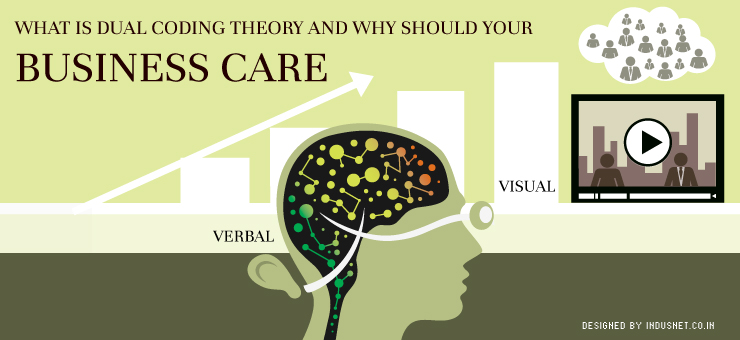 Explainer Video
What is Dual Coding Theory and Why Should Your Business Care
Dual coding is a cognition theory based on the assumption that human mind processes the information in two ways i.e. verbal communication and visual representation. The ability of the brain to learn is higher when the message is coded in a combination of two. Both the codes are interlinked with each other as reflected by the recalling capacity of the brain.
A human brain receiving an audio signal for a word will try to visualize the image behind the word. On the other hand, if a brain sees a visual image, it will try and link it to the word behind it. This pairing of codes enhances the memory of a person. Moreover, individuals presented the information in dual codes are likely to have a sharper memory than single-coded messages. This theory has been extensively applied in the design of multi-media messages that require both visual imagery and verbal information.
The theory also postulates that verbal and visual information is processed differently when presented in isolation. For the same number of words and images shown in a sequential order separately, the brain remembers the sequential order of the words unlike images. In contrast, it recalls more number of images than words. It also states that the ability of the brain to recall the information reduces when there is no association between visual and verbal message.
Correlation between explainer videos and dual coding theory
Large corporations over a period of time have used the power of TV advertisements to make a brand connect with their audiences. TV ads too use verbal and visual components to deliver a message in line with dual coding theory. It is evident that TV ads are meant to create a mass appeal and involves a huge amount of production and advertising expenditure.
For a business owner with financial issues, neither it is suitable nor is it recommended. But what is suitable is the use of explainer videos. Explainer videos are specifically designed to serve quality content to the target customers. Marketers carefully select their words for voice over and a corresponding imagery to complement them.
For instance, your product is Anti-Virus for PCs. Your target customers would be all adult internet users with PCs. Your objective is to create awareness about your product. Now, use a story to create a video that introduces a problem faced by internet users when a virus attacks their computer. What is the capability of your product to prevent a virus attack on computers? Why should they choose you over other Anti-Virus product manufacturers in market? In the end, place call-to-action buttons like sign-up for email subscription or purchase.
When you apply the concept of dual coding theory to your explainer video, you will realize the simplicity of information disbursement it offers. You will match the flow of your script with appropriate animation, drawings, images, text color, background color, transition and graphics. All these components are an essential part of visual illustration. They have to be in line with your audio message so that you don't create boredom for your viewers. No wonder, besides having a good product, companies fail to impress their customers by creating unprofessional videos.
How is dual coding theory relevant to your business?
As a small business owner, you get limited attention time from your target customers, roughly a span of 60 sec or less on your website which makes it necessary for you to effectively explain your product in a short time. Most of the visitors look for quick information instead of browsing a long list of pages.
There was a time when showing power point slide to your target audience was considered to be going an extra mile in marketing. But today, in the age of smartphones, where people are busy scurrying through videos on their mobile, there is hardly any hope left for a slide presentation; and visitors do not even prefer to go through a power point presentation, if they are being shown a video to understand.
Seize this opportunity to captivate them through your explainer videos. You don't want them to work hard to know you. Let them relax and enjoy your video without putting any pressure on their brains. Explainer videos placed on your homepage are designed to fulfill that objective.
Marketing through explainer videos
An explainer video does not focus only on your idea, product or company. They engage with the viewers by starting an interaction with them. A customer always keeps his option open. They are there to buy your product. The problem is your competitor. A competitor always likes to stay a step ahead. The one who initiates hits the bull's eye. So, don't wait for your rivals to create an explainer video so that you can create a better one after that. Customers like to keep a tab on competition and they choose leaders.
In a tough technology driven market such as this, product disparity becomes a challenge. If you introduce a new product or a service model, your rivals soon come up with a reformed version. The only difference you can create is through creativity, awareness and thoughtfulness. Communicating the same idea but in a better way lets you win the race.
Customers hesitate to invest in a new technology. Before you introduce your product, introduce the benefits of new technology and how it can improve the life of your customers through a crisp explainer video. Once they understand a technology, they will be able to relate to your product. Dually coded explainer videos let you explain new technologies in a matter of seconds.
Why should you bother to create explainer videos?
Audio-visual content creates more impact than textual content – People love to watch videos in comparison to reading boring text as text carries the risk of misinterpretation or confusion. On the other hand, videos are explicit in nature. explainer videos help you to build your brand in such a manner that people remember you for a long time.
Create brand identity without having to say anything with a strong visual appeal – Customers form a perception with what you show and what you say. Explainer videos have the potential to change the fate of your company by working 24 x 7 for you online. Brand identity is formed with the visible elements of a brand like color, design, logo, name, symbol etc.
Can be easily shared – Remember to include social media sharing links at the end of your video. A viewer impressed by the video will instantly share it on social media for the benefit of his friends; and people believe in what their friends suggest. A good explainer video goes viral on social media platforms like Facebook, Google+, Twitter, LinkedIn etc. not to forget the power of mobile applications like WhatsApp.
Do away with language barriers – The visual component of an explainer video should dominate its audio counterpart so that the people living in a different part of the world understand what you want to say without knowing your language. It's a great way to expand in global markets.
Can be optimized for search engines – Authenticity and quality content are the top priorities of search engines. Apart from that, videos can be easily optimized for search engines by adding appropriate title, keywords, meta-description, creating sitemaps. Besides that, share your video as much as possible on blogs, forums and social media to increase its reach.
Entertain your target audience – People are fascinated by interesting stories told by animated effects including character animation. Learning becomes fun and they grasp even more. Keep the tone of your video light and hearty.
Easy to comprehend – The beauty of the video is that it makes even complex things easy to understand. After watching the video, your audience should know what your business is all about. A simple video generates further queries as the viewers show interest in you and they can turn into your customers.
Conclusion
As a marketing professional, you always look for the opportunities that connect you with your customers more than your competitors. The idea behind is to enhance your brand recall value vis-à-vis your opponents. The dual coding theory reflects the power of combining both visual and verbal messages. Businesses use the same theory to design their messages in the form of video and create a memorable impact on their customers.
To create compelling explainer videos for your business, get in touch with explainer video experts at Oomphbox.
Subscribe to our Newsletter