back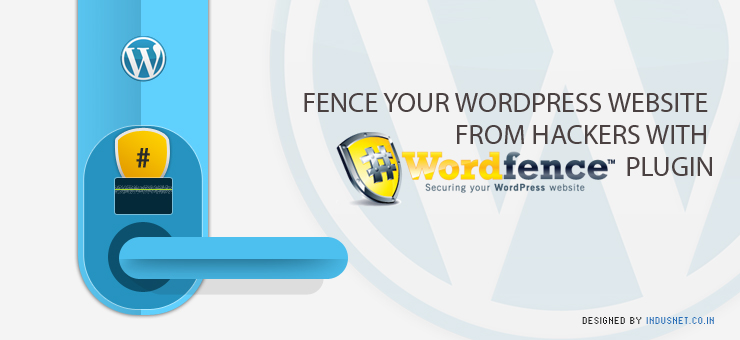 Emerging technologies
Reviews
Usability
Fence Your WordPress Website from Hackers with "Wordfence" Security Plugin
Have you ever thought that your WordPress website can be hacked? Are you ready to face the adversities of such an attack that can put your site and blogs at stake? If you are pondering about how to secure your website from such attacks/hack, then this blog is a must-read for you.
Hackers across the globe are always actively working on their plans to hack websites that are of interest to them; and obviously WordPress based websites are no exception. In fact, the present frequency of hacking attacks across all WordPress sites is increasing every minute.
So, isn't it wise to secure your tirelessly created website before it gets hacked? Off course it is!
How to Secure Your WordPress Website
Securing the WordPress site you have is not that tough with 'Wordfence' Security plugin. All you need to do is download the latest version of the plugin, which is one of the premier cyber security solution developed specifically for securing WordPress websites. It's a free WordPress security plugin that includes a comprehensive package of anti-virus and firewall incorporating tools & machine learning that can help your website recover from any major hack. However, the premium version of the security plugin is even available with some extra features at a cost of $ 3.90 to $ 39 per year.
What You Would Get
Wordfence, featured with a number of unique security features, is the sole WordPress site security plugin that offers real-time distributed protection by learning from other websites that have already been hacked. Once it gets notified about a hack attempt on WordPress website running Wordfence, it automatically blocks that particular attacker not only for that site but also from intruding into the other sites running this security plugin.
How Wordfence Secures Your WordPress Website
Here are the features that help Wordfence to be so much active in maintaining your website security:
Cellphone Sign-in: Even referred to as Two Factor Authentication, Cellphone Sign-in allows you to sign-in to your website through cellphone and permanently stop brute force attacks.
Network and Geo-blocking: This feature helps in blocking WordPress hackers even when they change IP address for hacking. Wordfence directly bans their network, range of IP addresses and country & makes WordPress security stronger.
Site Repair: Being backed by cloud servers, Wordfence can help you identify the hacked files. When your WordPress website gets hacked, Wordfence uses its source code verification feature for letting you know what has changed in your site so that you can easily repair the files that have been hacked.
Machine Learning: This feature of Wordfence keeps your WordPress website pre-protected when someone else's website receives a hack attempt. It reports attacks on a real-time basis to its cloud server and this in turn, helps it identify the IP address & block it for all the websites running Wordfence.
Source Code Verification: Wordfence not just verifies the integrity of the core source code and opensource plugins & themes of your WordPress website but even does a full scan of unrecognizable files. It even scans the source code that remote scans are unable to do.
What Limitations Wordfence Has
In spite of all the aforementioned features and benefits, this WordPress security plugin is not free from limitations. Here are the loop holes of the plugin:
You might need to wait for a while to get a tech support.
If you are unsure about how to use the plugin, it might provide you with false positives.
If the plugin is misconfigured, it causes Wordfence to stop working without any prior intimation.
Scanning of websites tends to occupy a lot of memory.
Currently, it does not include security from fake sign-ups.
Final Thoughts
Despite all of these limitations, Wordfence is a feature-packed and efficient cyber security plugin that can protect your WordPress website on a real-time basis at a affordable price.
Detailed information about this security plugin can be availed at the site of Wordfence. Further, for any technical support you may consult us at info@indusnet.co.in
Subscribe to our Newsletter