back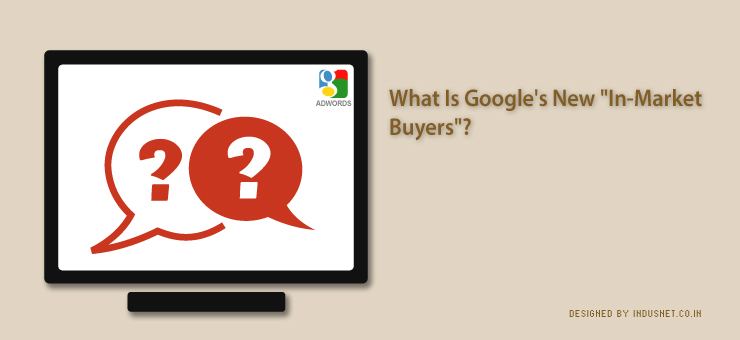 Internet Marketing
Marketing
What Is Google's New "In-Market Buyers"?
When people browse online, they are bombarded with advertisements asking them to make purchases. Advertisements are a bit funny. We can't really know who is genuinely interested in purchasing and on whom we are wasting valuable ad budget. It is almost impossible to target those who have clearly set out to make purchases online. Until now, that is.
Google quietly rolled out its 'In-Market Buyers' option in AdWords in November, which helps users to target those users who are actively in a buying mode. It is easy to target people based on their demographic or psychographic characteristics but we will never know if they are truly set out to buy something online. If we target people who are truly in the buying mode, not only do we have a greater chance of selling products but also a higher chance of ad campaigns being successful. Let us now take a look at what Google says about the In-Market Buyers feature and what it is all about, and how it concerns you.
Why Google quietly announced the In-Market Buyers tool
Google recently revealed that it recognizes certain visitor patterns that help it to know if consumers are ready to make purchases. Instead of you having to target people based on the kind of websites that they usually visit or browse, you can target people who are in a buying mode, according to Google.
The company stealthily announced this plan which helps advertisers to make use of Google's consumer pattern recognition. It also helps you to target consumers who are looking for products similar to what the advertisers sell. Google's Interest Categories has often been touted as a futuristic way to advertise and the In-Market Buyers feature is just an extension of that. This is Google's primary trial at making ROI an important aspect of Google Display Network.
The feature is not available across products and services at the moment. It is only available for computers, peripherals, real estate, consumer electronics, vehicles and automobiles. Google also suggests that advertise bid on a CPA basis and then associate it with actual sales. If you are not able to bid on a CPA basis, you can also try the CPC bidding. As the feature has just started, it is difficult to say how it will measure up in the coming months.
Few key points about In-Market Buyers
There are a few things that you need to know about In-market Buyers. This service is only available in English at the moment and you need to select from a set of categories to shortlist consumers who are looking for products similar to what you offer. The service helps you to identify those who are actively looking for products that you need instead of someone who is not doing so. This results in a database of highly qualified customers. It will help you to drive sales and also reduce expenditure on advertising.
How Google is revolutionizing Internet marketing
What Google is trying to do is to revolutionize Internet marketing and advertising. Nowhere in the history of advertising were we able to know if consumers were really going to buy something. Advertising has always relied upon mass media in order to disseminate information that persuades people to purchase.
This time around, we can communicate with customers who are actively trying to purchase something that they want. Thus, the readiness to purchase a certain product is already there. All that you need to do is to make them go ahead and buy your product. Effective copywriting skills and attractive banners can easily help people to buy the products that you are selling. It may sound strange but it is not difficult to make an already person to purchase something.
Some of the most important facts that you should remember are that your products and services are great, you have a good advertising plan and that you have great copywriters working for you. When you do these things, it is clear that you will be able to tap those who are actively looking for products to purchase. It remains to be seen how successful the In-Market Buyers program will be. At this point in time, this certainly looks like a tool that will help advertisers, customers and manufacturers, all at the same time. If you need more information about In-Market Buyers, you could contact one of our SEO or digital marketing professionals.
Subscribe to our Newsletter