back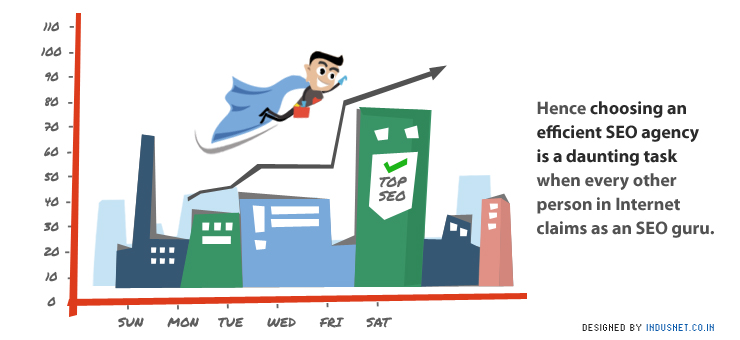 SEO
Strategy
Hiring Your Next SEO Company
Gone are the days when only the bigger companies were investing for the online marketing to strengthen their position in World Wide Web. But now the scenario has changed, as Internet is reaching to more and more people, the traditional offline business is rapidly migrating to online business. Hence, small business like restaurants to individuals like doctors and lawyers are embracing Internet to reach to more and more people and spread their business. The primary essence of being successful in online business is driving traffic to your website and converting visitors to customers. The best and the cheapest way to drive traffic to your website is through Search Engines. The Science and Technology involved in this process is called Search Engine Optimization.
The power of Search Engine Optimization in online business cannot be underestimated. Hence choosing an efficient SEO agency is a daunting task when every other person in Internet claims as an SEO guru. Choosing the wrong SEO agency for your business can be disastrous and can ruin your business. So proper evaluation as well as thoughtful planning while hiring an SEO agency is required.
In your search for the right SEO agency, you need to shortlist a few and then study the shortlisted candidates in and out before finalizing the one who will be working for you. In first phase try to collect as much information about the shortlisted SEO companies/agencies as possible. Go through their website and read about them. Find out for how long they are in business and for how long their domain name exist. You can use web tools like who.is to find domain details. Check their clientele. All these details you can collect on your own without actually talking to them. In this phase you can again reject a few.
While you are in the finalizing step you need to check the following things with the SEO company/agency to get a clearer picture about them:
Reference:
Ask them for reference sites on which they have worked. If possible try to contact the webmaster of that site to collect their feedback on the SEO agency. Also request for case studies on earlier project they have worked on.
Proposal:
Ask them for a pre-evaluation of your site and a customized proposal. Ask them to find out the issues related to your site. Most of the SEO agencies provide a readymade proposal which they send to all prospective customers. This kind of proposal might not be suited to your business type. Hence insists on a tailor-made proposal. When you go through their proposal, check if they are focusing more on keyword oriented tasks or the proposal is more ROI driven & takes into account resolving various on page & off page issues
Work Experience:
Verify if they have working experience in SEO related to your business/niche. Every business and niche needs little tweaking in the general SEO practices. So an agency having prior experience in SEO related to your business or niche will be able to do better.
Time Frame:
Ask for a time frame by when you will be able to see noticeable result. SEO is neither a week or month old project nor it is do once and forget kind of project. It usually takes 3-6 months to see any noticeable result.
Business Practice:
Ask them the business practices they follow. Some of the SEO service providers use unethical means (black hat methods) to rank your site high and they can boast f the achievement. But the black hat methods are sure to cause greater harm to your site in long run. So stay away from such things.
Reporting:
What kind of report they provide and what is their reporting frequency. The regular report with comparison on week to week or month to month basis will give you a clear picture of how the SEO campaign is performing.
Keyword Analysis:
Do they provide keyword suggestion and how many keywords they target? Make sure the keyword election is proper and does not look vague. If the keyword selection is not done wisely then whole SEO campaign will fail.
Staffing:
Check whether they have adequate staff. Lot of SEO activities like link building, article writing etc require manual work for better result. So the SEO agency should have adequate staffs to full fill the service quality. Also check for the knowledge level of the staffs and ask to interact with them if possible.
Tools:
Though lot of manual work is involved in SEO, some things like keyword analysis, back link checking requires usage of sophisticated tools. So the SEO agency should be well verged with those tools.
SEO is such an Art that if implemented correctly by a knowledgeable consultant it can yield result beyond imagination. But a wrong step in implementation can cost you to lose your rankings and potential leads. The newer players in this field though charges less but most of the time they do not yield result. So hiring them will be of no use. That also does not mean that an older SEO company charging higher may be good. A good and reputed SEO agency will never guarantee and they always under promise and over deliver. So proper evaluation before you zeroed in on the SEO Company is essential.
Subscribe to our Newsletter