back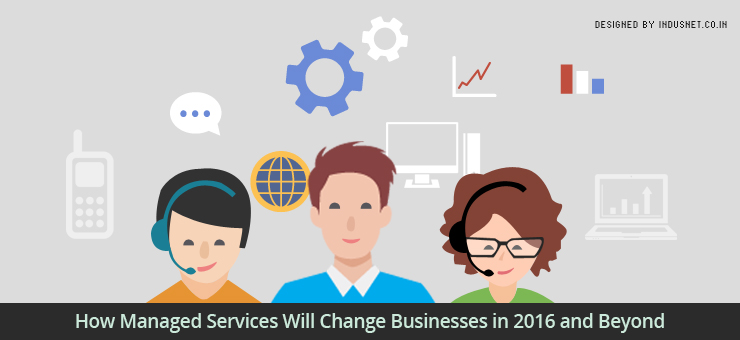 Outsourcing
How Managed Services Will Change Businesses in 2016 and Beyond
Small businesses often find themselves trapped in complex technological needs. They usually have limited in-house IT capabilities. Many businesses fail to implement a right strategy for technology operations, while those who are confident to implement, are unable to devote sufficient time to organize them. The end result is that businesses incur a high cost to manage their information technology and cloud requirements. This alleviates business productivity and in some cases creates chaos in the organization.
Managed Service Providers
Managed Service Providers (MSPs) have the expertise to manage a particular business operation. Businesses subscribe to managed services in order to improve their operations and cut cost. MSPs often charge their customers a monthly subscription fee under outcome-based models like Service Level Agreement and by providing proactive management of services. Customers are free to choose what they want MSP to manage and pay accordingly. This helps the customers to keep a control on their IT costs and in return ensure that all their IT needs are met as per their demand.
Role of managed service providers
MSPs may not be service providers themselves; however, they may act as middlemen between customers and service providers. They design a customized solution for every organization depending upon the contractual agreement. Customers have an equal say in the decision-making process.
The whole process of management is quite transparent in managed services, unlike traditional outsourcing service providers who bill the customers outright for the entire project and function independently. Customers can't control the quality of service being delivered. However, in managed services, quality plays a significant role.
Cost control and efficiency are vital parameters in managed services. Therefore, MSPs employ remote monitoring and management software to monitor customers' IT functions. RMM software lets them remotely troubleshoot and resolve issues with services and endpoint devices. Apart from that, they are capable of managing various customers' IT systems altogether.
Managed services are focused on the desired outcome
The focus in managed services is over how effectively and efficiently a particular business outcome is met rather than on what combination of deployment technology is being used by MSP. MSPs can deliver the service remotely, through service provider's data center or through hybrid cloud deployment.
For instance, a small-scale business owner may find it difficult to implement or move to cloud technology due to lack of knowledge and expertise. Some others may face a challenge to implement shipping and transportation technology or probably supply chain management, and hiring of IT staff. Managed Service Providers play a crucial role under such circumstances. They intervene to manage all such technology-related challenges taking a prescient and cost-effective approach.
Conclusion
With cut-throat competition existing in the market, there is hardly any time to spare in processes that are demanding. Over the last few years, various Managed Service Providers have cropped up in the market and for good reason.
In 2016, businesses need this kind of services more than ever. MSPs can remotely fix most of your issues and have a bird-eye view of all your processes. MSPs bring their vast experience to manage different technology-related challenges so that you are easy-off.
Subscribe to our Newsletter