back

FinTech
RetailTech
How To Develop A Successful Loyalty Program For Retail Banks?
Financial services loyalty programs are customer maintenance devices intending to expand brand love and purchase frequency for banks and insurance agencies. Loyalty program for retail banks has been there for years, customers no longer perceive these programs as proper rewards for their loyalty. They are becoming more selective in choosing companies that offer them the most personalized benefits.
A successful loyalty program is characterized by a variety of unique features that separates them from other, more customary award frameworks:
Since clients don't buy items from a customary perspective, monetary and bank loyalty programs rather boost individuals to spend money using their credit cards or feature services packages, like loans or mortgages.

On account of their unique nature, enlistment to financial loyalty programs is restricted. In order to become a member, people need to have an active account, if not they will not have the option to advance.

Organizations in this industry have less freedom to cooperate with their faithful audience. Customers by and large possibly go to them when it's an ideal opportunity to recharge an agreement or contract. That is the reason making new touchpoints is a priority in loyalty programs.

Financial and bank rewards programs are frequently used to promote content. It generally educates individuals about current offers and expands the brand's online presence.
Best Loyalty Program Features for Financial Services
With the main objectives characterized, it's an ideal opportunity to explore all the elements that modern loyalty programs proposition to help banks and insurance agencies stand out and gain customer trust.
Loyalty and Dedicated Logic for Financial Services
Account-based enrollment and rewarding renewals
Customizable loyalty program types
Omni-channel
Insurance: Reward healthy lifestyle
An Experiential Reward System
A rich reward inventory with incentives from accomplices
Offer Administration
Reward Sharing
The Mobile Wallet as a digital loyalty card
Elements to Engage Customers Outside of the Buying Cycle
Free membership rewards
Exclusive clubs
Sweepstakes
Content utilization
How to build a successful loyalty program in retail banking
New Business isn't really new.
Revisit your Customer Profiles and Profitability.
Manage and Mine your Valuable Data.
Keep it Simple and Transparent.
Be Digital, yet likewise physical.
Accomplishing the Consistent Experience.
Customers Want Your Loyalty Program.
Loyalty programs are not new to retail banking. While there are still banks who need to go all in, even saving money with setting up programs are caught up with upgrading them to make them more receptive to their clients' requirements. A lot of money is spent creating these projects, with advertisers excitedly expecting extremist development in deals, diminished client beat and other KPIs that will make their chiefs grin. Truly, a significant number of these drives barely make a wave or cause greater action without extra benefit in light of the fact that the clients who exploit the program are not the dependable ones but rather deal trackers, who are just about as reasonable as not to move to another bank if they see a more alluring deal.
One of the vital explanations behind this is that, while everybody perceives that loyalty programs are tied in withholding clients, a lot of the emphasis is on securing with regards to plan and execution. This division has been seen by Forrester in a report appointed by Deluxe in 2015. Although the review included respondents from different industries, 33% of the respondents were from financial foundations. Although all agreed that loyalty was about expanded maintenance, 66% of the emphasis was on new business.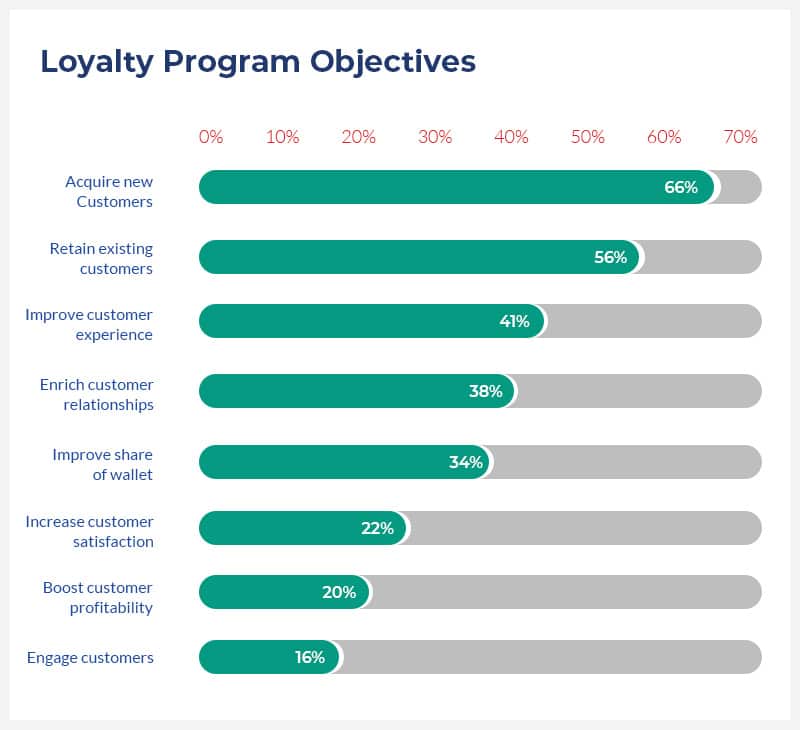 Obviously, there is a procedure for fulfilling and drawing in steadfast clients that focuses harder on the clients it needs than those it as of now has. The colloquialism "A bird in the hand is worth two in the bush" applies here. It is normally perceived that it costs somewhere around 5 fold the amount to secure a client as to hold them. There is nothing wrong about drawing in customers with an engaging dependability program; simply comprehend that a new customer is not a loyal customer.
Surprisingly, 81% of the measurements for accomplishment in these very programs centre around maintenance, a reasonable mismatch with the destinations expressed above. Obviously, most respondents were baffled by the results of their programs.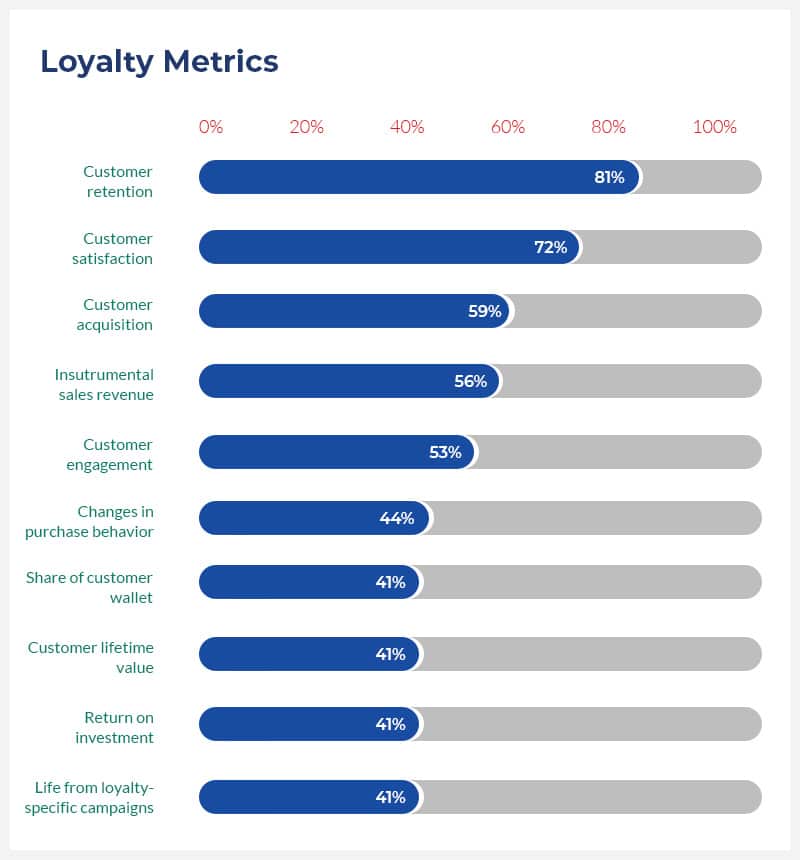 The sad truth is that new customers are not loyal customers. US banks experience a customer stir of around 20% inside the principal year of onboarding a customer, and 17% of new customers will register dissatisfaction with administration in their first year. What is more regrettable, of the 20% who leave, a big part of those pricey acquisitions will leave in the initial 90 days. Recollect that, except if your client has a place with Generation Z, they are another bank's old client, and they might even have kept that record and are simply trying things out with you. The graph below, from Bain and Co, is from 2013, yet the circumstance has not improved. You will see that certifiable new records are the minority; the greater part are "switchers" moving to start with one bank then onto the next.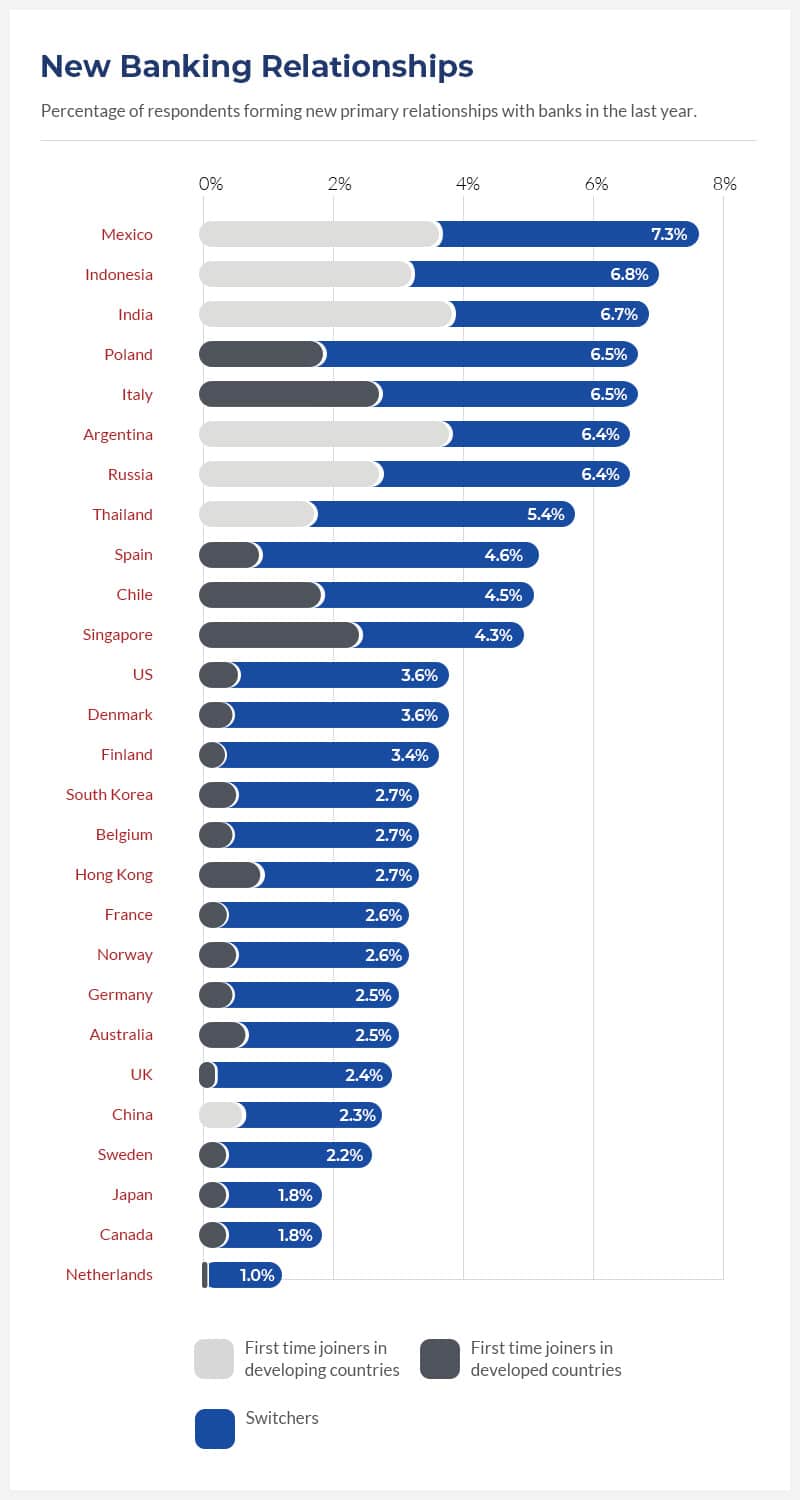 Interestingly, a customer who has been with you for 10 or 20 years is more averse to leave will in any case acquire income without every one of the expenses related with the securing. The American Banking Association (ABA) explored the Baby Boomer market as of late and concocted a few figures that give something to think about.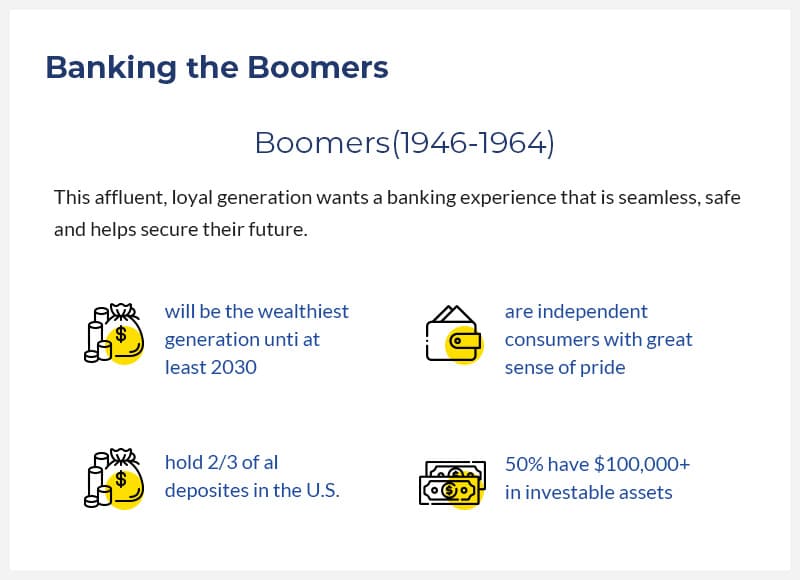 Many banks are running loyalty programs for every unacceptable reason, searching for another business when they ought to be focusing on the wealth of their existing customers.
Subscribe to our Newsletter