back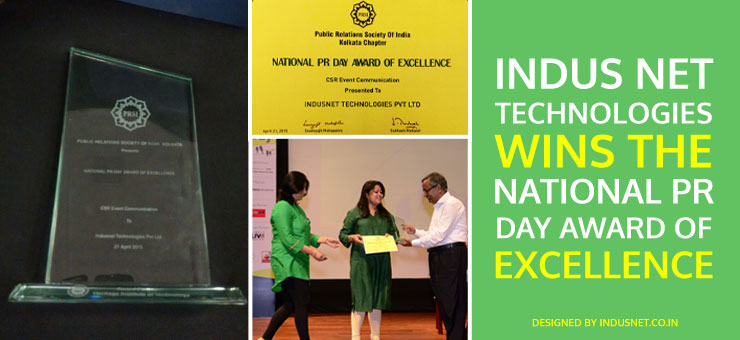 News @ Indus
Indus Net Technologies (INT.) Wins the National PR Day Award of Excellence
It is surely another moment of pride for us – the Indus Net family!
This week we have been awarded with the National PR Day Award of Excellence by the Public Relation Society of India (PRSI), the national association of PR practitioners in the country. Organized by the Kolkata Chapter of PRSI, this award included a number of categories like initiative supporting Education, Childcare, Senior Citizens CSR (Corporate Social Responsibility), Social Event Communication CSR etc. Indus Net Technologies was selected to be honored with this prestigious award for the category of CSR/Social Event Communication. To respect the National PR Day, PRSI not just named the award after the day but even planned to hand over the award to the winners on 21st April, which is observed as the National PR Day in India. Organized by the PRSI, Kolkata Chapter, the award distribution ceremony was held on 21st April, 2015 at Nazrul Tirtha in New Town of Kolkata from 5 pm onwards.
The award was conferred to us considering one of our CSR activity that we conducted in association with Durbar Mahila Samanwaya Committee, a Kolkata based organization for the development and well-being of sex workers & their children. Though Indus Net Technologies (INT.) , for the past 17+ years, has always been an active social contributor and has taken keen interest in offering social services to people in need from time to time, still this CSR activity named "Gift of Joy – Travel beyond boundaries to make a child smile" was a bit special. It was an initiative to give a little joy to the children of sex workers and to make Christmas of the year 2013 memorable for those deprived children, who have to go through a lot of social restrictions every day.
We specifically chose those children, considering the disrespect society still has for the sex workers that in turn highly affects the basic joy of their children. For us, it makes much more sense to make such children smile, even if for a day; and it was this noble thought of INT family that probably touched the heart of the respectable jury members of the National PR Day Award of Excellence. The jury constituted of some of the eminent personalities from different professions whose names are as follows:
P. K. Choudhury, Vice Chairman, ISRA
Jimmy Tangree, Station Head, 93.5 Red F.M.
Chandan Roy Chowdhury, Secretary, Bengal Olympic Association
Ardhendu Banerjee, Actor/Theatre Personality
Apart from the aforementioned jury members, a number of eminent personalities were present at the award distribution ceremony; and among them Mr. Ravindra Chamaria, CMD of Infinity Infotech Parks, handed over the National PR Day Award of Excellence to us. By giving out this award to us, the jury members and the Public Relation Society of India, Kolkata Chapter made "Gift of Joy" memorable for us once again. The event was already a special one for all of us at INT as through this event, we could spend a memorable day with some of the underprivileged children of the society.
Subscribe to our Newsletter