back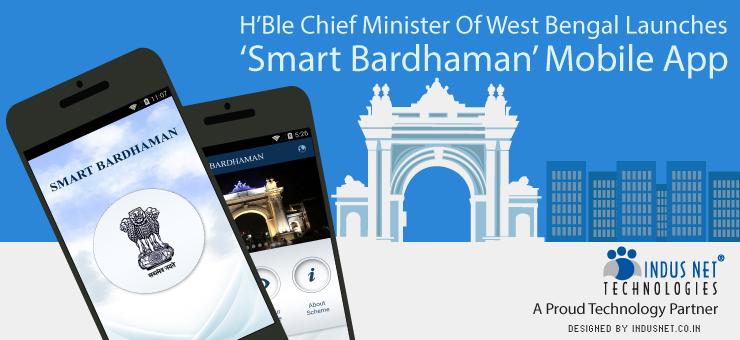 Inside Indus Net
Mobile
News @ Indus
H'Ble CM Of West Bengal Launches 'Smart Bardhaman' Mobile App: Indus Net Technologies(INT.), a Proud Technology Partner
Yet another moment for all of us at Indus Net Technologies(INT.) to bag the pride!
As it is rightly said by our Founder and CEO, Mr. Abhishek Rungta, "Digital media will soon empower each one of us to participate and act in the governance of our nation." Team INT has once again given a new shape to the notion of citizens taking an active hand in governing themselves after the successful development of SMS based Poll Management System for Chief Electoral Office of West Bengal and MyGov app for the Government of India. As more cities and towns are exploring the benefits of digital gadgets, such tools are fast becoming a platform for civic engagement as well. The rolling innovation of mobile apps is radically lowering the cost of collaboration and the distance between the government and the citizens they serve.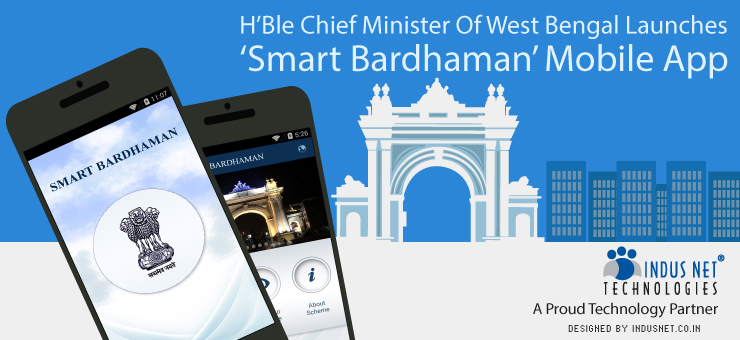 To help the society of Bardhaman utilize such technological advancements, we have designed and developed the 'Smart Bardhaman' mobile app to enable citizens of Bardhaman to smoothly interact with their local Governments without the need to step into the municipal buildings.
This Citizen Governance Mobile App is launched by none other than our Hon'ble Chief Minister Smt. Mamata Banerjee at her 100th administrative meeting at the district of Bardhaman. The app is designed as a single point for accessing information of all citizen governance departments of Bardhaman District. It intends to help public make their voice heard against departments including the Panchayat Samiti, Block and Sub-Divisional offices, Municipalities or PWD regarding the management of primary infrastructures as roads, street lights, drainage issues, water supply and many more to add.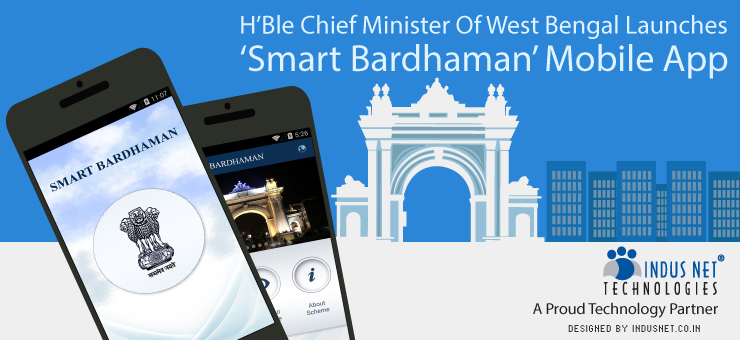 Citizens' grievances related to construction of Rural Housing, 100 days work, Panchayat, Elections, SC/ST/OBC Certificates, Ration Card and Ration Supply, Social Pension or Motor Vehicles can also be lodged through the 'Grievance Registration Form' in this application. Besides, one can also view their grievance status through a unique registration User ID that is auto-generated once a complaint is lodged. In addition, information on different Government schemes including 'Minority Scholarships', 'Vocational and Industrial Training' or 'Kanyashree' can be accessed through this extremely user-friendly mobile app.
Without a shadow of doubt, the citizens of Bardhaman now have better transparency, when it comes to reporting their concerns about the problems in the district. To add to this, Mr. Rungta also mentioned about how Smartphone applications are becoming crucial in conveying public welfare plans and bringing transparency in the administrative sector.
Citizens of Bardhaman District can now download this free app from Google Play Store and exercise their rights for fair and accountable governance in the Public Utility Domain. Here's now Bardhaman getting smarter!
Subscribe to our Newsletter