back

General
InsurTech
Is 'Sachet Insurance' The Right Model To Target The Mass Customer Base?
Insurers have now begun following what many in FMCG and the telecom sectors have been up to. Small package offerings, or as the insurance sector prefers to call it "sachet insurance" or "bite-sized insurance" products are making inroads to target the mass customer base. Though at its nascent stage, an increasing plethora of insurers offering such products, are signs enough to predict a positive future for the product model.
Flag bearing insurance companies in this segment in India are Toffee Insurance and Digit Insurance. Whereas, Zego, a London based company or Axinan the Singapore based company is testing similar models for their markets. They are offering 'small-ticket' non-comprehensive low insurance cover, focus on specific needs and are priced at affordable/low premiums.
Did you know? According to Rohan Kumar, CEO at Toffee Insurance, "The sum insured gets defined by the premium. A premium of up to INR 1,000 per year can be called as sachet insurance and the sum insured will depend on the category where it can go up to INR 4-5 lakhs"
Digit Insurance offering a holiday home cover at INR 200 excluding tax for INR 2 lakhs cover or Toffee Insurance's backpack policy which adjusts premiums as per the "bag value" of policyholder have found a number of takers. The bag value insurance has a pricing model which requires users to pay a premium of INR 25 for bag value of up to 2000 or INR 100 for a bag value ranging between INR 5,000 and INR 10,000.
So why is the sector upbeat about 'sachet' or 'bite-sized' insurance?
The answer to this is not simple. However, after speaking with many of the insurers, we found a common ground which enlists the following adoption drivers:
Higher price sensitivity
Growing millennial cohort that simply gets attracted to the 'pay-as-you-go' or value for money proposition.
A number of insurers believe these 'sachet-packs' are needed for driving insurance penetration as it did for the FMCG and telecom sectors. Access to insurance cover anytime, anywhere and for specific requirements at affordable prices is the single selling point of these 'sachets'.
"Insurers have products for individuals who have a monthly income of Rs 40,000 and above. We want to offer products with premiums as low as Rs 20 so that the masses can buy it instantly," – Upasana Taku, Co-founder, MobiKwik
If you are thinking that only new-age players are making a foray in this domain then let me tell you about some established ones
ICICI Lombard has collaborated with Mobikwik for a cyber insurance cover that can be availed at INR 99 per month, with a sum insured of INR 50,000 and has a validity of one month.
Max Bupa & Mobikwik have a business tie-up for its 'HospiCash' plan that has an annual premium of INR 135, and provides daily cash allowance of INR 500, for up to 30 days, during a hospital stay.
AIG Singapore launched its 'Travel Guard Direct' plan which is priced according to destination, duration and age, so customers can benefit from more accurate, effective pricing based on the risks involved.
Wondering how will you jump into the fray?
You should begin by considering the fact that 'sachet' products will transcend the geographical boundaries and reach the mass population. This implies that scalability will be of utmost importance. The overall service delivery architecture should be calibrated for low-value, high-volume transactions.
According to PWC, a modular, scalable, cloud-based and API driven architecture that can handle concurrent transactions across customised product lines and last-mile distribution channels would be a good architecture for sachet products. A robust ecosystem comprising partners and third-party service providers will be an ideal service delivery model.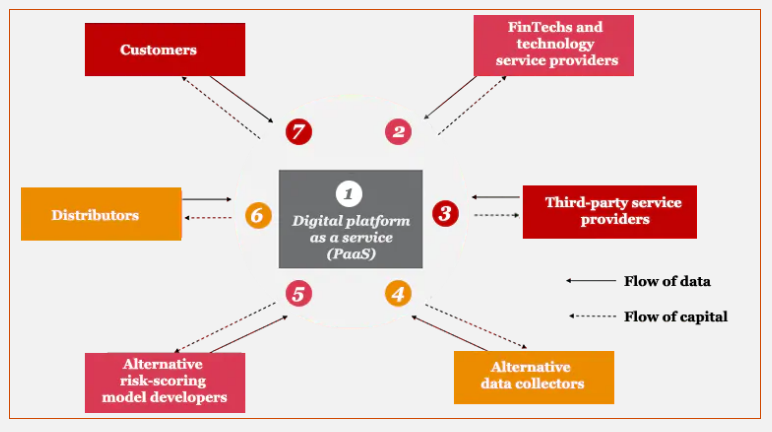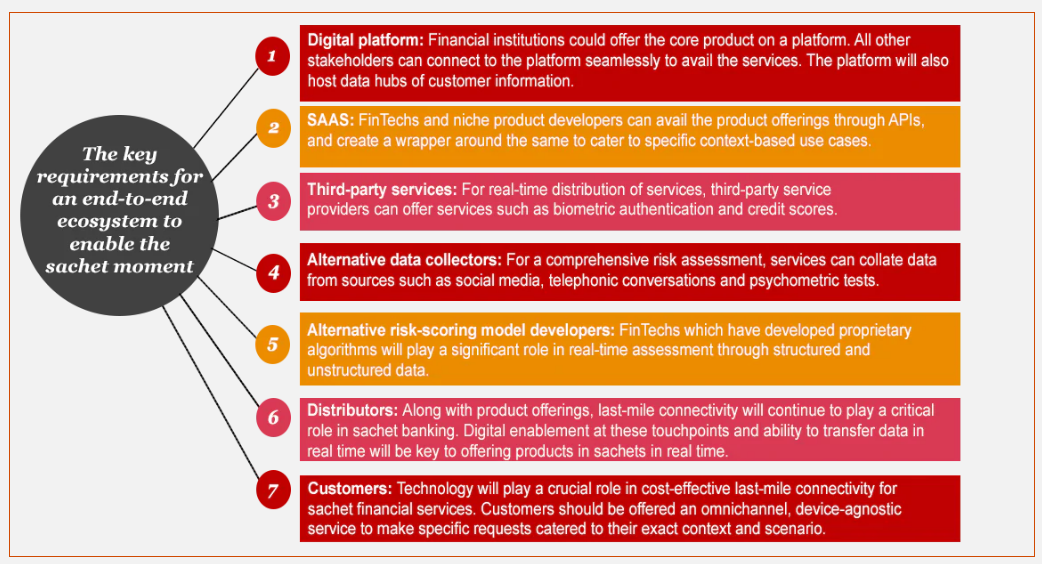 Source: PWC
Apart from handling concurrent transactions and associated architecture, another aspect that is of equal importance is that these products are simple and offer need specific coverage. This makes it imperative for insurers to pull relevant features from multiple insurance products and bundle into one relevant and simple package.
For instance, Toffee Insurance's bicycle insurance product covers theft, damage to the bicycle and personal accident. The company pulls theft and damage from a single underwriting partner, whereas it fetches personal accident cover from another underwriting partner.
In such an operating model, insurance ecosystems emerge as the perfect fit for sachet insurance products.
While considering an ecosystem, the role of open APIs (Application Programming Interfaces) in facilitating secured connectivity will remain crucial for the delivery of sachet insurance products. Open APIs can be deployed to amalgamate with a wide range of ecosystem players and deliver a synchronized customer experience. Over and above customer experience, open APIs also have the potential to provide insurers opportunities to sell insurance through partner websites thereby increasing revenue channels.
So what lies in the future is already getting interesting.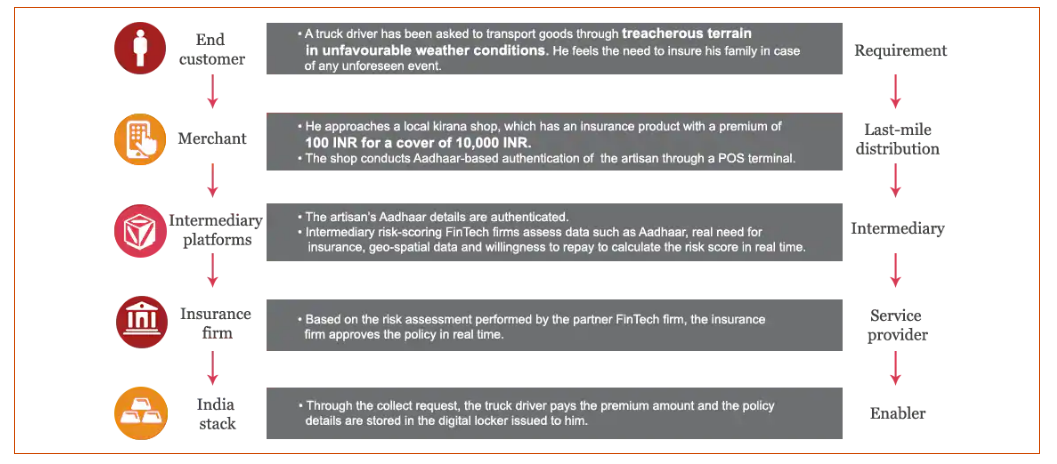 Source: PWC
The rise of sachet insurance is not far as the current integration with taxi hailing service for each of its ride has become a norm. You might never know that your next insurance will be of a penny cost but for one of the most precious childhood memory. However, the challenge for growth still remains of creating ecosystems with secure data exchange at convenience. Technologies like blockchain, cloud and unconventional stakeholders will be roped in to ensure last-mile delivery.
Subscribe to our Newsletter