back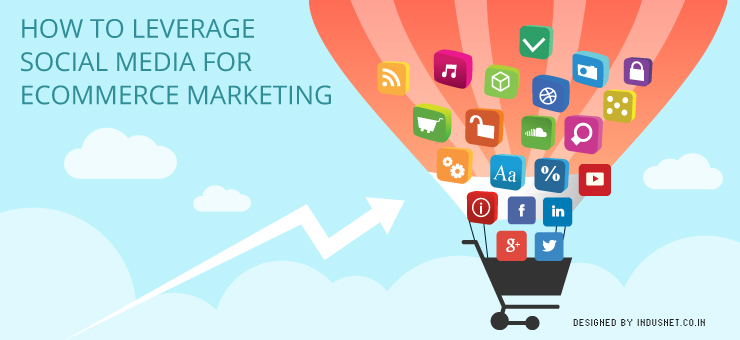 Digital Marketing
E-commerce
Marketing
Social Networking
How to Leverage Social Media for eCommerce Marketing
There is a lot of noise about using social media for eCommerce marketing. If you don't have a digital marketing strategy, you can consider yourself a little outdated, to say the least. You might have a website and a blog but that doesn't mean that just your online presence is enough. You will need to start spending time on social media and discover how you can optimize your digital marketing plan with the help of social platforms such as Facebook, Twitter and LinkedIn. However, do not forget that social media is just a platform and not something that will sell your products magically.
Everyone is eager to monetize social media but the important thing to evaluate is to see how it is going to benefit you. Statistics show that only 12% of the companies feel that their social media strategy is working out for them. As Cyriac Roeding, CEO of ShopKick, a social commerce app, said, "Don't mistake social as the core of the shopping experience. Social is a means to make shopping better, not vice-versa." You can connect to a large audience and market your product to them. Social media also helps in finding out whether your customers are satisfied with you or not. It also acts as a monitor to show you who is talking about your product, whether they like your product and what are they talking about it. All these provide you with a heads up about where you stand in the market.
You need to understand that your objective is to sell. So, use the media to attain that. Also, social media can add to your business other than direct sales. You can use Twitter, Facebook and Instagram as an extension of customer service or to build brand awareness, this can be a place where you can improve customer engagement & gain insight into your customers' interests. All these contribute in increasing overall sales.
Finally, making your social media strategy a success requires time and unwavering commitment. Follow the given instructions to leverage social media for e-commerce marketing.
1. Involve your audience
Your website needs to be designed in such a way that it aims at enhancing customer friendliness. Add social media into all aspects of your e-commerce website. Give your customers the option of using an existing profile to log in. By doing so, you can avoid unnecessary steps that require a user to create an account or register. Make sure your home page, product pages and other pages also have easy sharing buttons. The power that a simple share button has can't be undervalued. New customer would want opinions of the veterans in the business, rather than the companies blowing their own trumpet. Involving your audience can give you an edge over others.
2. Don't oversell
Many businesses who fail to engage their audience on social media commit to self-serving. Talking about new products or sales is great but you need to know where to draw the line.  Try to engage your audience with the company itself and not just buying or selling. You can do this in multiple ways by resorting to contests, quizzes and tips. Make the questions interesting enough to generate discussions. Try to keep promotional posts only up to 20% and the rest needs to be what the audience connects to. It could range from current news to popular TV shows that have link to business. However, make sure that all your conversations are related to the kind of products that you sell on your e-commerce website.
3. Visual creativity
Visuals attract crowd better than words and there is absolutely no doubt about it. You can use this for your gain. A collective of all social media platforms, photographs are the most shared. Photo sites such as Instagram and Pinterest can be the perfect platform to showcase your company with a creative streak. You can choose a wide range of things to post like photos, cartoons, caricatures and even a small text message in a quirky font and an attractive background to catch the eyes of your audience. Philosophical quotes and motivational messages never grow out of fashion. Build a relationship with your customer that is interesting and fun. Last but not the least, use visual creativity to showcase all your products from their most flattering angle.
4. Scope for improvement
Social media is the best place to know where you went wrong or what else you could have done due to the immense information available about your performance. You can measure your activity and learn about social media marketing & the important nuances like the best time to post, the trending topics, which products are popular, who is doing what to promote their brand. Combine all of this knowledge and monitor your own performance to create a power-packed e-commerce publicity campaign. The trick is to never stop experimenting or never stick to one particular strategy. Experiment with your strategies to keep your audience engaged to your company.
5. The third wheel content
Like mentioned earlier, you don't have to limit your posts to e-commerce topics. You can use other interesting matters relating to your business. Likewise, you can share content from other websites that are related to your business but with due credits to them. Even if you curate content from other sites by sharing, try to add a creative description along with the shared content to captivate your audience. For example, if you are a telecommunication brand, and you come across some interesting things related to telecom sector, share it on your web page. But don't forget to mention and give credits to the source, you got the information from.
6. Crack a sweet deal
The secret code to successful e-commerce marketing is to make your audience feel special. Focus on showing what you can offer rather than making them purchase. Talk about attractive deals and exclusive offers to show how special they are. You don't have to make grand utopian gestures; a simple "thank you" for their purchase will work wonders. This will not only help in maintaining a good relationship but will also help you win new customers. Introduce special incentives just for your customers to attract more. Understand social media marketing; it is all about knowing your customers. After all, "customer is the king".
7. Hashtags are a must
Hashtags are powerful tools that you need to make complete use of. It is not about using hashtags haphazardly but they need to be used in a planned and careful manner so that they help you in getting your content on social media platforms get noticed by your target audience. They help by increasing exposure, organizing and setting you apart from million other websites. Ensure that you don't commit the mistake of over-using hashtags because that would reverse the purpose of hashtags in the first place. Optimum use of hashtags will increase awareness about your brand and help you rise on the popularity charts.
8. Using the right platform at the right time
When it comes to using social media platform for e-commerce marketing, one of the blunders people commit is to concentrate just on Facebook. No one doubts about the effect Facebook has, as it has more than a billion active participants every single day; and once on Facebook, you will get noticed and talked about a great deal but there are other platforms that can favor you. LinkedIn is a great platform to connect with other business forums. Twitter is great to send out your message loud, clear and concisely. There are many other platforms that you can use and utilize. When it comes to social media, the more you explore, the more people will know about you.
Looking forward
The immediacy, the flexibility and the access to a large number of people who will fit your criteria for the right target audience are some of the benefits of using social media. Social media will only continue to grow important, thanks to more people accessing the Internet using mobile phones.
E-commerce websites have a lot to gain from using a well-planned out social media strategy as it offers amazing opportunities. However, you need to have a well thought-out plan to market effectively and to realize its potential. Using social media effectively would not only enhance your business but would also help you gain a better relationship with your customers.
Subscribe to our Newsletter