back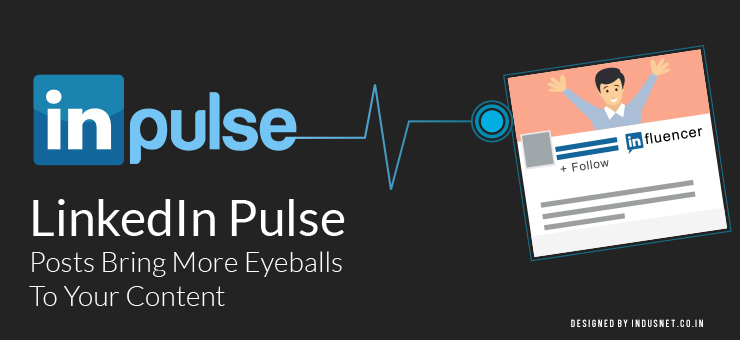 Content Marketing
Digital Marketing
Marketing
Social Networking
LinkedIn Pulse Posts Bring More Eyeballs to Your Content
Every writer would agree to the fact that one of the toughest parts of blogging is actually to build the right audience. However, getting it published, generating interests and leads and the social media activities are something that most of the bloggers struggle with.  The content that you consider to be the best ever written can go unread and unshared simply because it is not reaching the right audience.
All you need is more eyeballs on your content. Social media networks are helping you to accomplish your goal with its never-ending contributions. One such contribution is seen from LinkedIn publishing platform through its LinkedIn Pulse, a news application allowing LinkedIn members to create and share content written by various influencers across different industries. Members can get access to the valuable content, displayed in a photo-based grid. Besides, it also allows the members to tailor their news feed by selecting the sources and subjects that interest them the most.
Unlike LinkedIn Today, that made readers leave the LinkedIn website to consume more content, Pulse encourages readers to reside on LinkedIn by producing unique and genuine content.
How Does Marketing with Pulse Bring in More Traffic?
The marketing potential of Pulse is untapped by the majority of marketers. However, it's time to try this new publishing platform to connect with the right audience at the right time. Without a shadow of doubt, you've enough compelling reasons to explore this interesting destination…
Enhanced Brand Awareness and Reputation
With its ability to deliver great articles from top influencers and publishers, LinkedIn Pulse is more efficient in attracting audience's attention. The more you publish your article, the more you're increasing your brand reputation as an expert. One article that can take a long time to get views on your website's blog can easily get thousands of views through this application. If your posts get featured more often, LinkedIn can even label you as an influencer.
More Number of Viewers, More Potential Leads
If your articles are really interesting and deliver value to your readers, the views can possibly mean having hundreds of likes, shares and new followers right on your company page. This definitely ensures the possibility of potentially new leads and clients. Besides, the notification that followers receive when you post content, your posts also show up directly on the followers' feeds and increase your content visibility further.
Add Link Back and Get More Traffic
Once you add links back to your website, your LinkedIn Pulse posts drive traffic and click-throughs directly to your site. Here are different ways to add links back:
Link Back with Banner and Image
Pulse allows you to add images and link them to your post. Most importantly, Pulse posts have little to no distractions as it does not contain any advertisement and the focus is mainly on your content.
Link Back to a Valuable Resource
As you link to other valuable posts on your blog, do the same by linking a relevant and useful resource on your website. Simply link back to a post or two on your site that adds value for the readers.
Link Back to Squeeze Page
Link to a page that encourages visitors to share their email addresses in exchange of something, which is of value to them and start building your list of leads.
Now, the traffic that you get to your site tends to be of high quality, as expected.
Pulse Articles are Search-Engine Friendly
LinkedIn is a highly trafficked website. This means Google is more likely to index the Pulse content and put in Google search result than the content you put on your personal blog. This augments your search engine visibility and also steers the readers towards your other social accounts and posts, which are displayed under the photo at the top of your profile.
You Network with the Best Influencers of Your Industry
LinkedIn is all about networking. It's the only platform that has the perfect mix of professional and social context. You get more mileage from your best article in Pulse. The entire platform is made to help you make connection by giving you access to the right influencers. However, those 300 million sets of eyeballs can even glaze over your post, if your content lacks a compelling and click-worthy headline. For that matter, your entire content has to be extremely engaging.
The Best Practices for LinkedIn Pulse Article Publication
You can effectively drive Pulse article engagement through the following practices:
Choose your topic and its title wisely.
Avoid covering too many topics in the long-form post and keep your writing focused.
There are no limits on word count; the long-form posts can be more than three paragraphs.
Add images, videos or presentations to your content.
Place three relevant tags that represent the content of your post.
Publish whenever you've something valuable to share with LinkedIn members.
Keep your content authentic.
Make your most valuable content published on LinkedIn and get your voice heard and your company seen by numerous potential clients.
Subscribe to our Newsletter