back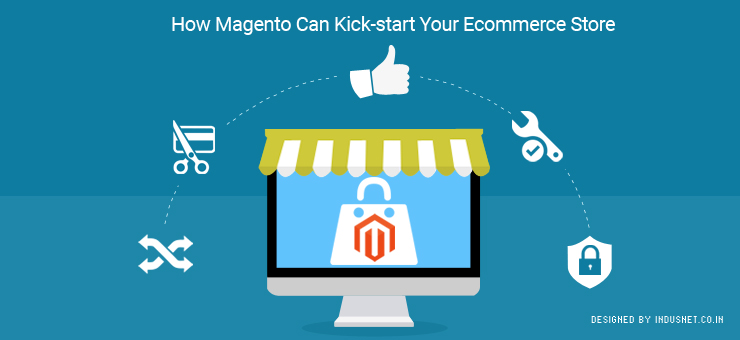 E-commerce
Web Development
How Magento Can Kick-start Your E-commerce Store
If you were planning to start an online store or an E-commerce website, you might probably be thinking about Magento. Magento is an open source E-commerce platform that holds a market share of almost 30%. It is known for its versatility, ease of use and security.
With PHP programming language as its base, Magento has come a long way from the initial days when it was released by a company called Varien in 2008. This open source platform has really grown in the last few years and is currently one of the most popular platforms. In this article, let us take a look at how Magento can help you to kick-start your Ecommerce store:
1. Magento is versatile
Magento as a platform is very versatile. You can easily design your store the way you want. It can also be set up for a small or a large store. It can handle complexities of all kinds, making it truly versatile.
2. Magento is affordable
Being an open source platform, Magento is affordable. It might cost you money to get it installed by independent professionals but the software itself does not cost any money. It is important to note that Magento also does not require a lot of maintenance, additionally cutting down your expenses.
3. It is user-friendly
Magento is very user-friendly and comes with an interface that is easy to handle. You do not have to be a professional to tweak it though it helps to hire one. It can be easily used by even those who do not have any particular software skills. If you are looking for an Ecommerce platform that is simple and easy to use, Magento serves the purpose.
4. It is business friendly and can be customized
Magento comes with a number of business features that will appeal to companies. It has easy cart systems and checkout processes that will ensure that more products are sold, rather than be left behind in shopping carts. Moreover, it can easily be customized to suit your needs and tastes.
5. Magento is highly secure
When it comes to online shopping all of us are worried about security. Magento ensures that your new store is as secure as those that have been around for a long time. With its focus on digital security and privacy, you can have a sigh of relief and continue to build your E-commerce store, always knowing that your customers' details are safely stored.
Looking forward
As seen from the points described above, Magento is one of the most popular E-commerce solutions in the world today. It is an open source program that is cost-effective and user-friendly. It also comes with business features and if you need more, you can always get it customized by professionals.
Most importantly, Magento provides the kind of security that is required for a fledgling E-commerce start-up. Indeed, it continues to be preferred by most small and medium business all around the world. In short, if you are looking at starting an E-commerce website or a simple online store, Magento will do what is required for your goal.
Subscribe to our Newsletter