back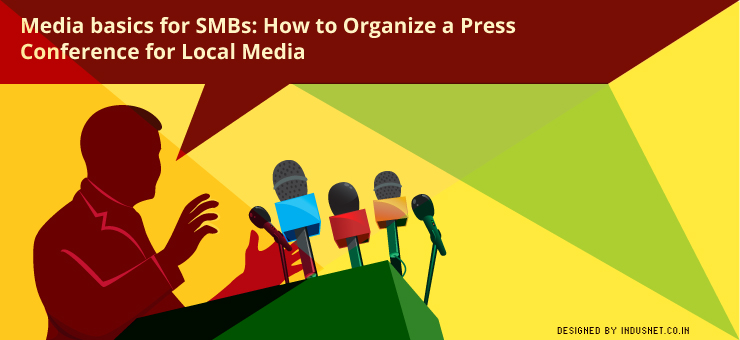 Marketing
Media basics for SMBs: How to Organize a Press Conference for Local Media
It is becoming increasingly common to hold press conferences, even if you are an SME. Small and medium enterprises often have to ensure that they figure in the local media, if not at a state, national or international level. It is crucial to get media mentions in the city's popular daily or a certain community's journal.
Thus, keeping contact with the local media is as important as working towards that impeccable SEO score. What's more, when you are mentioned by local media houses, your local search optimization goes up to. It is incredibly important to make sure that you are covered by mainstream media. That can immediately give you a rank above the rest.
With all that in mind, in this article, let us take a look at how you need to hold a press conference specifically for the local media. There are several things to keep in mind which are common with holding larger press conferences. However, holding press conferences for the local media is a little different and one needs to take into consideration a number of things.
• Prepare for the conference
You need to think about the press conference at least 2 to 3 weeks prior to the actual date. This we say assuming you are not holding a press conference because of something that happened all of a sudden. Usually, SMEs hold press conferences in a planned and calculated manner in order to write about products, services, events and contributions to society. Thus, there is always ample time to prepare.
• Elaborate and define your message
You need to be clear about the message you are trying to send to the community. With that in mind, make sure that you have between 3 and 5 key points, which you can provide the press with. If you are going to talk about a certain product release or the date of an event, make sure the number is repeated a few times so that the press does not miss it.
• Schedule the timings
You need to make sure what the best time to hold the press conference is. Do not think about your convenience. Instead, make sure that the conference is held at a time when journalists are usually free. The best time is to ask them to visit your location between 10 a.m. and 11 a.m. If you hold the press conference later on, the evening paper might not be able to cover your event. It is also recommended by many university lecturers that Tuesdays, Wednesdays and Thursdays are better days as journalists tend to be less busy on those days.
• Pick a location
Pick a location that is suitable for the journalists. If you are renting a conference room in a hotel, make sure it is equidistant from all the major local newspapers that you are inviting. It is preferable to hold press conferences at hotels, which are located downtown. This ensures that journalists will not miss the event just because it is inconvenient to arrive there.
• Select your participants
Those who are going to participate during the press conference and answer questions are also the ones who will represent your company for good or bad. Do not let anyone, who can make blunders, enter the press conference room. Ensure that those you select are media savvy and know how to take questions & answer them without fumbling. It doesn't matter what their qualification is. If they are able to present themselves well in front of the camera and answer all the questions, there is nothing better than that.
• Train your participants
Before the actual press conference, it is a good idea to train the participants about certain media skills. Taking questions and answering them, not becoming combative, remaining polite and other skills need to be taught to the participants before they go live at a press conference. Participants need to be told how important it is to not fumble during the press conference as that can send out a very bad message to the press.
• Contact the media
Mail all the respective editors of all the local newspapers that you want to invite. You could also speak to reporters that you have earlier worked with. It is a good time to start making contacts and ensure that you are not a company who is not well-known. People who work in the media are used to companies badgering them to attend press conferences. Take a nuanced approach and be friendly but persistent.
• Follow up with media
If they do not respond to your e-mails or telephone calls, follow up with them. It is not necessary that they would have read your e-mails. They might have been busy enough to have forgotten to answer your calls as well. There is nothing wrong in contacting them again. You could also try to connect with the journalists on Twitter or on LinkedIn. On the day of the press conference, follow up with them again and remind them of the timings & schedule.
• Develop a press kit
Develop a press kit that contains all the information, which will be covered during the press conference. Hire a professional writer to create the press kit and ensure that all the facts are clearly mentioned. Your press kit needs to include the names of all the participants of the conference, a press release, background information of the issue, few photographs, stationary and notepads. Make sure that a reporter has all the stationaries he or she requires.
• Do up the press conference room
Make sure the room is well-lit and decorated. It needs to have all the lights and microphones working in proper condition. The tables need to be covered in cloth and needs to be long enough to seat everyone. There needs to be cameras, sign-in pads, audio-visual equipments and other things that might be necessary for you to conduct the press conference. You need to also provide refreshments like coffee, tea, water and snacks. It is a good idea to have enough napkins as well.
• Hire translators
One of the most important aspects of local press conferences is that you might need the services of translators and interpreters. It is possible that newspapers and magazines in languages other than English will arrive at your event. In such a case, you might need to invite interpreters who will be able to speak to those reporters in a clear manner as well.
• Hire local celebrities
Sometimes, it is a good idea to hire local celebrities, if you can afford them. A celebrity's presence is a great way to make sure that the reporters cover your story. They always look for celebrities' presence in order to write for their target audience, who also happen to read stories with their favorite stars in it. It might cost a bit but the returns can be very impressive. Writers, actors, activists, singers and just about anyone can be asked to be there.
• Keep the conference short
Do not waste time in things that are not required. Make sure that your press conference is short and sweet. Do not bore the reporters with information that is not required. They are busy people and will need to leave your premises as soon as possible. With that in mind, if you keep the conference short, they will be happy with you.
• Build your network after the conference
Once the conference is over, you need to make sure that you take the business cards of all the reporters present there. You will need their services and help later on. Make sure that you do not come across as a pushy person looking for media mentions. Ask for business cards politely and most reporters do not deny. Ask them if you could add them on LinkedIn and most importantly, take their cellphone numbers and Twitter IDs.
Conclusion
Local press conferences are very important to create a bond with the community you work in. When you are mentioned in mainstream media originating in the community you operate from, chances are, people in the area will take notice of you better. It also helps in the realm of SEO and makes sure that your company appears in the search results more often.
Press conferences can be an amazing tool to make sure that your brand and company become known to people. Once you hold a couple of press conferences successfully, reporters will get to know you and will be more receptive to your communication with regard to future press conferences.
Subscribe to our Newsletter