back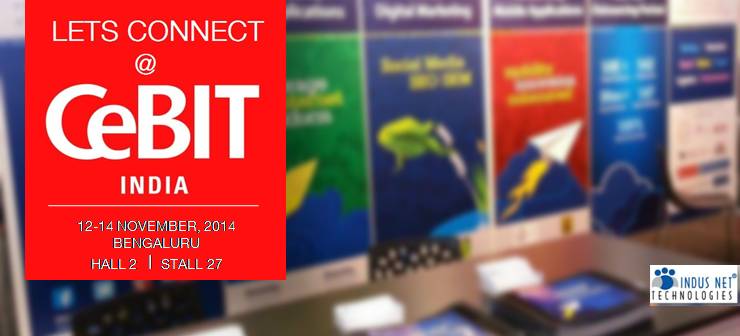 Events
News @ Indus
Meet Team Indus Net Technologies(INT.) at CeBIT India 2014
Indus Net Technologies(INT.) Pvt. Ltd. is participating in CeBIT India 2014, the first ever mega trade exhibition of CeBIT in Asia. This leading trade show of the world is scheduled to be held in Bengaluru from 12th to 14th November, 2014 at the Bengaluru International Exhibition Centre.
We, like our participation in CeBIT Australia 2014, would come with a host of IT products and services that include end-to-end e-commerce offerings, mobile apps, integrated digital marketing services, dedicated hiring services etc. Some of our innovative web and mobility products through which we would convey "New Perspectives in IT Business", the theme of CeBIT India 2014 are:
Socialfire: An enterprise communication solution.
Social Intranet: A platform for secure enterprise communication.
InfluxERP: A comprehensive ERP solution for business process management.
SafeUserName: An online brand name availability checker for analytics (domain).
Mobileaf: A comprehensive digital publishing solution for secure publishing.
Infrafix: A powerful next generation e-Governance and maintenance solution for geo-location monitoring.
Campaigndog: A social engagement platform for social campaign management and analytics.
Apart from this aforementioned list, we have many more IT products and services to showcase. Meet us at Stall No. 27 in Hall No. 2 of the venue where we will be able to help you embrace the "Nexus of Forces" – Cloud/Web based Custom Application Development, Mobility and Digital Marketing services to make your business future ready.
With deep industry experience of 17+ years and technological expertise across all major business functions, our team of 550+ in-house experts that include web designers and developers, app developers and testers, digital marketers, animators etc. operate from 5 global locations including our headquarter in India.
We look forward to meet you at CeBIT India 2014 at the Bengaluru International Exhibition Centre, Hall No. 2, Stall No. 27 where an INT representative would be present to consult on your specific business needs.
Subscribe to our Newsletter