back

Inside Indus Net
More Power To Women In Technology
How many times have you heard the saying that diamonds are a woman's best friend? Before you start pondering, here's another thought to ponder. Not every woman has similar likings.
Swarnali Nandy, Project Manager- Enterprise Mobility, Indus Net Technologies, would rather get her hands on the latest iOS devices than a sparkling piece of diamond. Swarnali is a woman of today. A woman, who is more inclined towards IoT (Internet of Things) than sequined dresses. Instead, she likes to chase her dreams and fulfills them. It's a known fact that IT industry is dominated by men. An article in Tech in Asia reported that only 30 percent of India's tech force constitutes of women and nearly 36 percent get promoted to supervisory positions. We know the numbers are not encouraging enough at this moment.
However, Indus Net Technologies (INT) is surely making a difference in this sector. The organization provides an employee-friendly ambiance. There's no employment segregation by gender here.
This award-winning digital service company, which helps enterprises to leverage the power of the Internet through the cloud, mobile, social and analytics, believes in embracing 'technology' in every avatar.
Going by the mantra, I Love Technology, the company instill the love and passion for technology among the employees.
The overwhelming love for technology is also reflected strongly in the women employees. Indus Net Technologies has several women team leaders. Women here come up with cutting-edge tech solutions and lead the team with confidence and determination. The women at Indus Net Technologies overcome challenges, have the authority and inspire others.
Indus Net Technologies is all for gender equality and also believes that women's participation is crucial for the company's growth.
Let's hear what our women leaders at Indus Net Technologies have to say about their personal struggle and professional achievements. It's time we get inspired by them.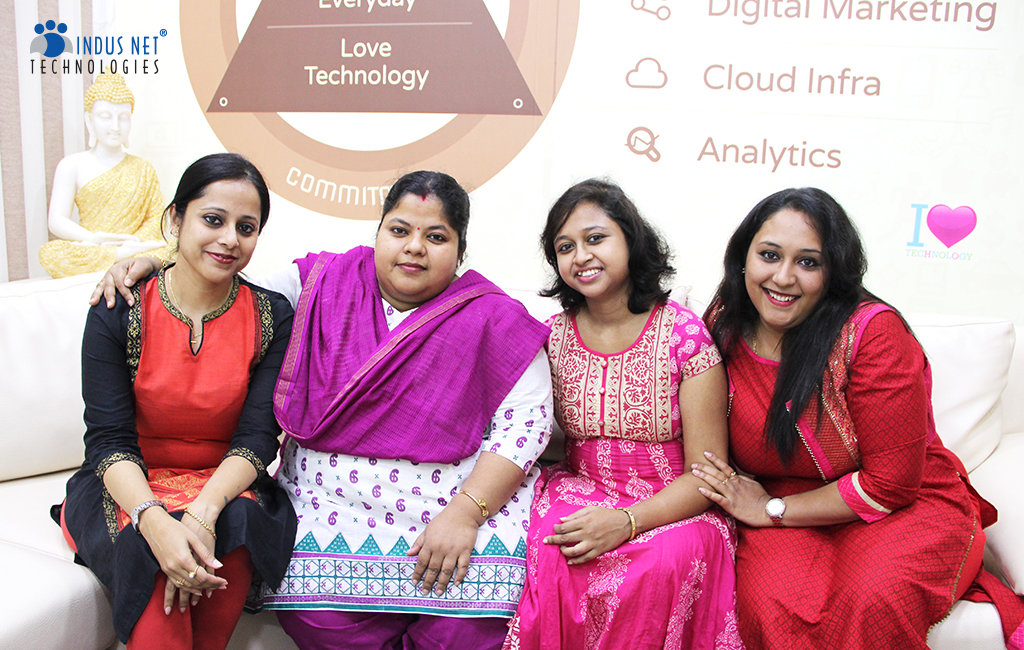 Swarnali along with her team has developed some of the most successful mobile apps such as IDBI Federal, Axis Bank, and Bridgestone to mention a few for the company. Like every woman, she too faces the challenge of balancing home and work. But she gladly informs that INT doesn't support gender biases. "We mostly deal with overseas clients. Hence, we are required to be available anytime. But INT has given me the flexibility to perform my duties from home too. " says Swarnali, working happily at INT.
Paromita Dutta, Team Leader — Client Relationship Management, informs she can map her growth at INT. She credits INT for being a transparent company. Like every working woman, who needs to manage home and job, she needed a company where there are stability and growth. "INT provides a conducive environment for women. Though we face a number of challenges being an Indian working woman in our professional life, INT promotes healthy work-life balance," says Paromita, who is also working at INT for more than four years.
Though Paromita comes from a sales background, she has also fallen in love with technology during her tenure at INT. "In today's time, if you don't update yourself with the latest technology, then you will become redundant after a time," she says.
Scientists say women are better multitaskers than men because a brain of a man requires more mental energy to tackle multiple jobs than a woman's brain do.
The hard reality is a woman is required to take care of her family and then pursue her dreams. It's a challenge that most women today have accepted. She juggles many roles in her lifetime and sets examples in every role she takes up.
Women in positions of power at INT also juggle multiple responsibilities both at home and workplace. And she is an achiever in her own right.
Take the example of Munna Das, Team Lead – Enterprise Mobility. She has adroitly led a team and came up with some innovative and successful apps for clients. But it hasn't been an easy life for Munna. A single mother (she has a five-year-old son) with ailing parents, every day is a challenge for her. But Munna is happy INT recognizes the true potential of an employee irrespective of the gender.
Men and women at INT work side by side and sit together and brainstorm to find innovative business solutions. INT recognizes and nurtures female talents.
"Women have great adjusting power and they can adapt to any situation. The HR team at INT is powerful and take care of the female employees," says Munna, who has worked on projects such as MGH and IDBI Federal. Having been in the field of technology for 11 years, Munna loves that she gets to learn something new each day. "Technology is rapidly changing and that's challenging. At the end of the day when I know that I have been able to overcome a challenge, I feel empowered," she smiles.
We at Indus Net Technologies strongly believe that men and women should be treated equally as members of society every day of the year.
Subscribe to our Newsletter