back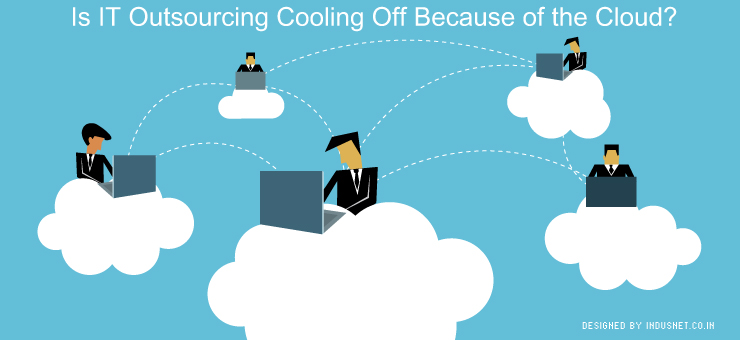 Offshore outsourcing
Web Development
Is IT Outsourcing Cooling Off Because of the Cloud?
There has been a lot of talk about how cloud has changed the way we understand IT and the way we have begun to handle our technical requirements. Thanks to the cloud, it is no longer necessary to have on-site and legacy systems which were the norm just a few years ago.
Shared cloud spaces have helped many companies to access software that they otherwise could not have. For medium and large-sized companies, the cloud has given them an opportunity to reduce costs, cut down on unnecessary projects which were outsourced earlier and also form an entirely new paradigm with respect to how we view IT outsourcing.
Does this mean that cloud computing is going to take the steam off outsourcing? Not really. In this article, let us take a look at how the cloud has actually benefitted the outsourcing industry. Of course, there are many naysayers but the fact is cloud has helped software service providers to move to the next level and offer better services at a lower cost. At the end of the day, it is proving to be a win-win situation.
IT outsourcing is turning hybrid
Outsourcing initially meant that companies sent their software projects and development requirements to companies that offered these services at a lower cost. As outsourcing began to grow as an industry itself, companies began to focus on quality more than the price. It is not an accepted practice to outsource IT development and focus on core competencies.
Outsourcing helped small and large companies to reduce the burden of purchasing & installing hardware, software and then running them. It reduced the need to hire full-time employees who obviously come at a high cost. However, the advent of cloud began to disrupt this comfortable position. Cloud allowed companies to take their outsourcing a step further.
It allowed them to go hybrid. Companies no longer had to maintain on-site infrastructure nor did they have to outsource everything to vendors. It was now possible to purchase only certain IT services while retaining the rest on-site. Cloud services have grown by leaps and bounds & there are several companies that offer a number of services.
It is now possible to not only outsource some of the tasks and projects to different companies but also maintain on-site infrastructure for tasks that are deemed too sensitive. This sort of hybrid cloud computing gave rise to people within the outsourcing industry that the cloud will usurp their traditional domain. These fears were found to be irrational.
In fact, the cloud has only helped the outsourcing industry to grow much further. Vendors can now offer a plethora of services over the cloud for an increasing number of clients. This has led to the democratization of IT outsourcing industry; and that is always a good sign.
What cloud federation is doing
An important development is that of cloud federation. It refers to deploying and managing a number of internal & external cloud computing services. It is almost like a federation of states, of which each has a different role to play. Likewise, all the individual parts within a cloud federation have their own roles to play.
However, there is always a sense of cohesion between various IT services managed and deployed over the cloud. Outsourcing vendors have found this model highly effective in encouraging clients to purchase more services, which are customized and tailor-made for their needs. The cloud, as a federation, is an important aspect because as we move from legacy systems to the cloud, we will increasingly need the services of different cloud companies for different services that they offer over the cloud. It is simply not possible to get everything from Amazon.
Cloud federation will actually boost outsourcing
Whether CRM, gaming, e-commerce, social media, IT or just whatever it might take to run your business, it cannot be outsourced to a single entity. As more vendors move towards the cloud as well, you will have to create your own cloud federation, which consists of a number of cloud services from different providers. This cloud federation will likely dominate the future. It will also help boost IT outsourcing instead of reducing the share of vendors in the market.
Subscribe to our Newsletter