back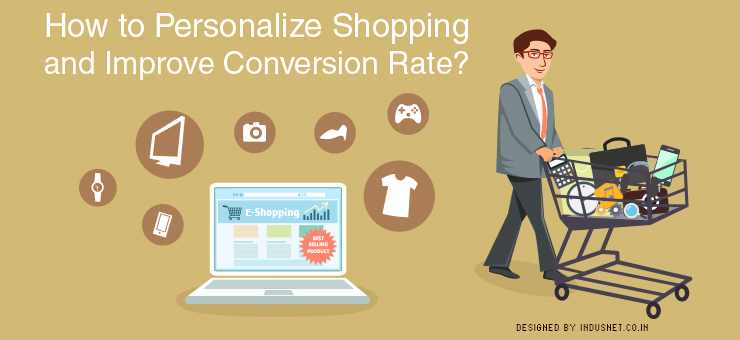 Digital Marketing
E-commerce
Marketing
How to Personalize Shopping and Improve Conversion Rate?
It is often one of the most important questions that a marketer might ask himself or herself. How do we personalize shopping and improve conversion rate? The answer seems to be a little convoluted. We need to understand how a website works and who is visiting that website. That tells us a lot about the demographics and psychographics of the audience.
It also helps us to know who is actually visiting the online store and becoming customers in the process. Of all these, we need to remember that personalizing the shopping experience is key to ensuring that a customer will stick on. When companies do not understand this simple fact and continue to market products in a mechanical way, with a one size fits all approach, it just does not attract potential customers.
In this article, let us take a look at how to personalize shopping and improve conversion rate. At the end of the day, we are all trying to convert leads into customers and this article will discuss how to do that with the help of personalizing of the shopping experience. There are, in fact, many ways personalization can impact purchase decisions and thereby, increase sales.
Understand your customer
The most important thing is to understand who your customer is. It is important to ask yourself questions such as "Is this person really interested in the products we sell?". It is not worth the effort if your product is not relevant to the target audience. You need to understand their cultural habits, their lifestyle, their socio-economic status and a lot of other things.
Your marketing campaign needs to be customized and personalized to suit your audience. This will attract those who fall into the bracket of your target audience and eventually, this will help you to make more conversions, which is the ultimate goal of all marketing exercises anyway.
Show that you know your audience
Once you understand your audience, it is important to show that you understand them. You need to use promotional events, advertisements and even web copy to display your empathy for your audience. When you treat them with empathy, customers will feel naturally inclined to buy your products because they feel "understood". They can feel "understood" only when you decide to customize your marketing and promotional campaigns.
This helps to build goodwill as well and that is very important to retain customers and also turn them into advocates, who will, in turn, bring newer customers as well. A lot of people are influenced by ergative reviews online. Thus, you need to customize your marketing approach to ensure that those negative reviews do not hamper your marketing strategies.
Get the right visitors and create a space that is customized for them
Use all the data that you can lay your hands on and ensure that you are able to create an atmosphere where your prospects and leads feel comfortable. Once they feel comfortable, you could be rest assured that you will end up converting them into either advocates or actual customers. Thus, customization of reaching out plays an important role in increasing conversions and this is very important for all businesses.
You need to prepare marketing strategies that are completely customized for your audience. The script, the branding and even the products themselves need to be customized for your customers. The more you customize, the deeper your relationship will be with your customers. This is what is required to move towards success.
Conclusion
If you notice these points, you will realize that customizing the way you market your products and services will help you to build long term relationships with your customers. Customizing is one of the most important qualities of successful businesses. By remembering your prospects' birthdays, anniversaries, marriages and other such important dates, you could wish them & send custom messages.
You might also want to seek the help of professional agencies who are specialized in creating custom marketing and ad campaigns based on the tastes of your target audience. If you are unable to do it on your own, you could seek professional help. If you have felt customizing your business and marketing strategies helped you ever, do let us know in the comments section below.
Subscribe to our Newsletter