back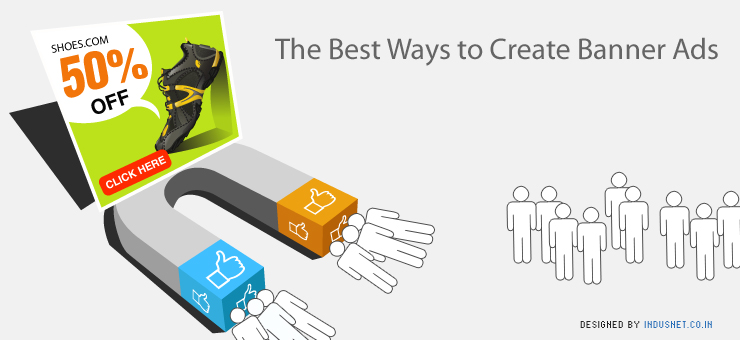 Digital Marketing
Marketing
The Best Ways to Create Banner Ads
As the number of banner ads is increasing, it has created a situation among Internet users, called "banner blindness". Banner ads which are glaring, in the face, congested with content or even too repetitive will be avoided and in fact ignored. This is something a marketer has to take care of. There are certain tips and tricks which we can employ in order to make banner ads more successful. Before discussing them, let us understand the three different types of banner advertising used in the World Wide Web.
Pay per Click: In this method the host website on which you have placed your ad, gets his share of profits as soon as someone clicks on your banner ad.
Cost per Impression / Cost per 1000 impressions: For each set of 1000 visitors to your ad, the host company is paid a certain discussed amount.
Pay per Sale: The host company is paid depending on the number of sales generated through the banner ad placed on his site.
Depending on the product which is advertised and the type of host site/publisher, a combination of these can be used to suit each one's requirements.
In this article, we will discuss a few key points that will result in a successful banner ad creating much needed awareness.
Few Basic Tips to Create Successful Banner Ads:
Research Well: There are plenty of banner ads out there, observing them will give us a chance to learn from their mistakes. Notice how and where they are placed, how much of content is included, the type of message, color combinations and such details. This will give you a fair idea of how your banner ad needs to look to attract consumers' attention.
Keep It Clutter Free: Make sure your banner ad is clutter free. An ad with too many images and text will distract the mind from the actual message losing out on the sole purpose of the banner ad. It is best to advertise a single product or service on your banner ad and link the ad to the particular page on the website.
Choose Luring Text: Attract consumers' attention with the messaging on the ad. Short and witty messages will do the trick. Also make sure that the font size is big. Medium font and a short message will definitely attract consumers' attention to your ad.
A Light File: You may or may not have size constraints but having a low file size banner ad, will work in your favor. For an average banner ad 45 to 70 kb is a good size that will load faster ensuring its visibility to consumers.
Customize your Banner ad: Make your banner ad the prettiest amongst the lot. Colour your banner ad to go in line with the host site. Since, we are talking ads on the internet, it is easy to change the colors of the banner to suit its context.
Place it Right: Your banner ad needs to be positioned at a place that will attract a lot of eye balls. You would have created your ad keeping in mind a target audience, so ensure the positioning of your ad at a place where this target group will most likely visit. For this you can use Google Analytics, which tells you where your website traffic is being drawn from. You can find this under the 'Traffic Sources' button.
Keep a Watch: Ensure that you have something exciting to offer to your visitor who has just clicked on your banner ad. The page you link the ad to should be interesting and informative to turn your visitor into a customer. Your website/store and your banner need to work in tandem to get most sales. One way of doing this is to track your success through banner ads, find out your Return on Investment (ROI), which means to see how many of the clicks have turned into sales. This will give you a better picture of which banner ad is attracting sales and which isn't, helping you to reposition the ads which are not attracting the desired attention.
Banner Ads are a sure shot way of driving traffic to one's website directly. Looking at the amount of time people spend on the internet, banner ads have proved to be a very successful way of garnering the right attention.
Subscribe to our Newsletter