back

Big Data
Blockchain
Healthcare
Blockchain's Impact on Data Interoperability in the Healthcare Industry
Data interoperability is a buzzword that has gained traction throughout the healthcare industry. This usually comes with multiple levels, including semantics, foundational, and structural.
At the same time, data standardisation and privacy are key concerns, since the system should enable interoperability of data with full consent, trust, and permission support.
Blockchain can thus add a whole new dimension to healthcare data management while solving several interoperability challenges simultaneously. It ensures a proper framework for anonymised information while making sure that the data cannot be modified, forged, or tampered with.
Blockchain can thus add a whole new dimension to healthcare data management while solving several interoperability challenges simultaneously. It ensures a proper framework for anonymised information while making sure that the data cannot be modified, forged, or tampered with.
Authenticity and data security are major worries that are solved with this technology and the owner of data through smart contracts can make it more accessible across treatment sites and providers in a selective way.
Here are some of the vital aspects related to the impact of Blockchain on healthcare data interoperability.
Blockchain for clinical trials: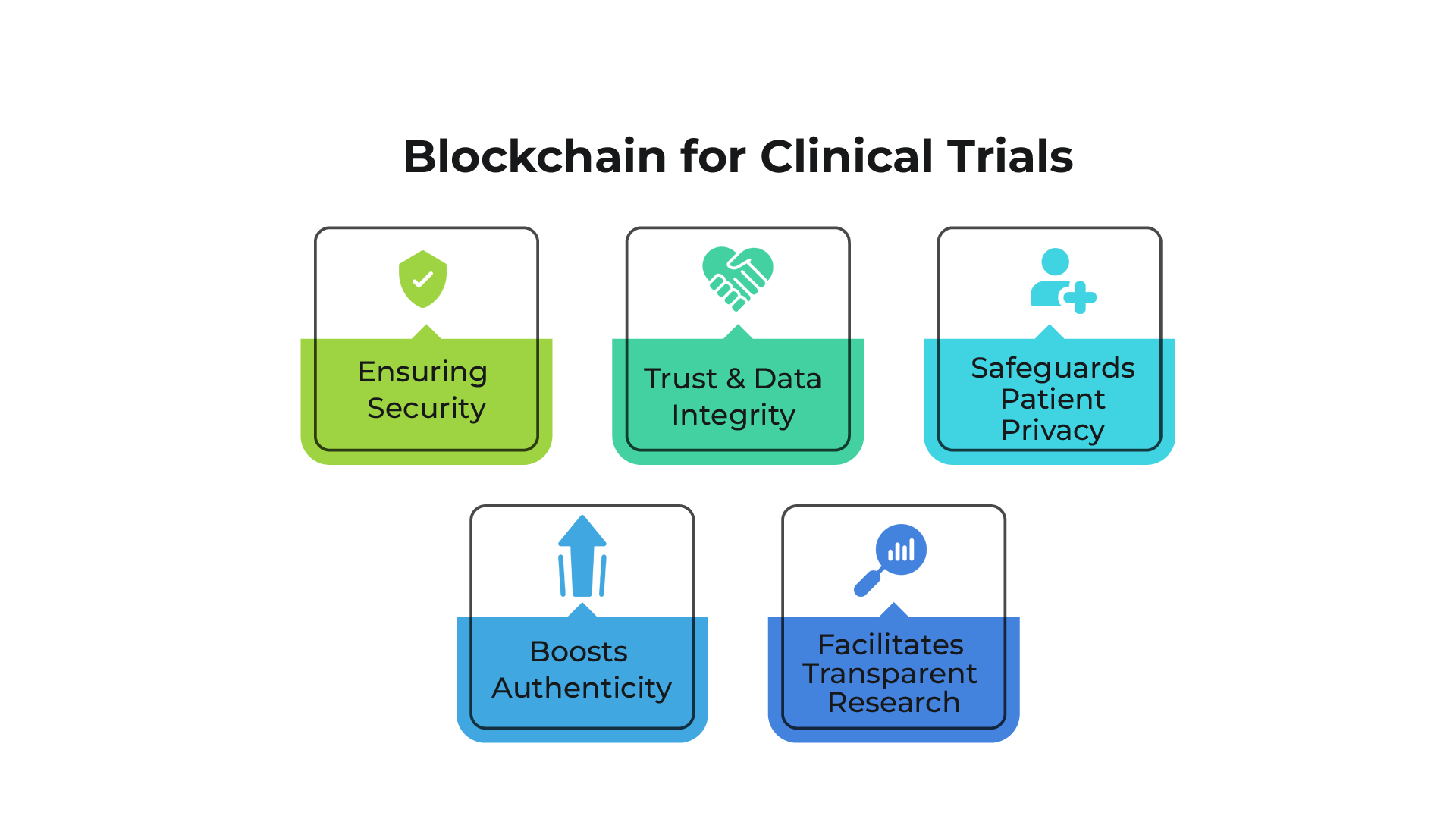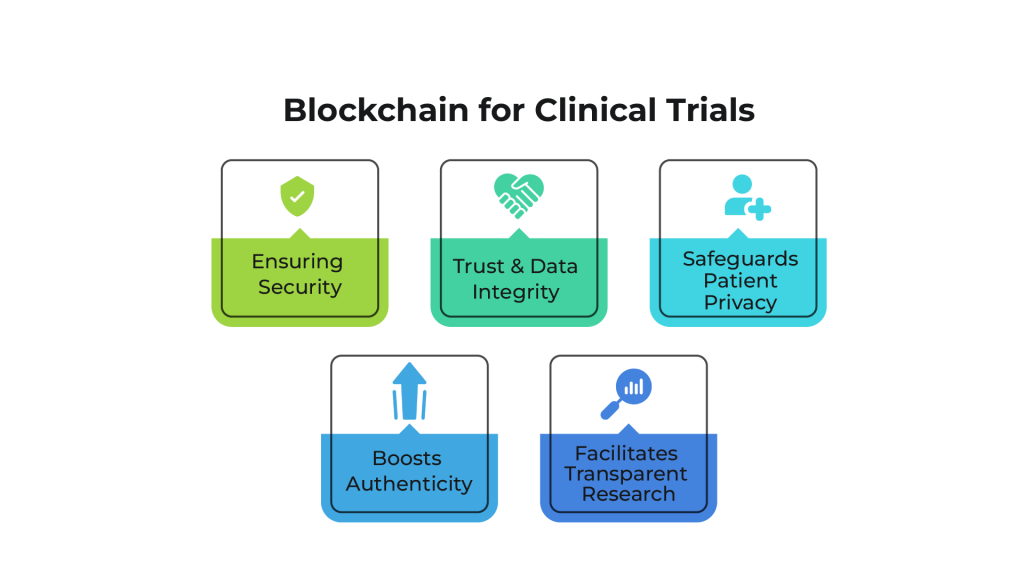 Along with data interoperability, Blockchain has enabled better clinical trial management. Here are some core points worth noting in this regard: 
Blockchain records are stored immutably and cryptographically linked, enabling one source of truth and building trust. Hence, multiple parties can rely on this without requiring any other procedures.
This is vital for clinical trials, since any tampered data cannot be deployed in publications. Confusion amongst data sets may also lead to the loss of valuable research.
Blockchain thus works to enable a single and secure data version. It has nodes cryptographically linked together in a secure way. The data cannot be altered in any way as well.
The data's cryptographic hash safeguards patient privacy along with ensuring data quality.
Improved data security also comes with other clinical trial advantages since patients may be secure about the authenticity and privacy of their information.
The intellectual property of trial sponsors and patient privacy problems are key concerns for clinical trials. The transparency of Blockchain networks helps with any breaches of data to enable researchers to swiftly identify any issues.
Blockchain technologies can easily track changes including modification times, content, and people, which are vital at the time of clinical trials. It enables data exchange without depending on unsecured methods.
Trial researchers can also enhance organisational checks to ensure that trials are ethically completed and that too in a transparent manner.
Randomisation of patients in clinical trials can be prevented with smart contracts on the Blockchain.
Hence, Blockchain technologies can boost the quality and volumes of patients who are recruited for clinical trials. Distributed ledger technologies will help patients store medical information through anonymous mechanisms and it can be visible to recruiters who may reach out if the data is eligible for the trial.
Blockchain for patient consent:
Patient consent is another vital facet of healthcare data management and this is also enhanced by Blockchain. Here are some factors worth noting in this regard:
Smart contracts on Blockchain are code pieces which are layered over the Blockchain that automatically execute upon the meeting of specific conditions.
Smart contracts make it possible for all stakeholders to initially agree for releasing data to the registry for public trails which will automatically take place upon the completion of the study.
Patients may control the data consent aspect and smart contracts invalidate the release of data in case their own conditions are not released.
Smart contracts may automatically trigger re-consent requests if there are any changes in protocols.
Consent management directly comes into the patients' hands and those who wish to modify or revoke the same can directly do it through a Blockchain transaction. They do not have to depend on third parties for documenting the same.
Smart contracts can readily freeze patient information or the progression applicable for the coming protocol phase. This predicates data release upon the unequivocal consent documentation.
Smart contracts may also help automate various procedures in healthcare research. Trial results may be instantly uploaded through smart contracts as well.
These are some of the ways in which Blockchain technologies contribute immensely towards enabling patient consent and putting data management in their hands.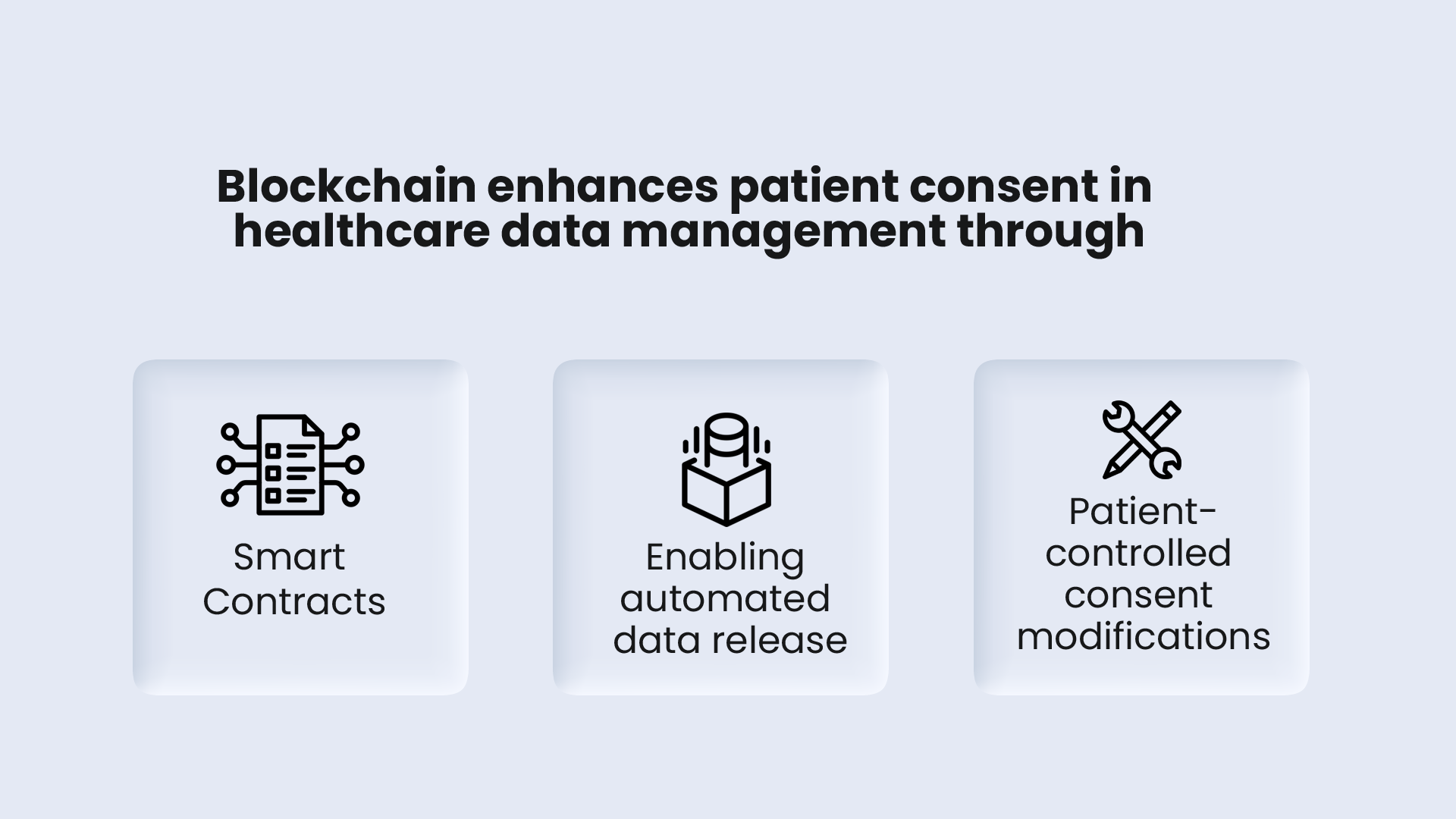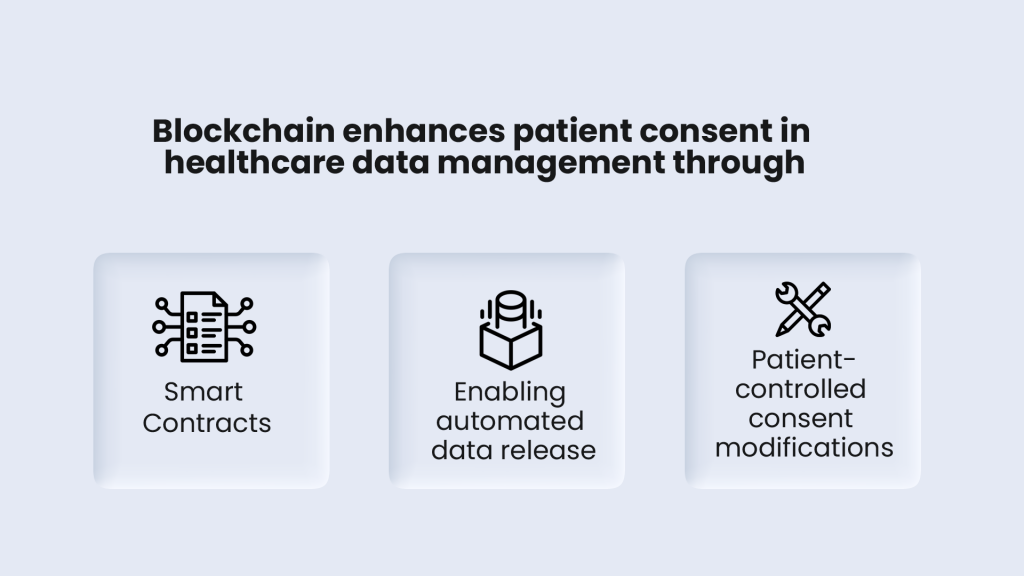 Blockchain for drug supply chain management:
Blockchain technology also helps immensely in terms of drug supply chain management. Here are some aspects that can be highlighted in this regard:
Blockchain can establish the integrity of the supply chain with proper tracking of the cold chain. You can identify the contamination of any sensitive or high-value temperature products with step-wise visibility into cold-chain sensor information to the delivery from the production stage. There can be chargebacks and other financial responsibilities assigned in case of any temperature incursion.
Blockchain technologies ensure that products are reliable and authentic while there is full data visibility and sharing throughout the journey of the product. Fraud is reduced through the immutable event records.
Permissioned Blockchain participants will have almost real-time visibility into digitised documents that are stored on the Blockchain.
Analytics will also unearth newer business opportunities for boosting inventory management and scaling up efficiency while offering early warnings for ingredient sourcing disruptions.
Blockchain technology that contains immutable and distributed and shareable ledgers is suitable for monitoring unique digital IDs that are assigned for product units and also for finding product locations under recall instantly.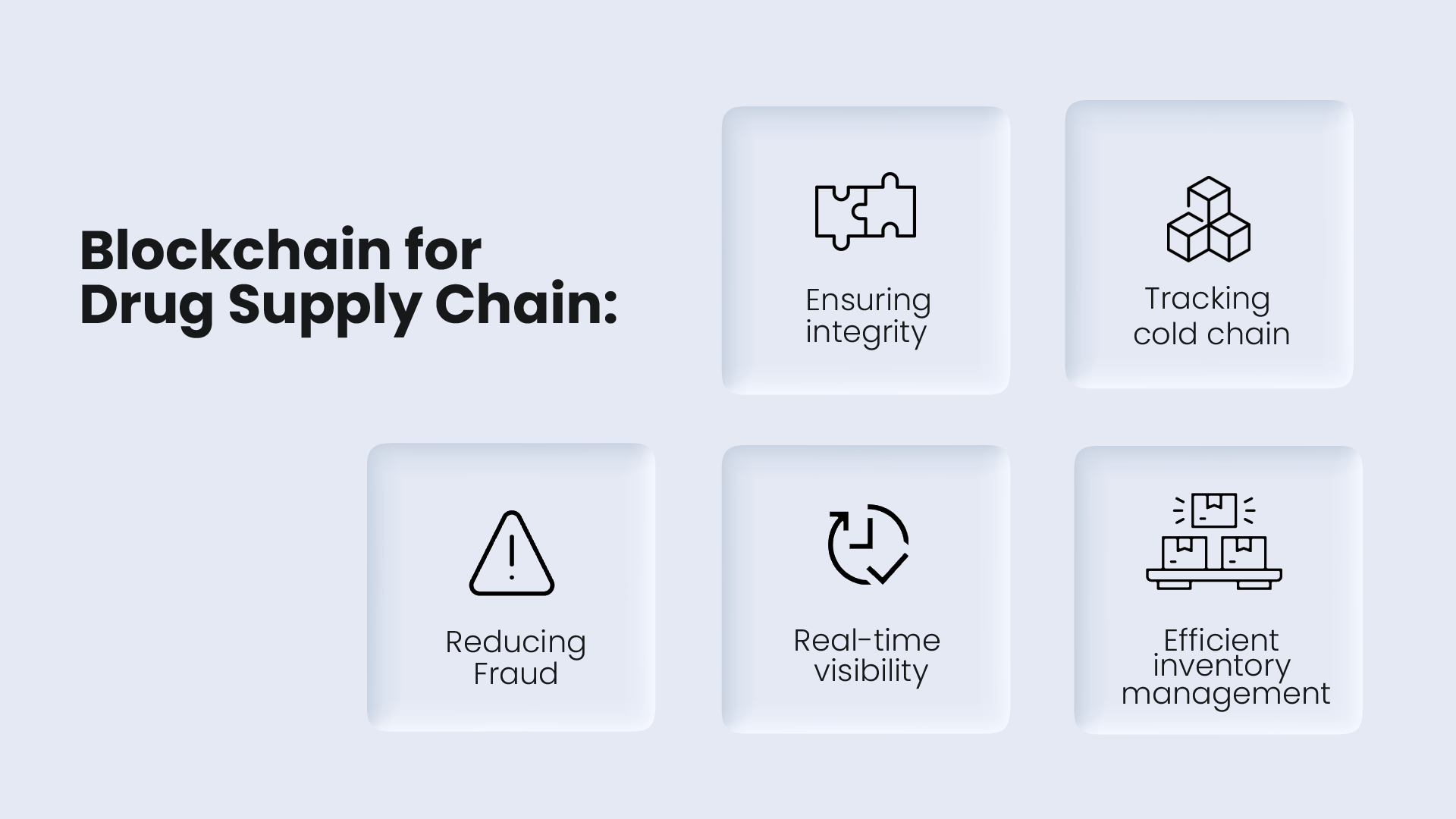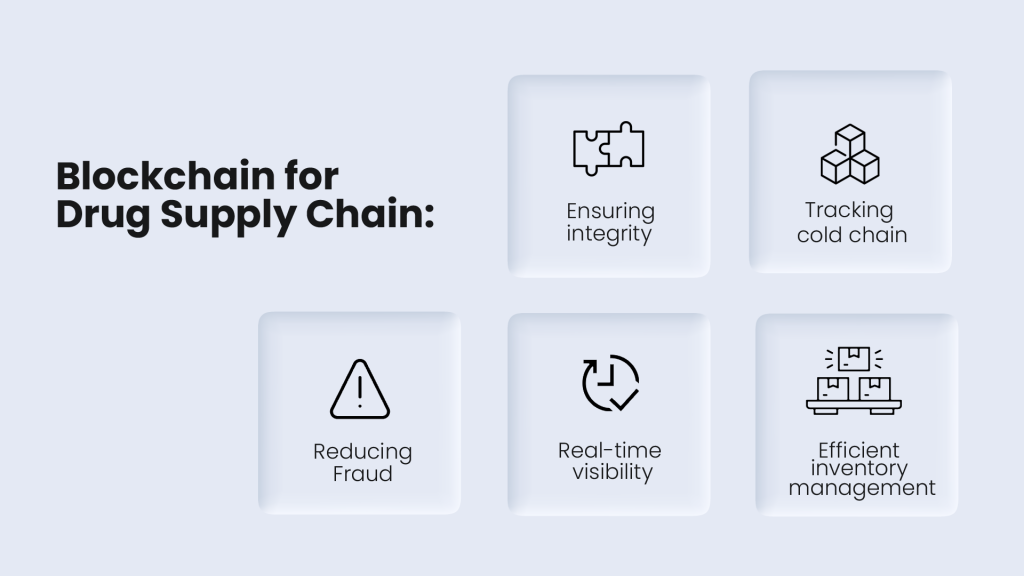 Hence, Blockchain technology is a game-changer in terms of ensuring seamless data interoperability in the healthcare industry and also ensuring better consent management, clinical trials, and drug supply chain management. The possibilities are endless in terms of reshaping and refining these systems to ensure the best possible outcomes for the sector.
FAQs
1.How does blockchain improve the accuracy and integrity of healthcare data during interoperability?
Blockchain greatly improves the integrity and accuracy of healthcare information during interoperability. This is possible with the immutable nature of data that is securely stored on its networks. Blockchain enables one version of the truth that cannot be tampered with.
2.What are the potential cost savings and efficiency gains from implementing blockchain for data interoperability in healthcare?
There are several benefits of using Blockchain for healthcare data interoperability. The first one is the higher efficiency involved in secure storage of immutable records with full authenticity and the second one is the lower cost involved in the process. Along with data security and authenticity, financial losses due to data breaches and losses are also prevented.
3.Are there any real-world examples or success stories of blockchain's impact on data interoperability in the healthcare industry?
There are numerous real-world success stories and examples of how Blockchain has positively affected data interoperability in the healthcare sector. For example, several healthcare stakeholders are already using this technology to ensure authentic data for clinical trials. At the same time, smart contracts are being used for securely storing patient data.
4.What are the main challenges in achieving data interoperability in healthcare, and how can blockchain help overcome them?
Some challenges exist in terms of data interoperability in the healthcare sector and Blockchain solves them with ease. These include the absence of data standardisation, security, privacy, consent, and technological expertise. Blockchain ensures a secure and standardised way of storing verifiable records with full consent and privacy.
Summary

Article Name
Blockchain's Impact in the Healthcare Industry
Description
Discover how Blockchain enhances healthcare data interoperability, revolutionizing information sharing for better patient outcomes. Explore it.
Author
Publisher Name
Indus Net Technologies (INT.)
Publisher Logo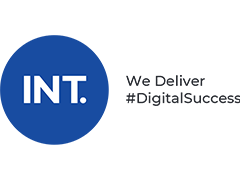 Subscribe to our Newsletter