back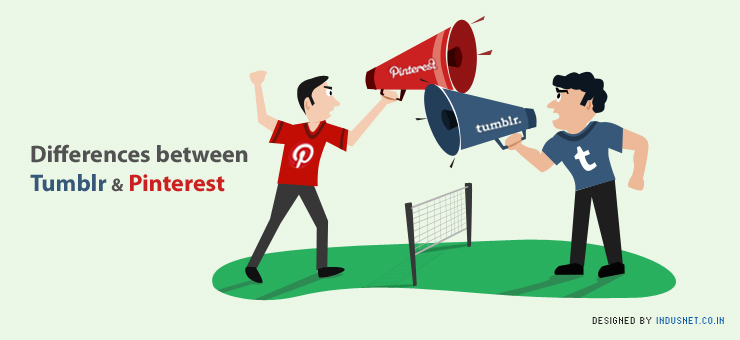 Design
Media
SEO
Social Networking
Web design
Tumblr vs. Pinterest for Web Designers
The hottest social networking site right surely is Pinterest and it is known to drive a lot of traffic to websites. Tumblr on the other hand is a popular microblogging platform, which has been around for quite a while. There are similarities among both the services, and each works for different purposes, users and situations.
Differences between Tumblr and Pinterest
Tumblr is a micro-blogging platform that can behave like Twitter, act as a simplified version of WordPress and is a place to engage in discussion.
Pinterest on the other hand is a visual bookmarking tool, that allows you to collect images and videos (and the links therein) on various categorized boards.
Both of them depend more on media than text, but are fundamentally different. However, people do use Tumblr to collect pictures and images much like Pinterest.
Both the tools can be astonishingly useful to web designers and developers.
Let us compare the two services in order to understand which one could be better than the other.
Team Collaboration
Pinterest allows users to add contributors, which means collaborative collection of images found on the Internet or images that are originally taken can be easy. Pinterest can allow web designing companies to allow several designers to pin images that they like, in a form of visual brainstorming. Commenting and liking images, or pinning them back allows for socializing as well.
Tumblr on the other hand is a fully functioning blogging platform that allows for lengthier discussions in the form of comments, and also in the form of text posts. As it follows a blogging structure, web designers can easily publish their strategies, ideas, tutorials etc easily.
Collaboration in the real sense may be easier on Tumblr if we were to talk about combining blog posts, images, textual content and videos. Pinterest can be used as bookmarking tool or a place to showcase templates and designs you have created, before or after brainstorming.
Marketing and Promotion
Pinterest discourages self-promotion, whereas Tumblr doesn't frown upon it. It is easier to promote oneself explicitly on Tumblr than on Pinterest. On Pinterest, you will have to use tricks and covert methods to promote your products or services. It might be a good idea to drive traffic from Pinterest to your Tumblr blog, where you actively promote your products. Pinterest has a majority of female users, where as Tumblr's target audience is mostly youngsters. It depends who your target audience is before launching a marketing campaign. However, Tumblr seems to have a better marketing traction.
SEO and SMO
Both Tumblr and Pinterest are valuable SEO tools. They drive traffic to your company website, help you to generate organic traffic, and also achieve better search engine rankings.
Interface
Tumblr has more freedom to publish content, and doubles up as a blogging platform as well. Pages can be added and a simple website can be created within the Tumblr platform. On Pinterest, one can pin images found anywhere on the website, or upload original images and categorise them under various boards. Pinterest is more visually oriented than Tumblr, where as Tumblr is more of a publishing platform.
Engagement, Discussion and Participation
Tumblr allows better engagement and discussion. Thanks to its micro-blogging platform, it not only allows likes and re-blogs but lengthy discussions can happen in the comments section. Pinterest on the other hand allows commenting too, and images can be re-pinned or liked, but lengthy discussions are just not great enough. Web designers who need to discuss projects, tricks and tips, cheat sheets would do better on Tumblr. Web designers who need to showcase their templates, and basically offer visual eye-candy would gain more on Pinterest.
Handling Design Projects
Web designers can collect templates they like on Pinterest and also pin websites, portfolios of other designers and logos that they come across while browsing the web. Pinterest can serve as a place where web designers can find all the images that inspired them to design their own website.
Tumblr on the other hand can be used to promote and market one's own design projects. It could also be used to upload HTML5, CSS and other coding files in order to discuss with clients or team members. It serves as a collaborative, publishing and media sharing platform, all put together in a minimalist environment.
It all depends on which part of the designing process one is handling. Both the tools are equally important and are not mutually exclusive.
Subscribe to our Newsletter