back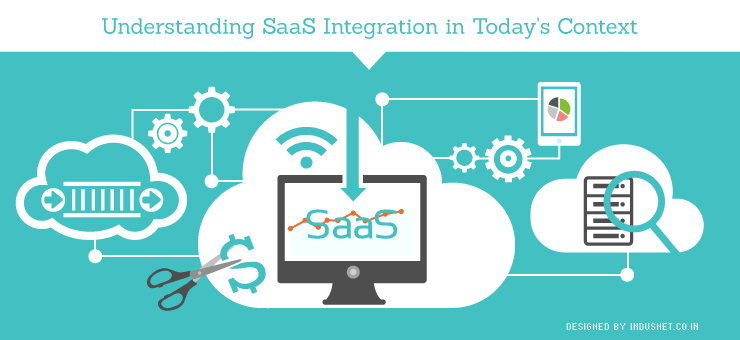 Cloud
Understanding SaaS Integration in Today's Context
Software as a Service (SaaS) has slowly become a norm among SMBs partly because of the variety that it offers and also because of the cost effectiveness. Certainly, SaaS is here to stay and with cloud computing finding enormous acceptance even among larger companies, SaaS will begin to witness an increase in its size and stature. Most companies do not realize that they are already engaging or integrating SaaS in one way or another.
If you are using a software program that is available when you plug into an internet connection, you are probably using a SaaS solution. It has helped a number of companies to gain access to software that they previously couldn't have afforded. SaaS brings proprietary and often expensive software programs to people and companies who can't normally afford them. Software programs are run on cloud servers and clients use them as required, whenever they need to.
The best feature of SaaS probably is that it can be used from anywhere in the world and programs need not be installed on individual computers. This means, companies will save a lot of money not only on software programs but also on storage devices and computer hardware. They will not need to purchase servers or invest in computer storage devices that store all the database. Instead, everything is stored and processed in the cloud, leading to an efficient and streamlined approach towards IT.
Most companies want to reduce costs
Companies certainly want to be able to reduce the amount of money they spend on software programs. It is simply not economical to spend hundreds or even thousands of dollars on software solutions only to realize that they can no longer store the data they have used. Many companies also belatedly realize that the software solution which they purchased is simply not for their business.
When this happens, they often regret having spent thousands of dollars on one single software program. A SaaS solution on the other hand allows the clients to choose the modules they specifically want, with the ability to turn off or unsubscribe from those very services when they do not need them anymore.
This flexibility allows companies to try software solutions and then decide upon the one that is best suited for them. SaaS thus helps companies to reduce costs. This is a truism that most companies are well aware of now. So, SaaS integration is likely to grow in the near future, specifically because of the financial advantages it presents.
Many companies cannot afford proprietary software
Proprietary software solutions cost a lot of money and they do not come with the same level of freedom as a SaaS module. In a SaaS module, clients are free to choose the modules that they need and they usually only pay for what they use. There are also hybrid modules that let companies to combine SaaS with on-the-location software programs.
The problem with proprietary software solutions that are legacy based is that they are just too expensive and they also require a lot of storage space. Most companies simply do not have the kind of IT budget that is required of them to purchase these programs. Moreover, it may also not be what they require. What really happens is that they end up spending more money on something that may not be entirely useful for them.
IT departments are looking at leaner operations
It is also becoming increasingly clear that heavy software programs are not necessary for every company. Some companies may require just a few modules of a larger suite. IT departments have been insisting on this for a long time now and it is only a matter of time that CEOs also understand this. Leaner operations mean less maintenance, less storage and even less cloud computing requirements.
After all, even SaaS can be reduced to a minimal level if one knows what is required. IT departments within companies have begun to stress on the importance of not buying entire software suites which may not be required for a company's business operations. Software as a Service effectively solves this problem by making only those features available to companies which they need the most.
SaaS is growing with cloud
There was a time when there weren't too many options with respect to services available on the cloud. Now, almost every kind of software program is available on the cloud and that too on a SaaS model. This has helped a number of companies to access software programs that they earlier couldn't have. In other words, we can say that SaaS is growing alongside cloud computing and that is a very impressive development indeed.
Cloud computing is expected to grow phenomenally in the coming years. It is only a matter of time before legacy programs are rendered old fashioned and outdated. More companies will begin to use SaaS in order to reduce costs and also access programs that they previously couldn't have.
What we can expect within the domain of SaaS
Certainly, we must look at SaaS integration alongside Platform as a Service (PaaS) and Infrastructure as a Service (IaaS). SaaS, PaaS and IaaS are the three major revolutionary changes that are occurring within the domain of information technology. This revolution is aided by cloud computing and integration of IaaS, SaaS and PaaS as and when required will be the norm in the coming years.
One just needs to wait and watch to understand how phenomenally SaaS integration is likely to become a part of our business lives. In the years to come, we expect to see more companies switching over to SaaS or at least integrating SaaS within their existing IT frameworks. All this eventually leads to the democratization of technology in general.
This also means, there will be room for innovation and increased ROI for companies involved. 2016 will likely see these changes sooner than what we witnessed in 2015 and this is certainly a positive development. In other words, SaaS integration will help SMBs and even larger companies to cut costs, innovate and diversify their existing businesses.
If you would like more information about how you can integrate SaaS into your business model, feel free to speak to our professionals. They would be glad to help you clear your doubts.
Subscribe to our Newsletter