back

Emerging technologies
Virtual Reality (VR) for the Mortals (Read: Non-Geeks!)
I wish we had teleportation. But, will settle for Virtual Reality (VR) for now.
The term Virtual Reality was born in 1987. However, the concept dates back to 1929 when the first flight simulator was put to use! For the purists, the immersive thought behind VR existed even in 1838 through artistes who mastered stereoscopic paintings. (More for the history buffs)
The immersive experience of VR can solve several real life problems. However, VR was sitting on the sidelines for several years, before we started seeing mainline adoption in last few years. The primary reason for it was lack of consumer knowledge, unavailability of content and intuitive consumer technology to make it available to everyone, anytime, anywhere.
In 2016, we saw some of these problems getting sorted, when the entire tech world started focusing on VR as the next-big-thing, started finding practical use cases, started creating quality content for this immersive medium, and last but not the least started to get access to the VR devices en-masse.
Do you know VR headsets was one of the top-3 gifted items during the Christmas of 2016? And this got the ball rolling. Thus, 2016 was branded as the year of VR. All the major tech giants are it Samsung (Gear VR), Sony (PSVR), Facebook (the Oculus platform), HTC Vive or Google (Card Board, Day Dream, Tilt Brush) are placing their bets on this emerging, hot technology.
What is Virtual Reality?
VR is a computer-generated environment that lets the user experience a different kind of reality. In other words, VR technology transports the user into an imaginary/simulated virtual world through immersive experience.
You are required to put on a VR headset around your head and over the eyes. The imaginary world is the simulation running on a computer/phone, which gives an immersive feel due to the headset, which blocks everything but the VR content. To take it a step further, VR technologies can also recreate sensory experiences such as virtual taste, smell, sound, sight, and touch.

At MWC 2017 VR was one of the hottest identified trends. Every tech giant from Qualcomm, Nokia to Samsung, has their headsets. And they tried to cash-in on the growing demand. If we go by Fortune's list of the largest technology companies in the world, interestingly eight among the top ten companies are engrossed in VR technology.
Some advantages of VR:
Time and cost effective
Engaging due to immersive nature
Controlled ambiance (cuts down travel and provide in-person like environment)
Provides solutions to complex problems
Though initially, VR gained more traction among consumers in the gaming sector, but with each passing day, this emerging technology is breaking new grounds and its application is finding acceptance in various industries such as healthcare, education, military, tourism, real estate and automobile. The major tech giants understand the disruptive potential of this technology and are coming up with high-end products to attract customers.
Here are the top 8 industries where VR is creating maximum ripples:
Healthcare
Education
Hospitality and travel
Entertainment
Banking
Real Estate
Retail
Automotive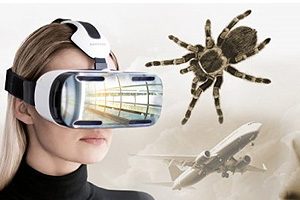 Healthcare
The medical industry is expeditiously adopting VR in innovative ways to educate professionals and also provide modern treatment facilities to the patients. The VR allows the surgeons to practice life-saving methods in a controlled environment. The technology is gaining momentum when it comes to treating patients suffering from Post Traumatic Stress Disorder.
Dr Shafi Ahmed removed a cancerous tissue from the bowel of a patient on April 14, 2016, at the Royal London Hospital. The entire operation was broadcast live through VR.
Snow World is a VR experience, which helps in wound care by transporting the patient with chronic burnt injury to an immersive, snowy environment.
The Virtual Reality Medical Center, USA, uses VR to treat panic and phobias which comprise fear of heights, public speaking, claustrophobia, social phobia and etc.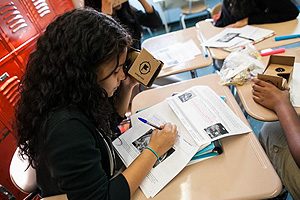 Education
Education is no longer limited to books. Interactive education has become a crucial part of learning and institutes are using VR technology to engage students in ways that were never imagined before. This not only helps in imparting knowledge but also makes study fun for the students. Several top companies are working on VR technology in the education sector.
Google Expeditions Pioneer Program, the VR teaching platform built for classrooms, allows the teachers to take the students in an immersive and virtual journey.
The Stanford Graduate School of Business offers an innovative certificate program through VR.
The prospective students at Yale can take virtual tours of the campus and get a better understanding of the campus life.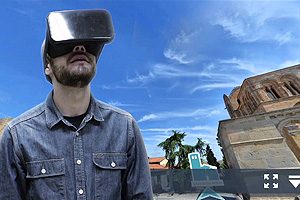 Hospitality & Travel
VR was one of the topics Sabre Labs, the GDS's travel and technology innovation lab, discussed in its 2017 Emerging Technology in Travel report. The travel and hospitality industry is one of the few sectors, which adopted VR early on.
In Marriott hotels, guests can enjoy Vroom service. All that a guest is required to do is order a VR head-mounted display in his/her room and enjoy exotic virtual travel videos. This helps in attracting and retaining hotel guests.
Intercontinental Hotel Group IHG has taken the comfort of the guests to the next level. The guests can enjoy VR entertainment, games and other immersive experience at their rooms with the help of Vive Zone (powered by HTC).
Destination BC (British Columbia) rolled out "The Wild Within" VR experience, using Oculus Rift technology. This made them the first marketing organization in North America to use VR to promote a destination.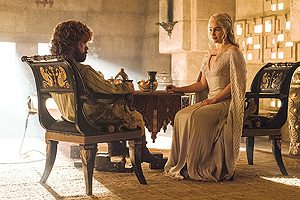 Entertainment
The worlds of gaming and entertainment have been revolutionized, thanks to VR. From interactive exhibitions, virtual museums, movies to virtual theme parks, VR is redefining the entertainment industry. Premier Hollywood studios such as Warner Brothers, Lionsgate, and Disney are investing in VR to present immersive experience to its audiences. Hollywood blockbusters such as Jurassic World, Insurgent, Star Wars and The Avengers: Age of Ultron to name a few has offered audiences unique VR experiences. The Indian audience were left surprised and shocked when the recent VR teaser of Baahubali: The Conclusion was launched.
In 2016, the Venice Film Festival made history, when it became the first major film festival to set up a screening room for a film with VR. In the past, other major film festivals like Cannes has also given importance to VR, by screening short films.
The promo of HBO's sixth season of the hugely successful TV show, Game of Thrones, which used VR technology, received more than 1.7 million views the moment it was launched. HBO worked with Oculus, Facebook, and Elastic, the design studio behind the opening title sequence, to produce the 360-degree video.
Netflix's VR app has found its audience and one can watch Ninja Ii: Shadow Of A Tear, Zootopia and Hellboy & Blade 2 to name a few among the several VR feature films that Netflix supports.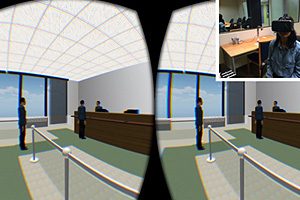 Banking
According to an article in The Charlotte Observer, chief technology officer of Deloitte Consulting, Bill Briggs, mentioned that virtual reality branches might gain importance in FinTech soon. The banking industry too is looking out for new opportunities to embrace VR. The Goldman Sachs Group, a leading American multinational finance company, states that VR and AR will make up an $80 billion market by 2025.
Wells Fargo, the American international banking and financial services, have leveraged the power of VR by putting Oculus Rift Development Kit 2 headsets on customers at various events to build brand awareness in an entertaining manner.
Fidelity Investments have launched StockCity for Oculus Rift, a tool that blends VR with data visualization and helps investors manage their finances and inform them about stocks.
The Commonwealth Bank of Australia has used VR as a training tool. The VR application of the bank shows the talent how buoyant and agile the bank is in addressing the needs of the customers.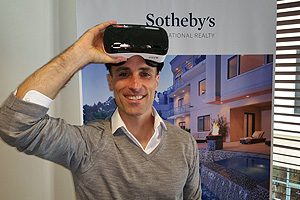 Real Estate
The technology landscape in the real estate industry is evolving steadily. There is a constant need for real estate companies to adopt new technologies to remain ahead in the game. The introduction of VR has changed the spectrum of real estate marketing. Now, you can digitally tour properties from anywhere in the world by just wearing a VR headset. It generates a lot of excitement among buyers and also makes home buying easier. Matterport is also finding a lot of appreciation among real estate owners and agents.
The Matthew Hood Real Estate Group at Sotheby's International Realty has adopted Samsung Gear VR to exhibit properties in Los Angeles, Hamptons and in New York City.
Sage Realty provides an opportunity for the prospective tenants to see through VR how an office will look after completion.
India-based Virtual Reality Solutions firm SmartVizX provides several VR solutions to real estate businesses.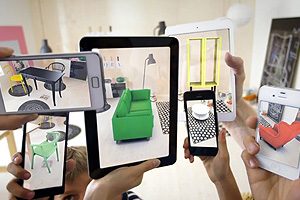 Retail
VR has the power to transform the way people shop. A shopper might try on a piece of jewelry without physically traveling to the store. Applications using such technologies can provide an enhanced and personalized shopping experience to the customer. The technology gives a lot of opportunities to the retailers to attract window shoppers into becoming prospective clients. Reportedly, Amazon is also planning to bring VR or Augmented Reality (AR) in-store to allow the shoppers to experience and envision how products will look like in their homes.
IKEA, the Swedish home furnishing company, takes the customers to a virtual life-size kitchen through its VR kitchen app. Consumers can use the app to explore differently-styled kitchen room settings.
Samsung 837, the flagship store in New York, offers a unique VR experience to its audience. From VR photo gallery to interactive screens, you can see Samsung products here but cannot buy them.
Home improvement chain, Lowe's launched a VR program, Holoroom How To, in 19 stores which provide the customers (using headsets) a hands-on training in renovating their bathrooms and kitchens.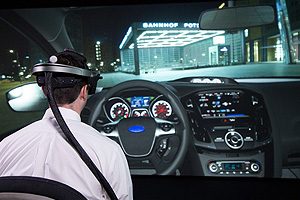 Automotive
With VR technology, the automakers today can manufacture and design smarter vehicle, with multiple approaches to testing and experimentation throughout the design process. The technology also allows prospective buyers to take a virtual tour of the new car models.
Ford is leveraging the power of VR in the auto industry since 2000. At Ford, employees can put on the VR headset and experience the car by sitting inside it or by walking around it. This helps the other employees to notice what they experience on the big screen.
Jaguar Land Rover is all set to roll out VR experience for its 1,500 dealerships across 85 markets. Prospective clients can put on the headset and go on a virtual tour where they will be informed about a vehicle which hasn't arrived at the local showroom yet. This, in fact, is a great advertising tool for the upcoming product and also results in more customer engagement.
Toyota used Oculus Rift technology to promote awareness of distractions while driving.
Facebook CEO Mark Zuckerberg wants the company to own the future of VR and to achieve this feat, the largest social networking company, has hired Michael Hillman, a 15-year veteran of Apple, as the head of hardware for its Oculus VR division. According to a Business Insider Intelligence report, forecasting a rise in the shipments of VR headsets, from a $37mn market this year to a $2.8bn hardware market by 2020.
Well, it might be too early to come up with a strong statement that "VR is the future", but it goes without saying that VR headsets have definitely become more mainstream. And remember what Zuckerberg had said three years ago, "After the video, the next logical step is a fully immersive virtual reality."
We feel that Speech Recognition and Virtual Reality will be the two primary user interface for human-computer interaction going forward.
Subscribe to our Newsletter