back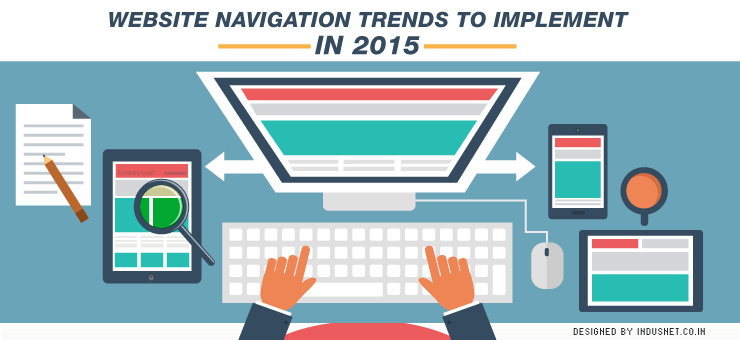 Web Development
Website Navigation Trends to Implement in 2015
A website's most important function is to help people navigate to different parts of a website and access information or media. A good website is easy to use, is attractive and makes information published accessible easily. It needs to be easy to navigate around the website and one need not be left wondering where they need to click, in order to find something. Also, navigation plays an important role in the sense of aesthetics.
A navigation bar that does not look appealing will not really impact the visitor much. Instead, such a navigation style might drive away the visitor to another website. It is becoming very important to focus more on navigation styles as they are known for ensuring better quality of traffic who might even convert because of the ease of use of the website.
Thus, navigation is one of the most important functions of a website. Naturally, in the year ahead, we will likely see a few important trends that will dominate, when it comes to navigation. We might feel that we have taken a look at all the available navigation options but certain trends are more important than the others.
In 2015, we will likely see a few trends that will dominate throughout the year. In this article, let us take a look at those trends:
1. Navicon and its resurgence
The navicon has been used by a number of web designers to make space for content and to keep the navigation bar clutter-free. This has been a hot favorite of many people but there have been some critics as well. Facebook was the one who came up with the concept of navicons and popularizing it. It was able to hide all the navigation buttons within an icon, off the screen. This helped to bring a better focus on actual content.
After Facebook, a number of websites were influenced by Facebook and their designers began to design navicons in place of regular navigation bars. In 2015, this trend is likely to continue. However, it depends on what kind of website we are talking about. If it is a complex website with a lot of information to share, it makes sense to create a website with navicons. However, if the website is not large enough, one might avoid navicons altogether.
2. Full-screen navigation
Another trend that we might see in 2015 is the full-screen navigation. These are used with the help of buttons or links. Navicons are, usually, a part of this as well. The difference in this navigation style is that there is, usually, a small panel that sticks out and the whole screen becomes a space to navigate. This is a good concept to use on the mobile phone but might not be a good idea on desktops.
This brings us to a changing world where we cannot decide just for desktops or mobile phones. Desktops, mobile phones and tablets are all used by people to navigate & design process needs to take into account these differences in form factor and screen size.
3. Oversized navigation bars
With e-commerce stores coming into foray, oversized menu buttons have become the norm. When we look at the Amazon website or its competitors Alibaba or Flipkart, both come with large navigation bars. 2015 will be a year that would be dominated by new e-commerce retail stores.
An increasing number of people have begun to shop online, which is also contributing to the demand for oversized navigation bars on e-commerce sites. This will be another trend that will continue to persist throughout 2015.
Navigation trends that will persist
It would be interesting to see how these larger sized navigation bars would be used on mobile devices as they have little place to display so many icons. It is probably difficult to surmise that mobile phones will have a full-page navigation bar, whereas, others will either have navicons or oversized navigation bars.
There might also be other forms of navigation, which will continue to dominate this year but the three that are listed here are more likely to be important throughout the year 2015. If you have any opinion about which navigation trend needs to be implemented in 2015, do let us know in the comments section below.
Subscribe to our Newsletter