back

Cloud
Data Security
Digital
General
InsurTech
Why Cloud Based Innovation Is the New Norm for Insurers Globally?
A number of insurers have started migrating their core business functions into the cloud, a sight which was rare a few years ago. A report by Ovum a few years ago had highlighted how 67% of CIOs from the insurance industry predicted that cloud computing will "completely transform the insurance industry in five years or less".
Today, we are excited to see that it is happening. But the bigger question is why is it happening?
The reasons for adoption enlisted at a strategic level include enhancing operational efficiencies, adapting to agility and seamless access to disruptive technology that can drive innovation.
Let us see a simple use case of FinanceFox AG, they have teamed up with Salesforce to integrate CRM applications with its insurance brokerage platform. The platform lets users manage all exiting insurance policies and get advice on insurance coverage gaps. This has given users complete control and the organization is acting as a virtual advisor 24×7.
Cloud-based insurance solutions have ushered in an era of innovation to such an extent that large enterprises are craving for a pie in this segment already. For instance, Alibaba Cloud had partnered with eBaoTech to launch 'eBaoCloud', an insurance cloud platform that grants insurers access to standardized insurance capabilities without the need to self-build or deploy their own systems. Recently, China Continent Insurance (CCIC) launched its next-generation Core System based on 'eBaoCloud InsureMO' as middleware. 'InsureMO' provides a comprehensive set of APIs to develop an ecosystem for connecting all internal staff user interfaces and workflows.
If we look around we see a dynamic range of companies that are leading the race with cloud-based innovations.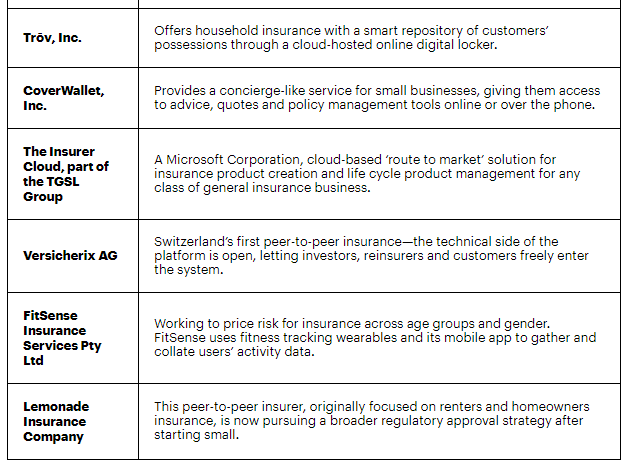 Source: Accenture
Though we assumed that cloud solutions are only for boosting operational efficiencies and agility but they are evolving themselves to play a crucial role in combating insurance fraud that has plagued the industry for a long time. For example, CNA Financial Corporation uses Shift Technology's 'FORCE' fraud detection solution to automate the insurer's fraud detection capabilities. 'FORCE' is a SaaS-based solution and claims to have a 75% hit rate. CNA Financial is charged based on the volume of claims processed.
Did you know?
According to Insurance Thought Leadership.com, insurers across US and Europe fall prey to insurance frauds worth approximately Euro 60 bn per annum. While an estimated 65% of fraudulent claims go undetected, about Euro 240 mn is spent by insurers to tackle fraud.
Journey to Being Cloud-Native By now you must have already started planning on leveraging cloud for growth. Let us help you make the first move. An insurance company which provides motor insurance plans to decided of creating a smarter claims prevention mechanism and move it to the cloud. They would then be engaged in a number of considerations and scenarios like:
The application and infrastructure model should be designed to account for unpredictable data flow
The system must be able to decipher possible business implications from a weather alert of a possible thunderstorm
It should have the necessary ability and algorithms to prioritize sending of push notifications and warning messages to policyholders while not hindering other workloads.
While they check and analyse the requirements and possibilities they have to keep the core principles intact. But what are these core principles?
Clear identification of all possible infrastructure requirements, architectural patterns and application models
Well established difference between infrastructure resources that required smart configuration, and provisioning in case of an unforeseen scenario
Drafting of architecture patterns for achieving scalability and flexibility of services to cater to the surge in data flows
Finalization of application model to optimize solutions for both low configuration and scale-out scenarios

Figure: Guardian Life's shift to AWS
Now we feel like we're in a platform. And we're capable of testing and learning a lot faster than we have in the past with much less of an investment. But we also have access to these new technologies and just as importantly, the people that are developing these new technologies."- Dean Del Vecchio, EVP, CIO and Chief Of Operations at Guardian LifeThe partnership between insurers and cloud is here as to stay with cost advantages, co-creation possibilities and higher sustainability. With major giants already deciding to get out of the business of owning and operating its own data centres is a huge milestone for the new cloud-first approach.
Subscribe to our Newsletter