back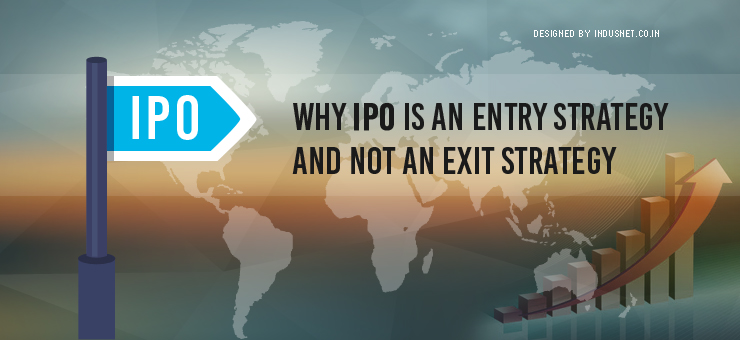 Strategy
Why IPO Is an Entry Strategy and Not an Exit Strategy?
Different companies have different motivations to go public. Some go public in order to attract investors, and some others simply find it glamorous. Many others think they have only arrived when they file for an IPO (initial public offering). Yet, there are a few others who believe that going public is a safe way to exit.
Indeed, when companies look at IPO as an exit strategy, they are making the fatal mistake of washing their hands clean off a great company with immense potentials. We all know that many companies which go public often try to sell them and make quick money, only to later realize that their former company achieved greater heights.
Instead of looking at IPO as an exit strategy, companies should warm up to the idea of it being an entry strategy. Indeed, IPOs help companies to gain in stature and become more competitive than they previously used to be. For this reason and many others, companies should start looking at IPO as an entry strategy.
In this article, let us take a look at why IPO can make for such a great entry strategy, instead of it being otherwise.
IPO opens you up to the world
When you make a public offering, you are essentially opening yourself up to the investing world, which can be a great thing. This will bring you added marketing opportunities, clients and even business deals across the world.
[php snippet=1]
It brings stature
A company that has gone public is usually seen as a larger company. Of course, there are a number of small companies that have gone public but they still seem more reliable and trustworthy than a regular company. There is a psychological effect to public companies, and it can only do you good.
Helps you get rid of financial bottlenecks
It is always easier to rise funding when you go public. Whatever financial bottlenecks you might have, you can easily solve them when you have access to investors of all kinds. Public investors tend to be safer than other kinds, as there will be transparency from all sides.
Easy publicity and credibility
There is nothing better than being able to gain some free publicity and credibility. When you go public, your name gets splashed across investment sites and stock news channels, which helps you to get more publicity. As you will be required to reveal more information about your company, you will also be seen as a reliable and credible source.
Looking forward
Certainly, going public should be looked at as an entry strategy instead of an exit strategy. If you are able to convince yourself that your company will be successful, you can do that to the public as well. As long as you have an honest and workable business plan, an IPO strategy should work in your favor. Instead of looking at going public as a way to sell your company and retire, look at it as an entry strategy that will help you grow as an entrepreneur.
Subscribe to our Newsletter